Joint EDHEC and IBM project shortlisted for Innovation in Business Education Award
"Unleashing Digital Disruption in Business" - EDHEC Global MBA Digital Innovation track secured a spot on the 2023 Reimagine Education Awards shortlist
Reading time :
3 Nov 2023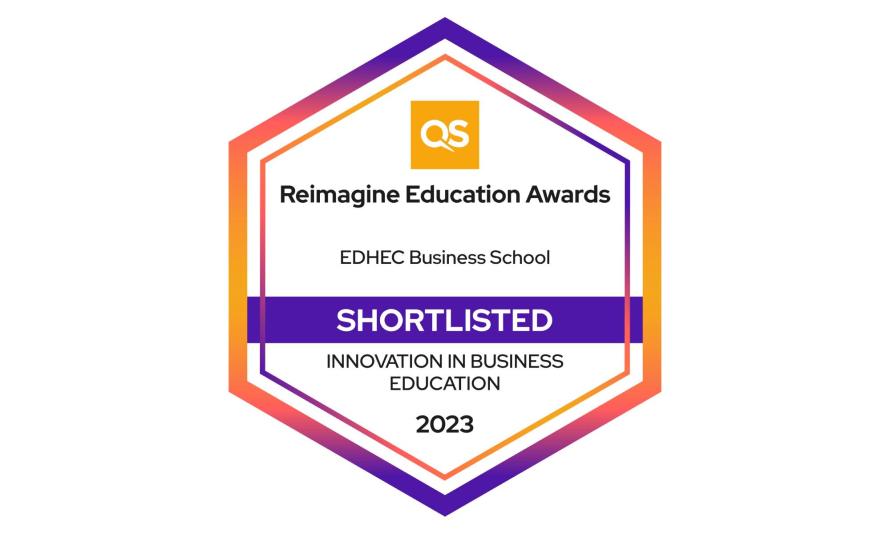 The demand for digital- and data-savvy business graduates is rising exponentially in the face of digital disruption in all sectors, functions and locations. This is why tech-giant IBM joined forces with EDHEC to create a unique Digital Innovation specialisation for the school's top-ranked Global MBA programme. This cooperative project "Unleashing Digital Disruption in Business" has now been shortlisted for the Innovation in Business Education Award.
A pioneering partnership to meet industry needs and provide forward-thinking education
EDHEC's partnership with IBM fosters collaboration between business faculty and IBM technology experts in emerging fields like AI, blockchain, IoT, Cloud, and Quantum computing.
Offered since 2017 to a growing number of applicants, the Global MBA's Digital Innovation specialisation includes learning treks, conferences, applied projects, and more with the goal of bridging the gap between managers and engineers, opening minds to the power of technology. The programme also promotes diversity and women in tech through various conferences, events, and group mentoring. With this ground-breaking approach, EDHEC has grown employment opportunities in the tech world and increased placement in technology firms and roles.
"We have put a lot of emphasis on applied learning in the Global MBA at EDHEC. This partnership with IBM is testimony of our faculty's ability to work closely with businesses to ensure that our curriculum is relevant and up to date - so our students graduate with the latest knowledge from an industry leader in a rapidly evolving field." explained Sandra Richez, GMBA programme director.
2023 edition of Reimagine Education Awards particularly competitive
The 10th anniversary edition of the Reimagine Education Awards was exceptionally competitive with a staggering 1200+ submissions across multiple awards categories, evaluated by over 600 international experts. "We are delighted that the partnership between IBM and EDHEC's Global MBA and the resulting MBA specialisation are recognised for their innovative approach and impactful results, securing a spot on the 2023 Reimagine Education Awards shortlist!" said Sandra Richez.
Join our next cohort of talented and innovative MBAs
Discover how you can make an impact in the digital world. Download our brochure to learn more.