Marie-Catherine Mars receives double award in 2022 for her work
M-C. Mars, Associate Professor at EDHEC and Deputy Director of the Marketing Department, is enjoying the end of 2022 with recognition for her recent publications.
Reading time :
13 Dec 2022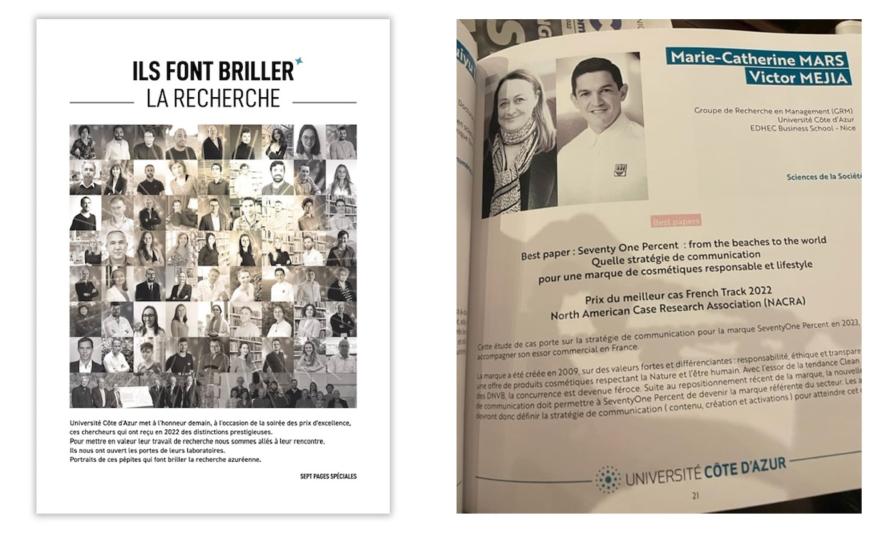 On October 7, the North American Case Research Association (NACRA) awarded Marie-Catherine Mars (EDHEC) the prize for the "best case study in French" at its annual conference in Niagara Falls (Ontario, Canada). The winning case study, co-authored with Victor Mejia (Université Côte d'Azur) is entitled "SeventyOne Percent: from the beaches to the World - What communication strategy for a responsible cosmetics and lifestyle brand? On 12 December, she received a second prize for the same case study; this prize for academic excellence was awarded to her and her co-author by the Université Côte d'Azur.
Marie-Catherine Mars and Victor Meija focused on SeventyOne Percent's 2023 communication strategy, which aims to support its commercial development in France. This brand was created in 2009 by two former EDHEC International BBA students, Raphaël Vannier and Marc Lévy, based on strong and differentiating values - responsibility, ethics and transparency - in order to offer cosmetic products that respect nature and human beings. This growing trend, coupled with the explosion of inherently digital players, known as Digitally Native Vertical Brand (DNVB), has exacerbated competition. Following the recent repositioning of the brand, the new communications strategy is designed to enable SeventyOne Percent to become the leading brand in the sector. The award-winning case study asks learners to define the content and communication discourse, the creative strategy and the strategy of the means to achieve this goal.
"The numerous awards received by Professor Marie-Catherine Mars over the years testify to EDHEC's expertise in developing internationally recognised teaching tools, in line with our Learning by Doing approach. Our marketing department is once again demonstrating its ability to innovate and offer cutting-edge subjects on sustainable and responsible topics."
Marie-Cécile Cervellon, Professor and Head of the EDHEC Markerting Department