Is an MBA good for entrepreneurs?
Read on to find out how an MBA can give you the solid foundations onto which you can build a successful business
Reading time :
6 Dec 2022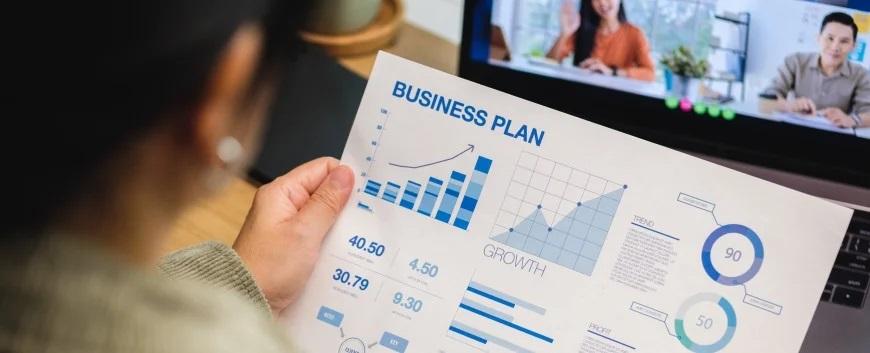 While completing a Global MBA programme will not guarantee you success, there are plenty of good reasons why an MBA is good for entrepreneurs.
Almost one in five new businesses in the European Union failed during their first year according to the Statista 2018 one-year business survival rates. In the US, only 25% of new businesses make it to 15 years or more. Some highly ranked Business Schools such as EDHEC let you tailor the MBA programme to meet your entrepreneurial aspirations and provide you with the necessary tools and expertise for setting up your own business. The EDHEC Global MBA combines business theory, academic and experiential learning with business trips, enabling you to get first-hand experience while also working on your entrepreneurial project.
With the EDHEC Global MBA Entrepreneurship track you:
Gain insight into how to meet legal requirements and create an effective and sustainable business.
Receive the tools for excelling in leadership, running a business, managing growth, and retaining teams.
Expand your entrepreneurial outlook within an international cohort.
Get tangible support and direction from a well-established start-up ecosystem.
Receive feedback from professionals, professors, coaches, and mentors.
Create the blueprint for your own entrepreneurial project.
Understanding business essentials from the get-go:
Knowing all about business essentials before embarking on an entrepreneurial project, will save you a lot of angst and will help you avoid pitfalls that could harm your venture. An MBA is good for entrepreneurs because it engages participants in subjects such as financing, raising capital, HR, business laws, accounting and payroll, technology, new product and service innovation, and marketing. It helps you gain confidence and expertise in areas that may not be your strong points.  Overall, an MBA encourages you to view your business as a complex system of interconnected specialties that must all be consolidated under a unifying mission.
"As an entrepreneur, it's common to find yourself in a position where you feel like you have to know all things about all areas of business—operations, strategy, leadership, finances, etc. While it's unrealistic that one person can be an expert in ALL of these areas, I have found that the Global MBA at EDHEC has helped me advance my knowledge in skills across the spectrum of business. I am actively using so many of the concepts learned in the programme. I chose to do the Entrepreneurship track and it has benefited me greatly because I'm regularly analysing and writing
business plans, working with other entrepreneurs on commercialisation strategies, developing
financial forecasts, and even creating pitch decks. The best gift, however, is that the elements of running a business that used to cause me anxiety no longer do—and in fact, I now find them to be fun challenges!" Stephanie Ayars, Global MBA alumna 2021, Founder & CMO, Alchimie Marketing
The chart* showing the main reasons for which start-ups failed worldwide in 2021 makes it clear that although there isn't a "one MBA fits all" magical wand, acquiring all of the above-mentioned business essentials could serve as a business saviour.
Did you know that EDHEC was ranked #3 worldwide for ESG (environmental, social, and governance) education for 3 consecutive years? Top Business Schools that take ESG seriously, provide entrepreneurs
with subjects as diverse as Corporate Social Responsibility, Sustainable Business, or Diversity and Inclusion. These principles are becoming fundamental to big corporations and start-ups alike, and as such assume an important place in the intensive one-year MBA journey at EDHEC.
Your business plan in the making:
With the EDHEC Global MBA, you will spend 2 months working on an MBA project of your choice. You can use this time to thoroughly prepare a business plan for your personal entrepreneurial operation. During this period, you receive professional feedback on your plan, personalised leadership, and development support, the opportunity to test the economic feasibility of your project, and to pitch your business to "business angels". This makes the Global MBA a perfect catalyst for getting your business off the ground. As part of the practical learning experience, you also have the opportunity to travel to a strategic destination through a planned business trip, during which you can conduct company visits across a wide range of sectors, from luxury retail and hospitality to digital banking, consulting, and new technologies.
Regarding his Entrepreneurial Track's trip to San Francisco, Renato Figueroa, Global MBA alumnus 2019, said: "We had the opportunity to meet start-ups, tech companies, capital funds, and other players that form the Silicon Valley ecosystem, and that foster innovation in the region…We made contacts there that can be useful for our venture. For example, at the airport, I accidentally met with the CEO of one of the start-ups that pitched Plug & Play. We exchanged our cards and he left with the knowledge that I could be a useful contact for him in South America."
Support & direction from a renowned start-up ecosystem
Successful entrepreneurial ventures often enter the early steps of their journey within start-up ecosystems. This means that the entrepreneurs themselves gain access to a world of services, mentors, advisors, investors, research, talent pools, and other entrepreneurs, through environments such as incubators.
The EDHEC Entrepreneurs incubator is a member of STATION F, the world's biggest start-up campus, in the heart of Paris. EDHEC Entrepreneurs offers free support to students and graduates of EDHEC Business School eager to create their own start-ups. The incubator conducts over 400 exploratory interviews and validates some 30 laureate projects each year. The start-up projects hosted on the Station F campus have access to an exceptional ecosystem that is unique in the world. Through this ecosystem, project leaders receive multiple advantages for continuous evolution.
Entrepreneurial credibility and personal growth
An MBA programme can be a transformational experience, both on an entrepreneurial and a personal level. This was certainly the case for Pasa Omerasevic, Global MBA alumnus 2021. Pasa was already an entrepreneur before attending the Global MBA but was feeling as if he'd hit a brick wall, unable to further advance his business.
"I already had a company in the hospitality and food and beverage industry before attending the MBA at EDHEC. I started the MBA because I was thinking of changing my business to something different, but the MBA helped me realise that if I stuck to my current business and did things the correct way, I could actually start to enjoy it. The MBA helped me find my way and confirmed to me that I was already on the right path, but missing a better method for approaching my business. It gave me a much clearer mindset.
The biggest eye-opener for me took place during the leadership teambuilding and coaching sessions. It changed my philosophy for seeing things in business and was very helpful. In my personal experience, I am someone who focuses more on my weaknesses, always trying to figure out what more I need to learn to improve myself. But actually, in this case, the EDHEC coach told me that although I need to work on my weak spots, there comes a moment when I also need to start leveraging my strengths. I had never considered this before in my life. I didn't use to focus on leveraging my skills and experience because I was focusing on correcting my faults. This is one of the most important lessons that the Entrepreneurial track taught me, and the reason why I was then able to step back and find ways to make my current business successful." Pasa Omerasevic, EDHEC Global MBA alumnus 2021, Co-Founder at Bluebird, France
Along with providing him with essential leadership and entrepreneurial skills, the Global MBA helped Pasa achieve personal growth and awareness which in turn enabled his professional growth. This allowed him to shoot for the stars from within his existing enterprise.
Maximising your entrepreneurial advocacy
Attending an MBA programme is one of the most effective ways of kick-starting your entrepreneurial networking. The cohort unites minds, expertise, and ambitions from a large array of industries, experience levels, countries, and cultures. The relationships built throughout your programme can serve your company with future talent pools and business partnerships, as well as with limitless idea generation. The successful completion of a Global MBA programme also leads to a reputation and credibility boost. It becomes evident to potential collaborators or investors that you are driven and have perseverance, problem-solving skills, adaptability, and a desire to set up a project with the best tools at your disposal.
Entrepreneur and EDHEC Global MBA alumnus Vivek Haldar, Co-Founder, and CEO of Machlibazaar.com in Mumbai, India, has "…been in touch with quite a few from the EDHEC Alumni Network who are helping me in shaping Machlibazaar.com and taking it to the next level…We are open to all kinds of support from the EDHEC Alumni community. Anything from fundraising, to finding a Co-Founder who can help us shape the tech products in a better way, as well as from hard tech backgrounds.".
"I got to know people from the most diverse backgrounds and cultures. Some of these classmates later became either co-founders for the new venture or advisors who complemented the experience that we, as co-founders, lacked." Added EDHEC Global MBA alumnus Plinio Herrera Schuwirth, Co-founder and Operations Director at EO2.
EDHEC Business School has an alumni community of over 46,000 members across 125 countries. This community of business leaders organises events and meetings throughout the year to facilitate contacts and can help graduates promote their entrepreneurial businesses and professions. Nearly 10% of the 2021 EDHEC MBA graduates decided to follow their entrepreneurial dreams. They, along with other business-owning alumni can serve as sources of expertise and inspiration.
Effective leadership for growth management
Having a brilliant idea that translates into a robust business plan and a successful launch does not necessarily prepare you for the future of your business. In addition to knowing the theory, doing the networking, and participating in internships, you need to have an idea of how to evolve once the ball starts rolling.  A Global MBA programme provides insight into how to build a scalable business. A business that can continue to maintain or improve profit margins while market demands increase. This includes aspects such as how to hire the right staff, manage and engage growing teams, create a motivating company culture, and sustain a shared vision. Empowering leadership requires both soft skills and hard skills, all of which are given substantial focus throughout the MBA programme.
Developing leadership skills is vital for entrepreneurs. "While the majority of formal business education programmes focus on teaching and enhancing hard skills, not enough attention is given to the importance of soft skills for running a successful business. Developing soft skills is imperative for one's personal growth, and can increase the chances of a new business succeeding. Social and emotional competencies, such as empathy, are particularly relevant and useful during the start-up phase. They are important for example when pitching for financing and investment, negotiating deals, dealing with personal drawbacks, and other entrepreneurial challenges. Preparing future entrepreneurs must therefore entail a more holistic process." Fabian Bernhard, Professor and Researcher in Management, Organisational Psychology, and Organisational Behaviour, specialising in family businesses, EDHEC Business School, France.
An empowering, responsible and principled leadership approach is necessary for the success of entrepreneurial projects and for building happy and high-performing teams across borders.
So, is an MBA good for entrepreneurs? Although there are plenty of success stories without it, start-ups and new businesses can be risky endeavours. An MBA that offers a specialisation track in entrepreneurship, leadership training, a start-up ecosystem, and feedback on your actual business plan, provides you with the tools, confidence, and foundations from which to build a business on solid footing.
* Fig.1. Main reasons for business failure among start-ups worldwide in 2021. Statista 2022.
Are you ready to transform your career? 
Download the brochure to find out how the EDHEC Global MBA will give you the tools, knowledge and confidence you need to accelerate your international career