A tailor-made MBA Programme to train the leaders of the future
Programme Director Sandra Richez on why EDHEC's updated, highly personaliseable programme puts emphasis on Leadership and Sustainability – Interview
Reading time :
14 Dec 2021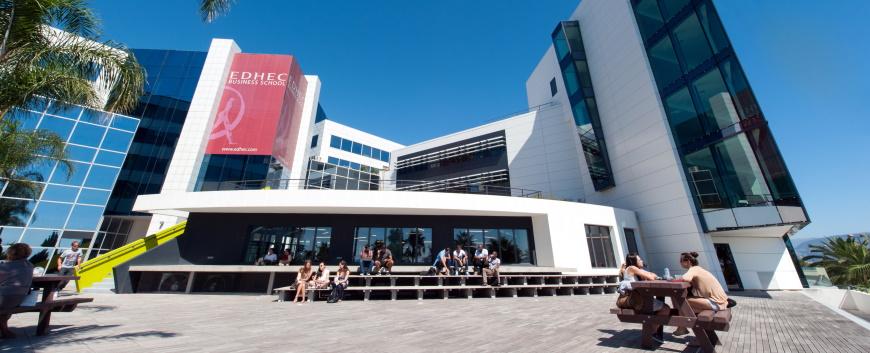 The curriculum for one of EDHEC's flagship programmes, the Global MBA taught full time on site on our modern campus on the Mediterranean coast, has recently been completely revamped and updated. Discover more in this in-depth interview with Sandra Richez, EDHEC Global MBA Programme Director.
Ms Richez, the EDHEC Global MBA is consistently ranked top of the class when it comes to ROI, diversity and student satisfaction. Why change a winning recipe?
Our Global MBA programme is short and intense - actually one  of the most intense in the world - in just ten months experienced professionals can obtain a much-coveted MBA diploma with focus and hard work. To ensure that our students get the core business skills they need to succeed in their careers, we must pack a lot into these 10 months and make sure to get it right.
So, what is the main news in the revamped Global MBA programme?
The updated Global MBA is even more personalised than before to reflect individual career and learning goals. We meet our students where they are to get their career to the next level. With cutting-edge electives and specialisation tracks, this personalisation is worked into the academic curriculum but also takes the form of personal development with Lead360. The Lead 360 programme is one of the most important innovations, focusing on leadership learning through workshops, personalised electives, self- and peer-assessments, and individual coaching sessions.  In addition, you can fast-track or extend the MBA to complete your in-class programme in just 8 months or extend your experience with an academic exchange up to 16 months. We recently signed an agreement with CEIBS (China Europe International Business School) in Shanghai, for example.
We have actually developed a helpful programme personaliser tool if you want to have a closer look at exactly how personalisable the Global MBA experience is.
A tailor-made MBA programme sounds exciting. What else is new?
We have also increased focus on ethical, principled leadership and sustainability.
Can you elaborate on that?
Our goal is to bring out well-rounded, values-driven, inspirational and reflective leaders who make a positive difference to business and society. Business is a powerful lever for global improvement that should benefit future generations. MBA students benefit from a sustainable learning journey during the programme. Our curriculum now features a Sustainable Impact Challenge which includes a team project running throughout the programme, supported by a course in sustainability, CSR [corporate social responsibility] and business ethics. During a sustainability learning expedition we explore on-the-ground how businesses are making an impact abroad. MBAs also learn from sustainability content in core, elective and specialization track courses.
So, you walk the talk?
We do indeed! One of the challenge projects actually starts right here at EDHEC: working towards a carbon-neutral MBA!
But to go back to the idea of principled leadership: For us, principled leadership is based on core values. It requires consistency, courage and taking responsibility for the consequences of your actions. Our participants are challenged to grow their leadership skills through a mix of theory, action, learning and self-reflection. This is why the new Lead 360 programme combines a range of innovative tools, assessments and courses with personalised workshops, tailored guidance and coaching to prepare them for the next steps in their career and beyond.
You also mentioned personalised coaching. That must be a challenge with such diverse cohorts as this year's ?
As you mentioned earlier, diversity is one of the things our Global MBA programme stands out for. And for a reason! We are proud of our metrics on diversity with 46% women and 30 nationalities in this year's cohort, or over 90% international students. I think going into detail on exactly why diversity matters would be a good subject for whole new interview.  But, just to put it shortly, the difference in cultural background and work experience is actually very beneficial for the learning experience. This diversity, among other things, is one of the reasons why personalised, individual coaching is so important: just as MBAs don't all have the same background, they don't necessarily have the same career goals. Some want to go down an entrepreneurship route, others are here to accomplish a so-called triple jump: new role, new industry, new country all at once. While many of the things we teach are generally applicable, others aren't, depending on your goals. This combination of individual and collective guidance and coaching allows each participant to identify their strengths, leadership profile and areas for improvement in a positive and supportive environment.
Core competencies and strategic foundations together with a highly personaliseable mix of electives, specialization tracks and individual coaching, class-room plus on-site, real-life action learning through visits and business trips are what make the EDHEC Global MBA experience so unique. Add to that a modern campus in a stunning setting in the South of France plus talented and enthusiastic peers from around the globe and you have the perfect recipe for a truly life-changing experience.  
Are you ready to transform your career?
Download the brochure to find out how the EDHEC Global MBA will give you the tools, knowledge and confidence you need to accelerate your international career