Meet a student: Enjoying engaging classes
Reading time :
26 Jan 2023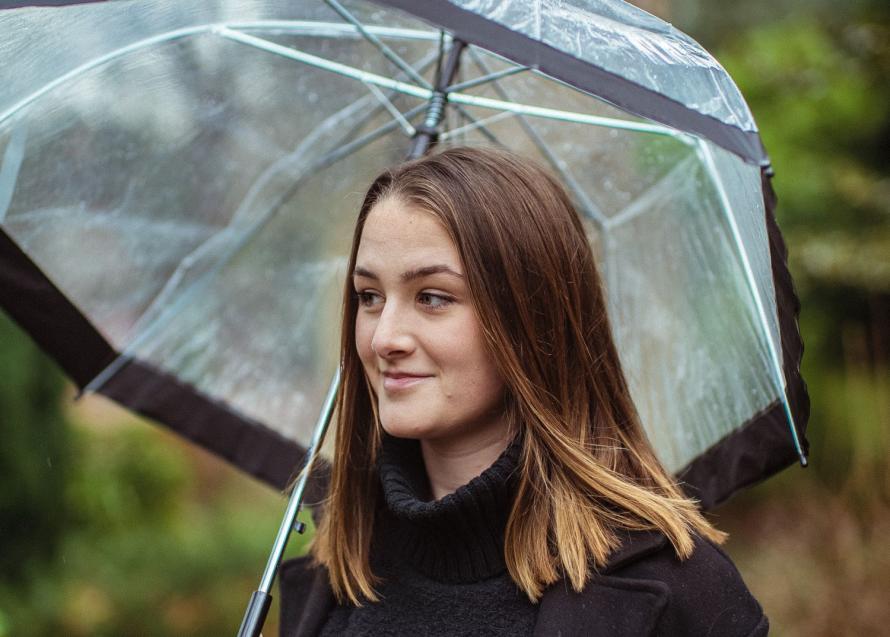 What is your background prior to joining EDHEC MSc in Global & Sustainable Business?
I was born and raised in Fairfax, Virginia, about 15 minutes outside of Washington, DC. Before attending EDHEC, I studied International Business and French at High Point University in High Point, North Carolina. My relevant work experience includes interning for an international NGO, working as a sales associate, and interning for an international research firm.
How different it is from your experience at High Point University?
My experience at EDHEC is different from that at High Point University as I find my classes at EDHEC are more experience and conversation based. The student body is more diverse, with students from across the world. Also, I am less in my comfort zone - as the only American in my class and not involved in any association (like a sorority) to have routine extracurricular activities.
You are American. What is your attachment to France?
I find the ability to communicate in different languages fascinating, and I have always envied those around me who are multilingual. Exposed to the French culture through books and movies growing up, I was always attracted to and admired the way the French language sounds. There is certainly a sense of romanticism behind the culture. I started learning French when I was 13 years old and have not stopped, now 22. Also, I studied abroad during my undergraduate studies in Pau, France at the beginning of 2020 but returned to the US in mid-March when the pandemic started. I was determined to finish my experience.
How do you adjust to Lille's lifestyle?
Appreciating all aspects of the city is important when adjusting. I find it comforting that Lille is home to many schools and universities, and therefore other students around my age. Additionally, I have made sure to take my time getting to know the city, as I am here for a while and love exploring.
Can you tell us about your experience so far?
I have had a wonderful experience so far filled with visiting new places, meeting new people, and learning more about myself and the world around me. One of my favorite parts has been learning about other people's cultures and sharing about my own. Recognizing the differences and similarities between different cultures has helped me cultivate a broader perspective on things that I had never imagined before. It has taken some time to adjust to new routines in my daily life, such as taking public transportation to school and walking to the grocery store. So, as this is basically my first time living without a car to drive since I was 16, it is very different. Overall, I find that I am growing into a healthier, and more conscious version of myself.
What aspects of MSc programme do you enjoy the most so far?
One of my favorite parts about this MSc programme has been how engaging the classes are. From field trips, to simulations, and real-life examples taught to us by accredited professors, I am thoroughly enjoying the energy inside the classroom.
Your favorite class? Professor? And why?
My favorite class so far was Responsible Procurement in a Globalised Economy. During this class we separately covered economics, ethics, and negotiations, allowing a throughout the expansion of each of these procurement processes. We learned from real-life examples, had mock negotiations and sessions, and were able to brainstorm with our professors about the future of sustainability in procurement, as it is ever-evolving.
My favorite professor so far is Pr. Inge De Clippeleer, who taught us about Sustainable Leadership. She was passionate about her field, provided captivating examples in all forms, and made a great effort to meet with us individually – giving tailored advice on how we can use our personal traits to best succeed in our professional life. She felt more like a life coach and really personalized the subject.
What has been the greatest opportunity you have had at EDHEC so far?
The greatest opportunity I have had at EDHEC so far was meeting and working with people from all over the world on a daily basis. Analysing and understanding how different people live, work, and think has expanded my perspectives across all aspects of life. Although the US is known as the melting pot of the world, EDHEC has given me a more educational structure and provided me with the resources to use this experience as an investment in my future.   
Can you tell us about the career services you benefited from?
Attending the weekly presentations of companies across different industries has expanded my knowledge of what job opportunities are available on the market, and how my background can fit into a variety of sectors. Also, going to the EDHEC Career Fair has expanded my network and provided me with interview practice for future applications.
Joining EDHEC makes you an Alumnus from the start. How have you benefited from the EDHEC's alumni network?
I have not yet taken full advantage of EDHEC's alumni network. However, listening to the Alumni Voices recordings on the EDHEC Alumni website has taught me more on topics I am interested in and has helped show me what I am able to reach for and accomplish with help from my education at EDHEC.
What are your plans for the future?
I plan on returning to the US after I finish up classes in May. I am currently applying to a few positions focused on sustainability within the international business sector.
What advice would you give someone who is thinking about applying for the programme?
Apply! The professors are extremely experienced with lots of knowledge to offer you. The programme is filled with unique opportunities that will help you take what you are learning in the classroom and apply it in the real world. The students are welcoming and there are plenty of opportunities to get involved and meet new people in the school and around the community.
If you had three words to sum up your EDHEC experience, what would they be?
Engaging, experiential, professional.
The school's motto is: make an impact. How do you intend to make yours?

 

Compared to the US, France is notably more advanced in many aspects of sustainable living. I hope to bring the education I have received from EDHEC, as well as the more conscious lifestyle habits I have formed, back to the US. I want to share these experiences and spread my newfound knowledge on sustainability with my friends, family, and future network to help make the American lifestyle more sustainably focused.

 
Discover the MSc in Global & Sustainable Business 
Photo credit: @GrosseSaveur