My career after EDHEC: becoming a global citizen
Utkarsh Mittal, EDHEC Master 2019, joined EDHEC Master in Management in 2016 after his undergraduate studies in electronics and communication engineering in Rohtak, India. During his professional…
Reading time :
20 Mar 2020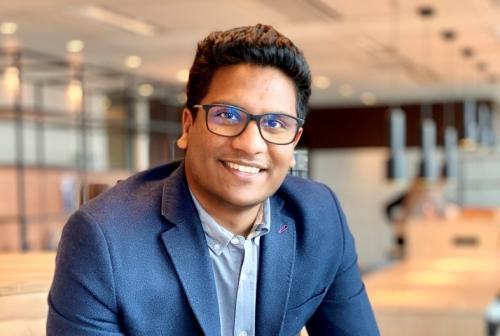 Utkarsh Mittal, EDHEC Master 2019, joined EDHEC Master in Management in 2016 after his undergraduate studies in electronics and communication engineering in Rohtak, India. During his professional immersion year, he did a couple of internships around France and China. After his final year, he entered Schneider Electric as an intern in Paris Hub, and he is now Rewards Specialist at the company's Hub in Hong-Kong.
WHAT DOES YOUR JOB INVOLVE?
I'm leading one of the cultural transformation projects in the company. It's a global initiative with a focus on the recognition of our people at Schneider. My daily life involves project management, change management, storytelling, communications, amongst other things. What I am trying to do is to bring back the human in the business. In today's corporate world, a lot of emphasis is on Innovation, digitisation, maximizing business output, and it's crucial to remember who makes things happen if not employees?
HOW WERE YOU RECRUITED?
Last year at the Forum EDHEC in Paris. I did my final 6-month internship in Paris, stayed a couple of months longer, and was promoted to my current job in Hong-Kong. I arrived in Asia in January 2020.
FUN STORY- I was present in this year's Forum EDHEC but on the other side of the table. I was representing Schneider at the forum!
HOW HAS YOUR EDHEC EDUCATION HELPED YOU IN YOUR CAREER?
In Master 1, we had to pitch ourselves. And I was not a big fan of presentations. Well, that's an understatement. I was terrified to my core by the thought of doing a presentation. I had missed the first session. But Mrs. Coisne insisted on me to give it a try. I was freaking out, so my friends helped me prepare for it! And now, I can't get enough of it! I love conducting sessions where I must talk in front of people. It was a real turning point for me!
Thanks to EDHEC, I was able to get a double degree from Maastricht University School of Business & Economics. There I learned more about the intricacies of change management and polished my public speaking skills.
WHAT IS YOUR BIGGEST ACCOMPLISHMENT TO DATE?
I think it is still to come! But I must say that I'm proud of the work I do, the life I lead. What I do makes sense to me and affects people positively inside and outside the company. Every morning, I wake up happy with who I am. With the speedy development of tech, robotics, digital… it's high time we focus on the human. And I feel lucky that I was given a chance to do the same in a global company. 
WHAT IS YOUR BEST MEMORY OF EDHEC?
The best memory is during exam time, my friends and I used to book classrooms in the evening to study together. We aimed to study most of the time, but we would end up having fun and focusing on what we are going to eat instead of the studies. That being said, we did well in the exams.
My best memories from my time at EDHEC are not from the classes but the friendships created outside.
Any advice for students looking to work in human resources?
Be true to yourself, no matter what field you choose, and always keep learning.