#MyMBAStory - I was looking for a truly international MBA experience ? Ksenia Sukhova, EDHEC Global MBA alumna
Since Ksenia Sukhova's graduation from the Global MBA programme in 2018, she's been busy rising through the ranks at Deloitte in London. Find out how a Global MBA from EDHEC helped prepare her to land a job at a Big Four consulting firm in a new country thanks to her truly diverse and international mba experience. Here is her #mbastory.
Reading time :
22 Jan 2021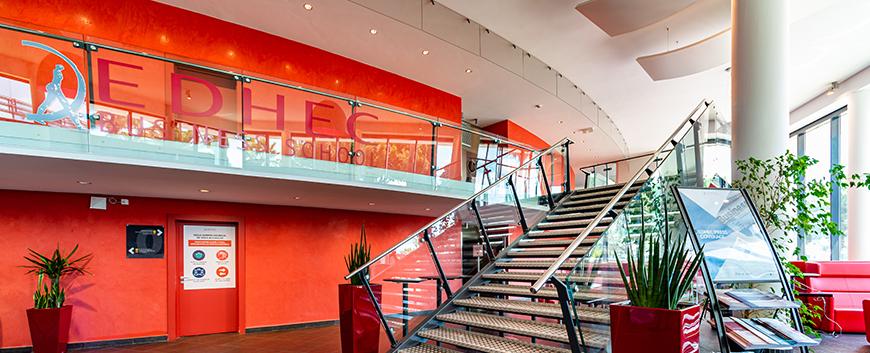 Ksenia Sukhova knew that consulting was the career for her. With a solid background in the industry gained from working in a global telecom organisation in Moscow and a boutique consultancy, her ambition was to develop her international career in a global consultancy firm. She was aiming for an opportunity in one of the 'Big Four'. So she decided to leave Russia and head to Nice, in the south of France and join the EDHEC Global MBA programme. What happened next? Take a look at Ksenia's #mbastory so far…
Consulting Inspired her International Career
Ksenia began her career in strategy working for a global telecommunications company in Moscow. Her passion for strategy and consulting continued when she joined Goetzpartners, a German-based consulting boutique where she worked with clients across Russia and Europe from Moscow to Munich to Amsterdam, opening her eyes to the world of international consulting.
After living for six months in Amsterdam she realised she had a new professional goal: to work for an international consulting company based in Europe.
"I wanted to become more exposed to the diverse European culture and market and expand my career beyond Russia," Ksenia said. "I knew that a European business degree was a smart investment and would help me to expand my opportunities."
Since Ksenia's motivation was specifically to work at a consulting firm in Europe, she focused on top European business schools in the region. An international MBA appealed to her since she already had several years of solid work experience and hoped for diverse classmates with equal professionalism through whom she could learn. When she realised that EDHEC's top-ranked Global MBA has around 30 nationalities per class of 50-60 students plus an average work experience of 7 years, she started looking more closely at the Nice-based programme.
Why did Ksenia choose EDHEC's Global MBA over other programmes?
Ksenia had a few deciding factors when hunting for an MBA programme. First, a one-year programme was a must since she wanted to get back to work. Next, she wanted the highest ROI possible. That meant targeting schools within budget whilst comparing rankings. Another programme must-have was an international perspective. Ksenia knew she thrived in a diverse work environment, so she wanted a class of global citizens to study with and a curriculum which gave a global vision.
"I talked to other schools but they felt outdated in many aspects and not international or personalised enough for me," Ksenia said. "France is known for international MBAs and excellent business schools, so when EDHEC offered me a scholarship based on my GMAT score and potential, it met my ranking, diversity, and ROI criteria. Plus, a year living by the sea in the stunning city of Nice was impossible to beat!"
Read more: Find Out Why EDHEC Global MBA ranks #1 in the World for Return on Investment in QS Rankings 2021
Why an MBA is a Good Choice for Consultants
"I think my consulting background helped a lot during the MBA programme. Consulting helps you learn quickly and lets you adapt to different types of assignments and situations. It makes you figure out a problem as soon as possible," Ksenia said. "EDHEC's intensive Global MBA is structured the way that consultants work so it's also good if you are looking to move into consultancy in the future. You also get a helicopter view of the way that different businesses operate, rather than being a specialist in one area, which is ideal for the consulting industry."
As well as the curriculum and programme itself, the MBA offers many opportunities to build leadership skills and real-world experience. For example, Ksenia was elected as one of the MBA Class Representatives, which gave her an opportunity to develop her communication and negotiation skills, working on behalf of the class and liaising with the MBA programme director, Sandra Richez.  She was also President of the Consulting Club which enabled her to build on her network and support fellow classmates who wanted to move into the industry, sharing and gaining more knowledge and expertise.
One of the great advantages of the programme is the specialised track option and the MBA tailored project. Ksenia chose to specialise in International Finance and opted to take an extended internship for her MBA project where she worked on a 6-month project at Amadeus as a Corporate Strategy Consultant.
How the MBA Transformed Ksenia's Career
After completing her MBA, Ksenia joined Deloitte in London, one of the Big Four consulting agencies. She has already progressed to Senior Consultant thanks to a combination of the knowledge and experience she gained from her Global MBA education plus lots of hard work and commitment.
Ksenia's key advice for future MBAs, especially those from consulting backgrounds or looking to get into the field is to really embrace and open up to developing your so- called 'soft-skills':
"My biggest takeaway is that everyone is different and that includes personalities and how people deal with tasks, projects and work," she said. "I think the MBA taught me to bring the best out of people in a team and maximise individual strengths and skills for a collective success."
She admits the programme was a learning curve coming from a consulting and strategy background. Most consultants have similar profiles and work styles so the MBA challenged her to step out of her comfort zone.
"Your fellow consulting colleagues may be similar to you but clients can be anyone," she reflected. "I found myself becoming more adaptable and recognising that there are different ways to approach and solve a problem. Thanks to EDHEC's diverse programme, it's easier for me to understand what clients think and feel and to anticipate and adjust my own approach. My international MBA experience helps me deliver the best results and that led to promotion in my first year here."
If you are considering an MBA to move into consulting or to develop your international career, Ksenia advises: Understand first of all why you want to do an MBA, what do you want to achieve? The best way to thrive is to have a specific goal before you begin so you can make sure that you work towards it during your programme.
When it comes to landing your post-MBA job, Ksenia emphasises the importance of networking. "Use the network you have built during the programme and maximise the networks you have access to. Find people who have achieved what you want and talk to them first. Get in touch with alumni, leverage the events, clubs and activities during the programme: you never know what doors they could open!".
As a #proudlyEDHEC alumna, Ksenia is committed to supporting fellow graduates and recently participated in the MBA CareerSmart alumni day where she joined 15 graduates from around the world to inspire and support current MBA's
Could this be you ?
Evaluate your profile to speak to one of our career advisors and see how you would fit in with our next cohort.