A transformational learning journey – first executive MBA cohort to experience EDHEC's new Transform360 programme
Our latest Executive MBA cohort has started their transformational learning journey. An intense induction week set the stage for the 16 months ahead, packed with action learning, leadership coaching and career developement
Reading time :
11 Oct 2022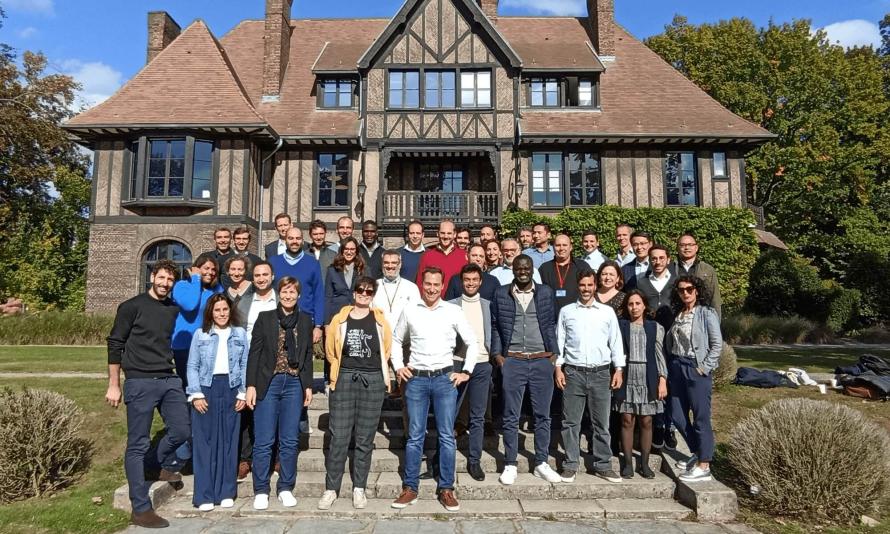 Our latest Executive MBA cohort has started their transformational learning journey
42 enthusiastic candidates from around the globe came together on the EDHEC campus in Lille to start their transformational executive MBA journey. While individual professional goals vary and there are many different reasons for doing an MBA, all "participants share the desire to invest in themselves, to learn and transform their careers" said Stéphane Canonne, Director of Executive Education & MBA in his welcoming address. 
"Diversity in terms of cultural, academic and career background is key to a truly transformational experience" he added. And with 43% of foreign candidates and 16 different nationalities, the new cohort couldn't be more diverse. An average of 13,6 years of professional experience ensures constructive discussions based on competencies, skills and expertise in many different sectors and industries.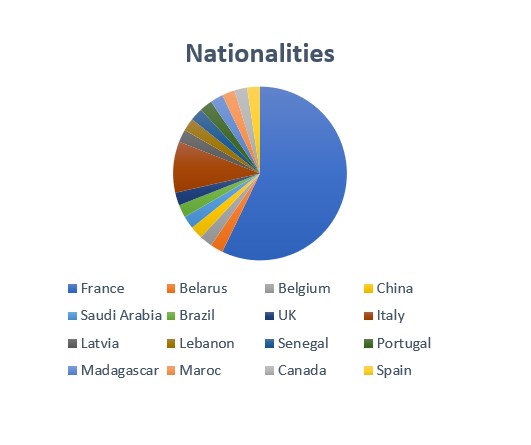 Personal and professional transformation guaranteed
Over the next 16 months, the participants will develop a strategic mind-set and global vision to become leaders capable of driving innovation, solve complex problems and drive sustainable business solutions. A new component to the EDHEC Executive MBA is the innovative Transform360 programme "puts increased emphasis on leadership and career development, tailored to meet each participant's individual needs and objectives." explained Stéphane Canonne. "Both a highly personalised and collective journey, it is designed to help you question, challenge and explore every aspect of your personal, career and leadership development to allow you to harness your full potential in your career, in your business and as a leader."     
Innovative teaching methods & personalisable curriculum
"Combining academic excellence with business-relevant expertise, the balanced Executive MBA programme is based on an active and experiential pedagogy", said Joelle Vanhamme, incoming EMBA Academic Director and Professor of marketing at EDHEC Business School. "Thus the programme successfully combines class-room learning with an in-depth focus on key issues and strategies, with global business trips, group assignments, leadership seminars and more. Through consulting projects and group assignments requiring participants to provide viable and sustainable solutions for their companies, the EDHEC Executive MBA has immediate, real-world impact for participants as well as their organisations".
Personalised coaching sessions and a multitude of electives make the EDHEC Executive MBA a truly personalised experience. Participants can even choose the format that best suits their busy schedules: bi-monthly (Friday & Saturday) in Lille or once a month Wednesday – Saturday on our central Paris campus.
An intense induction week to kick off a comprehensive, 360° learning journey
As with most executive education programmes, the new participants had to hit the ground running and dove right into subjects like 'Economy and Global Environment of Business'. But classes like Practical Resilience and Interpersonal Communication prepared them well for the journey ahead.
"This first week was very rich in experiences, both personally and professionally: I was able to expand my professional network while forging new friendships and we had excellent classes in an amazing setting" summarised Qin YU from Shanghai, China, who joined the EDHEC Executive MBA as he was looking for new professional input after several years at the French company Decathlon.
Samia Atoui, Clinical Quality Assurance Manager at Transgene in France, is already looking forward to the next class: "This was my first week back at school at EDHEC. I have the privilege to live a unique experience which will allow me to learn about new subjects such as macroeconomics, develop my resilience and my communication skills and especially to be part of an exceptional class! This induction week has been beyond my expectations: the energy, the good vibes, new learning and advice, and even the socializing with my cohort. It really went beyond what I expected, and I am looking forward to the rest of this learning adventure." Executive Master of Business Administration Programme Director Denis Dauchy eloquently concluded "Master or mastering means to know, to understand and to go further…. and we at EDHEC are here to be your partners".  
Could this be you?
Evaluate your profile to find out whether the EDHEC Executive MBA is what you're looking for to take your career to the next level.