New partnership to train Master students in Entrepreneurial Finance
Because Fintech is a rapidly growing industry with a market share of more than US$187 billion across 48 Fintech unicorns that challenge the current financial legacy systems with blockchain and…
Reading time :
23 Jan 2020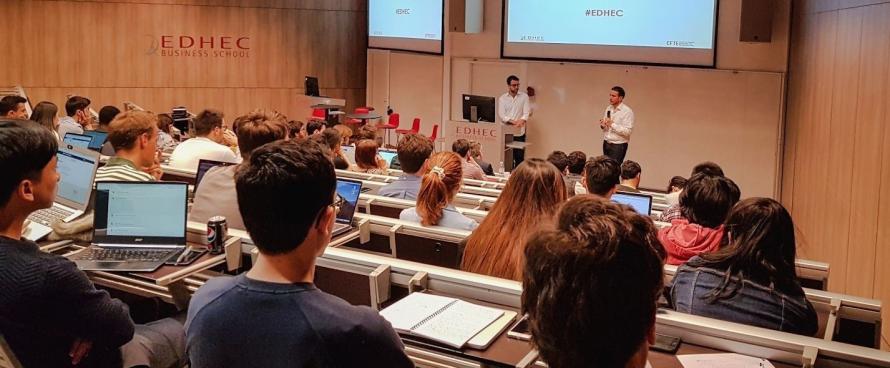 Because Fintech is a rapidly growing industry with a market share of more than US$187 billion across 48 Fintech unicorns that challenge the current financial legacy systems with blockchain and artificial intelligence (AI) being among the most disruptive and fastest-growing technologies that affect the industry, EDHEC Business School has chosen the Centre for Finance, Technology and Entrepreneurship (CFTE London) to co-develop the Fintech and Entrepreneurial Finance module, within the Master in Financial Economics degree. The course aims to prepare students for this changing landscape and teach them how to exploit the opportunities of emerging technologies. This launch follows a successful collaboration on Hybrid Fintech Specialisation programme in the 1st quarter of 2019. "We are delighted to continue working with EDHEC, and to set up the most innovative programme within the school, allowing 320 students to learn about Fintech and get them to work on entrepreneurial Finance projects. We are very impressed by EDHEC's willingness to innovate and try new pedagogical methods to keep bringing the best to their students", says Tram Anh Nguyen, CFTE's co-founder. CFTE is the largest corporate school to train in Fintech with over 55,000 alumni worldwide and a number of partner institutions such as Cyberport in Hong Kong, ADGM Academy in Abu Dhabi, or Budapest Institute of Banking.
What awaits Financial Economics students? 
The Fintech and Entrepreneurial Finance module will constitute a core module for 320 Master in Financial Economics students, where they will acquire foundational knowledge about Fintech and digital finance. Students will be exposed to the main industry trends and technological changes happening in finance as well as the main players driving the growth of the ecosystem with use case examples both from Europe and Asia. Learners will also participate in the group business case challenge, where they will develop their problem-solving and entrepreneurial skills. Michelle Sisto, Associate Dean for Graduate Studies at EDHEC, says: "We are delighted to continue and strengthen our partnership with the CFTE. It provides our students with an outstanding programme at the forefront of innovation in Fintech."
The programme aims to attract students with a strong interest in finance innovation, who want to understand the use of new technologies and develop new applications for the industry in the future. The course will be taught through a mix of in-class and online lectures, case studies, applied projects, students presentations, and experts discussions. The course curators will include Dr. Trenton Milner (Visiting Professor at EDHEC Business School), Janos Barberis (Head of Entrepreneurship at CFTE), Alessandro Di Lullo (Director of Academia and Entrepreneurship at CFTE), and Wissam Farah (previous Managing Director of Nomura).
Related resources:
EDHEC TOP 5 Masters in Finance by the Financial Times
Meet Baihe Li, MiM Financial Economics Alumna
Meet Ming Lu, MiM Financial Economics Alumna
Meet Gaurav Kalair, MSc in Finance Alumnus
Meet Lorenzo Avena, MiM Financial Economics student
Meet Hady Saad, MSc in Financial Markets Alumnus
GETTING VIRTUAL CAREER ADVICE ON SUSTAINABLE FINANCE TRENDS
Meet Paul Schweigl who worked on applied research projects developed by EDHEC-Risk Institute