New Practical Applications report on EDHEC-Risk paper
Portfolio Management Research publishes Practical Applications report on EDHEC-Risk Institute paper examining flexicure retirement solutions In this Practical Applications report, authored by Kihye…
Reading time :
26 Feb 2020
Portfolio Management Research publishes Practical Applications report on EDHEC-Risk Institute paper examining flexicure retirement solutions
In this Practical Applications report, authored by Kihye Hong of Portfolio Management Research, formerly II Journals, Lionel Martellini (Director of EDHEC-Risk Institute), Vincent Milhau (Research Director of EDHEC-Risk Institute), and John Mulvey (Professor of operations research and financial engineering at Princeton University) introduce a range of flexicure retirement goal-based investing strategies that allow for both security and flexibility in making retirement investment decisions and explored in "Flexicure" Retirement Solutions: A Part of the Answer to the Pension Crisis?, which was published in the July 2019 issue of The Journal of Portfolio Management.
The article also describe how the use of these specialized retirement bond portfolios can lead to improvements in the use of existing multi-asset products for retirement investing. It explains how to apply principles of goal-based investing to the retirement context and highlight the benefits of their strategies.
"Individuals should not have to choose between security and flexibility when approaching retirement investment decisions."

—"Flexicure" Retirement Solutions: A Part of the Answer to the Pension Crisis
This Practical Applications report consists of an easily comprehensible overview of the source article, a concise explanation of who will benefit from this research, and clear recommendations on how to apply the findings.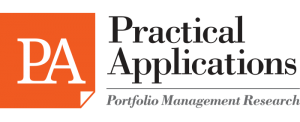 With the growing amount of literature available in the industry, researchers and portfolio managers face the daunting challenge of prioritising what they should read. Practical Applications, focusing on portfolio management, takes Portfolio Management Research (PMR) articles a step further. These reports dissect the scholarly research to uncover actionable items that may not be easily extracted from a highly technical article. Practical Applications allows readers to keep up with current thought leadership in institutional investing strategies and enables them to target which articles to explore in further detail.

The Journal of Portfolio Management (JPM) is the definitive source of thought-provoking analysis and practical techniques in institutional investing. It offers cutting-edge research on asset allocation, performance measurement, market trends, risk management, portfolio optimization, and more. Each quarterly issue of JPM features articles by the most renowned researchers and practitioners - including Nobel laureates - whose works define modern portfolio theory.

TOPICS: #retirementinvesting #portfolioconstruction #quantitativemethods 

 

 

View the full article, "Practical Applications of "Flexicure" Retirement Solutions: A Part of the Answer to the Pension Crisis?", January 2020

View the source article, ""Flexicure" Retirement Solutions: A Part of the Answer to the Pension Crisis?", Journal of Portfolio Management, July 2019

 

Lionel Martellini is a Professor of Finance at EDHEC Business School and the Director of EDHEC-Risk Institute. He is a former member of the faculty at the Marshall School of Business, University of Southern California, and has been a visiting fellow at the Operations Research and Financial Engineering department at Princeton University. Professor Martellini conducts research in a broad range of topics related to investment solutions for individual and institutional investors, equity and fixed-income portfolio construction, risk management and derivatives valuation. His work has been published in leading academic and practitioner journals and has been featured in major European and global dailies such as The Economist, The Financial Times and The Wall Street Journal. Professor Martellini has served as a consultant for large institutional investors, investments banks and asset management firms on a number of questions related to risk and asset allocation decisions, and is a regular speaker in seminars and conferences on these subjects..

 

Vincent Milhau, PhD, is the Research Director at EDHEC-Risk Institute, where he is currently responsible for overseeing projects related to goal-based investing and investment solutions, with a particular focus on retirement investing. He joined the organisation in 2006 and has worked on a number of asset allocation projects for institutional and individual investors. These have included asset-liability management for defined-benefit pension funds, life-cycle investing, target date funds and goal-based investing for individuals, long-term investing under short-term constraints and factor strategies. He has also contributed to the Institute's research on portfolio construction in the equity and the fixed-income universes. He has co-authored articles that have appeared in international finance journals. Dr. Milhau earned a master's degree in statistics and economics from the ENSAE, Paris, and a PhD in business studies from the University of Nice-Sophia Antipolis.

 

John M. Mulvey is a Professor in the Operations Research and Financial Engineering Department and a founding member of the Bendheim Centre for Finance at Princeton University. His specialty is financial optimisation and advanced portfolio theory. For over thirty-five years, he has implemented asset-liability management systems for numerous organisations, including PIMCO, Towers Perrin/Tillinghast, AXA, Siemens, Munich Re-Insurance, and Renaissance Re-Insurance. His current research addresses regime identification and factor approaches for longterm investors, including family offices, and pension plans, with an emphasis on optimising performance and protecting investor wealth (and surplus wealth). He has published over 150 articles and edited 5 books. He is developing a Massive Online Open Course (MOOC) with Professor Martellini - "Python Machine Learning for Investment Management," and is a senior advisor for Alibaba (Ant Financial) and First Republic Bank.