Peter Daly (EDHEC) and his co-author win the EFMD Best Paper Award at the 2023 GEM&L Conference in Paris
From May 10 to May 12, 2023, the Research Group on Management and Language (GEM&L) held in Paris its 16th Conference, during which Peter Daly, EDHEC Professor, and his co-author, Dardo De Vecchi, Kedge Professor, won the EFMD Best Paper Award.
Reading time :
16 May 2023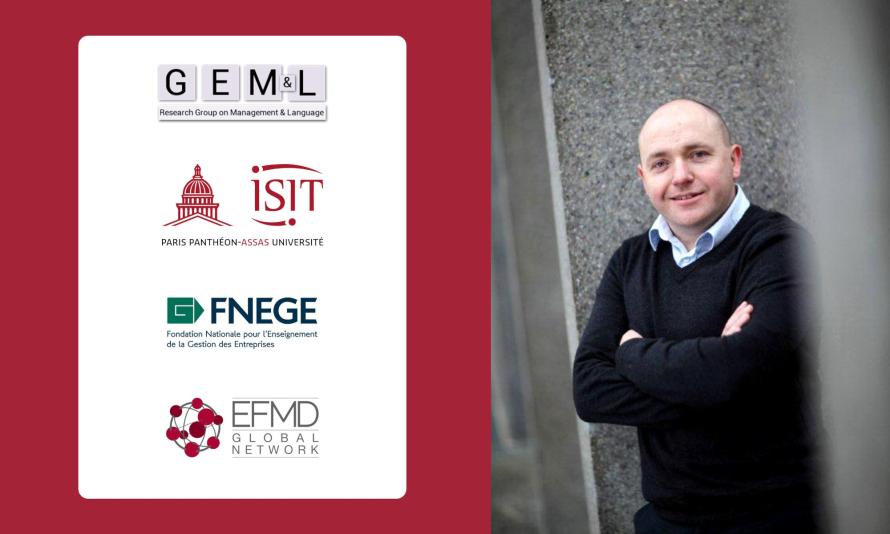 The GEM&L has held every year since 2008 its International Conference, gathering researchers from all over the world to "contribute to the academic study of language in organizations, from the management of cultural differences to the understanding and sense-making structured by language". The theme of the 16th edition, run in Paris, along with ISIT Paris Panthéon Assas, the Fondation Nationale pour l'Enseignement de la Gestion des Entreprises (FNEGE) and the European Foundation for Management Development (EFMD), was "Language sensitive research in International Business and Management: Current perspectives on societal challenges".
Since 2015, every 2 years or so, the Awards Selection Committee* highlights a paper which represents, to them, a key contribution to the field. In 2023, Peter Daly, Professor of Management and Director of the MSc in Management and Leadership at the EDHEC Business School, together with his co-author Dardo De Vecchi, Professor at Kedge Business School, have won the EFMD Best Paper Award.
The paper, entitled "Visual design in start-up internationalization: A social semiotic analysis" reports on how start-ups use semiotic approaches to convey meaning and deal with language diversity when internationalizing. Small businesses use multimodality and diverse code to make meaning in an international environment. A social semiotic perspective was employed to demonstrate how start-ups exploit visual design in their packaging and advertising campaign.
Two major challenges were identified when using visual design in an international context: the cultural knowledge required to interpret visuals and the potential risk of 'loss of intended interpretation' by consumers in foreign markets and the consequent loss in market share; and the need to consider perceptual processes when internationalizing in different cultures, recontextualize to meet market considerations and ensure a semantic fit on that global market. This paper will be of particular interest to SMEs and start-ups to better appreciate the cultural contingencies of visual design when sense-making in global markets.
*The authors would like to thank the 2023 Awards Selection Committee: Philippe Lecomte, Retired Professor, Toulouse Business School, France - Janne Tienari, Professor of Management and Organisation at Hanken School of Economics, Finland - Andrea Whittle, Professor of Management and Organisation Studies, Newcastle Business School, UK.
Selection of pictures from the conference (Credits: ISIT and GEM&L Linkedin profiles)