Support the new generation of students
Support the new generation of students Act for EDHEC! Many Alumni in the UK have already expressed their support for EDHEC UK and we hope you too will want to play a role in its success by donating…
Reading time :
20 Mar 2017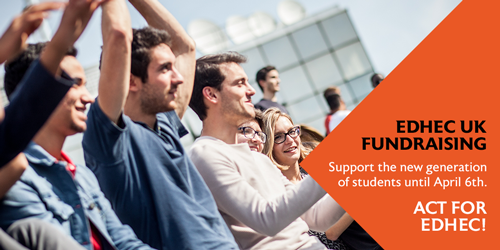 Support the new generation of students
Act for EDHEC!
Many Alumni in the UK have already expressed their support for EDHEC UK and we hope you too will want to play a role in its success by donating to EDHEC Charitable Trust.
All donations, no matter how small or large, make a BIG difference and if you are a UK tax payer they are worth 20% more through gift aid and are tax deductible.
Sponsor scholarships that will give the next generation of students access to an EDHEC higher education that they would not otherwise be able to afford.
Support budding entrepreneurs by offering them specialist advice, practical help and, if required, financial support.
Contribute to the pedagogical innovation inside the campuses by helping the development of modern classes and new teaching techniques.
[button type="link" link="https://donate.edhec.com/uk/?lang=en_EN& &reserved=news_alumni" class="line"]I make a gift[/button]  [button type="link" link="http://donation.edhec/uk" class="line"]Learn more[/button]