Tackling the challenges of tomorrow – career options after an MBA
While our current cohort is finalising their MBA projects and internships and getting ready for life post-MBA, what happened to last year's cohort? Where are they now and what are they doing? Let's dive into the newly released MBA career stats one year post graduation.  
Reading time :
30 Aug 2023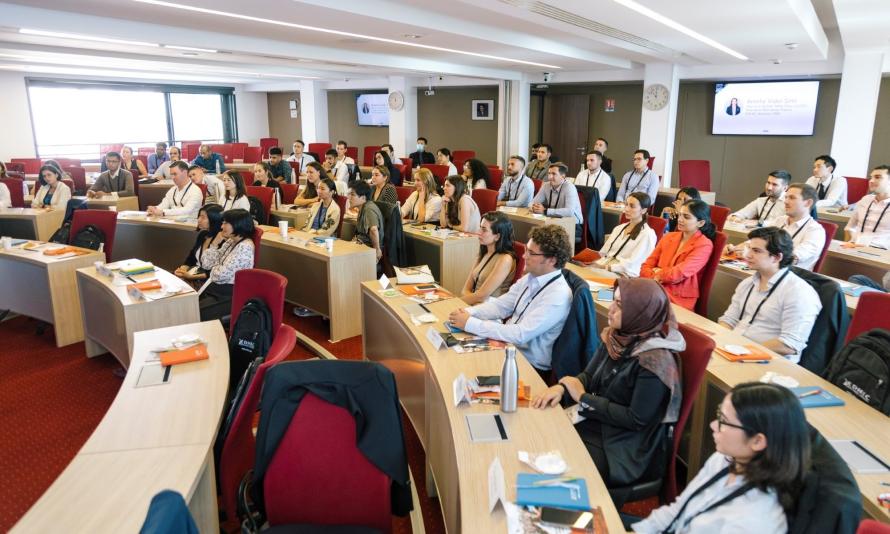 Industry sectors post-MBA  
Over the past years, sustainable business was a driving force in choosing the EDHEC Global MBA.  
The MBAs' choice to invest in themselves and to prepare for a new, more sustainable world proved to be a good one, with 96% of the 2022 cohort receiving job offers within three months of finishing their studies. Technology was the leading sector for EDHEC MBAs, chosen by 23% of graduates. 16% of the cohort landed financial services roles, 18% chose a career in consulting, while packaged goods, retail & e-commerce, and (green) energy rounded out the top six industries.  
These are just some of the companies our alumni have chosen to work for: 
"I decided to do an MBA to focus on my career and move into renewable energy and sustainability. I chose EDHEC because they have a strong focus on sustainability."
  Global MBA 2023
An MBA to launch an international career 
Almost three quarters of EDHEC graduates are working outside of their home country, with 77% changing locations after the MBA. Almost 90% have changed the function they are working in, the top four being sales & marketing, consulting, finance & accounting, and logistics & operations. EDHEC MBAs chose employment with brands like Amazon, Verizon, and L'Oréal along with B2B firms such as McKinsey and Amadeus. Global corporations like Allianz, CMA CGM, and Schneider Electric are joined by mid-size companies, startups, and other challengers from around the world in selecting our graduates and the transition from fossil fuels has seen EDHEC MBAs electing to work at TotalEnergies Renewables, and Vinci Energies.  
Launching your business with an MBA 
If you are dreaming of setting up your own business, an MBA is an ideal starting point. From a 360° understanding of business to being able to focus and specialise on an entrepreneurial concept, the Global MBA acts as springboard for start-ups each year. The dedicated Entrepreneurship track goes beyond the classroom, guiding participants from the seed of an idea to a robust business plan, ready for the real world. Immersed in a thriving startup ecosystem, participants harness a wealth of knowledge, tapping into expert feedback and turning theory into actionable strategies. 
3% of the 2022 cohort have chosen to follow their dreams of entrepreneurship, just like Plinio or Pasa before them.  
But how exactly can an MBA help you kickstart your business?
A dedicated MBA careers team to make a difference 
The EDHEC MBA careers team continues to innovate. "The world remains an uncertain place. Our Lead360 programme gives EDHEC MBAs the resources to lead in a world that demands more awareness and emotional intelligence, as well as being ready to take on the transformative challenges of a new political, economic, and business environment." explains Spencer Hamilton, Head of Careers & Corporate Services.  
A focus on long-term, practical, and effective career development skills is twinned with a drive to put our MBAs in contact with senior leaders around the world. Last year saw nearly 60 companies and 70 alumni involved. Moments such as job-shadowing and events like the EDHEC Global MBA Hackathon or the Sustainable Impact Challenge along with other group and one-to-one situations enabled EDHEC MBAs to showcase their capabilities, develop their networks and impress employers. 
"More than anything, the Hackathon was a lesson in how to make a super diverse set of skills work together." summarised Steven Sadiq, part of the EDHEC Global MBA Hackathon winner team.   
Transform your career with an MBA 
Dive into a transformative journey with the EDHEC Global MBA. From sustainable ventures to entrepreneurial success, chart your path to the future.