EDHEC
|
Entrepreneurship
Institutionnal
Tech Forward – a new joint incubator from EDHEC-EURECOM-IMT
On December 14th, EDHEC, along with its partners EURECOM and the Institut Mines Télécom, inaugurated the new joint Tech Forward incubator, which will operate in the heart of the Sophia-Antipolis business cluster. With this project, the three partners have chosen to combine their expertise to support future entrepreneurs at the intersection of tech and business. This brand-new incubator aims to recruit a dozen startups in its first programme and thereby contribute to meeting today's major technological and environmental challenges.
Reading time :
14 Dec 2022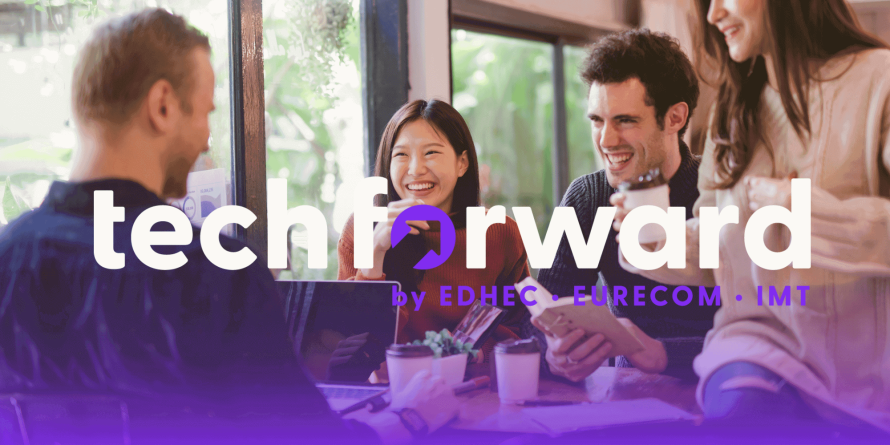 Three top-class players in entrepreneurship and tech
The launch of this incubator is fully in line with the partners' key focus on pooling talents and skills. EDHEC and EURECOM began aligning their skills back in March 2021, with the integration of EDHEC into the EURECOM EIG, which includes internationally-renowned schools such as the Institut Mines Télécom and Politecnico di Torino, as well as companies such as Orange, BMW, etc. Creation of the incubator is part of a strategy of developing projects on common themes (digital security, communication systems and data science) with a significant impact on industries and the economy.
The selected entrepreneurs will be supported in the design of innovative, ambitious technological projects with high added value for society. The projects selected will cover a wide range of themes related to the major challenges of tomorrow, in the fields of technology and digital (FinTech, HealthTech, GreenTech, networks of the future, connected mobility, cyber-security, e-commerce, etc.)
What resources will be offered to entrepreneurs?
The 12-month programme will offer access to a bespoke range of business support delivered by EDHEC Entrepreneurs (EDHEC's incubator), which adds this new environment to its other entrepreneurship sites (Station F in Paris and the Jean Arnault Campus in Roubaix), a dedicated programme manager, more than 300 experts and mentors in every key theme of business creation (financing, product, marketing, legal, etc.), a network of more than 60 venture capital partner funds, etc.
Tech Forward also promises special access to the excellent technological resources provided by EURECOM and the Institut Mines-Télécom, including a wide network of research professors and alumni from the three institutions, support for technological protection, specialist infrastructures and partners, as well as support for funding innovations.
We will be back again in January, to learn about the first group of entrepreneurs supported by Tech Forward.