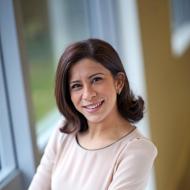 Hager Jemel-Fornetty
Associate Professor, Diversity & Inclusion Chair Director
Pre-master Director
Main contributions
Economies et Sociétés : Série Entreprise et Finance (2013), Finance and Sustainability: Towards a New Paradigm? A Post-Crisis Agenda  (2011)
Faculty:
Management & Humanities
Expertise:
Diversity, Inclusion
Bio
Hager Jemel, PhD, is Associate Professor of Management at EDHEC and Director of EDHEC Open Leadership Innovation Centre for Diversity & Inclusion at EDHEC Business School. She has also been Director of the Pre-Master Year for the EDHEC Master in Management since June 1st 2017. She holds a Doctorate in Management Sciences from Institut d?Administration des Entreprises de Lille, part of University Lille 1. She has amassed 13 years of experience in Management lecturing and research, and commands strong expertise in the CSR and diversity fields. The EDHEC Open Leadership Innovation Centre has conducted numerous studies on these topics, including most recently « Promises and Paradoxes of Public Leadership », a study which provides an unexpected portrait of public leaders.
---
Publications of Hager Jemel-Fornetty
---
Derniers articles EDHEC Vox