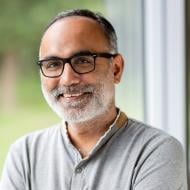 Main contributions
Economic Modelling (2022), Organization (2020), Journal of Business Ethics (2020), Long Range Planning (2019), Journal of Cleaner Production (2019), Climate Policy (2018), Journal of Management Studies (2017), Scientometrics (2015), Organization & Environment (2014)
Faculty:
Management & Humanities
Expertise:
Sustainable Procurement, Sustainable Performance, Management of Organisational Resources and Knowledge
Bio
Naeem Ashraf is a Professor of Sustainability Management at EDHEC Business School. He received his MBA and PhD in Management Science from IAE, Aix-Marseille University, France. During his professional career that spans more than eighteen years, he served in senior positions in different sectors that include higher education, fertilizers, automobile, and Pakistan's national space agency. He was also a member of the core team of consultants at Lahore University of Management Sciences, to train C-suite executives, and board of directors. His areas of research interest are inter-organizational relationships, organizational behavior, and business ethics. He has published in Organization, Journal of Management Studies, Long Range Planning, Journal of Business Ethics besides other journals.
---
Publications of Naeem Ashraf
25.11.2021 - Article in a peer reviewed journal
Parent-subsidiary dispersion, cost of debt and debt default: Evidence from China
|
Economic Modelling, Volume 107, November 2021, Pages 1 - 21
---