Advocating for Equality: in the classroom and in the workplace
Interview with Sandra Richez, EDHEC Global MBA Programme Director, on how to ensure equality and diversity in a cohort and why women deserve an equal ROI on their MBA
Reading time :
6 Dec 2022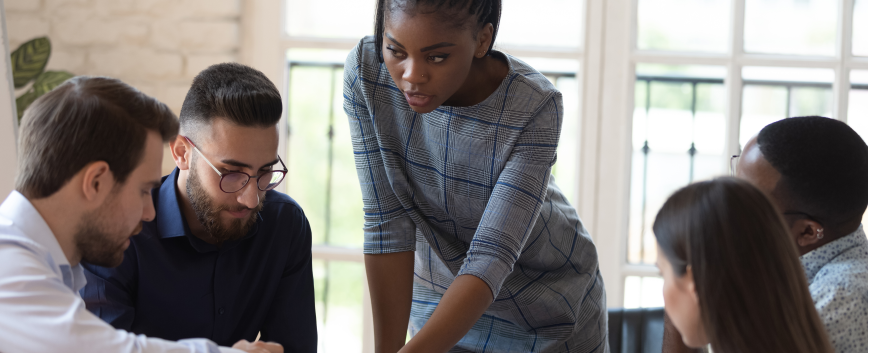 In light of World Women's day we sat down with Sandra Richez, EDHEC Global MBA Programme Director, to talk about our collective responsibility for equality in the workplace, why tackling gender exclusivity in leadership must start in the classroom, and how a diverse cohort and a focus on ESG education can help fighting bias, stereotypes and discrimination, for a world that's diverse, equitable, and inclusive. A world where difference is valued and celebrated.
How can equality relate to executive education?*
We are all equal, and collectively responsible to make change happen. Anyone who has done one will tell you that an MBA is a great leveller. There is no hierarchy. Students in the cohort operate on an equal level, and there should be no one authority or 'voice' that stands out in the group. Women get to experience making decisions on equal footing with men and vice versa. 
How does this 'equal footing' play out in the classroom?
The topic of gender diversity is often perceived differently from one culture to the next, so the more diversity you have, the fewer opportunities there are for 'otherness' to gain traction and become a problem. If everyone is different, they are operating on an equal level because you take away an us-and-them mentality. And this is why gender equality must be part of an over-arching policy on all types of diversity. 
What can Business Schools do to foster Diversity?
As our alumni confirm time and again, working day-in, day-out with people from different cultures, countries, professions and industries is key to developing authentic, inclusive and ethical leaders.
To ensure gender and cultural diversity, we carefully select each participant, recognising not only their individual strengths and experiences but also how they can contribute to the wider class. Furthermore, we offer scholarships such as "Women in Leadership" or "Cultural Diversity" to encourage and support cultural and gender diversity from the classroom to the boardroom. Our current cohort of 68 participants for example includes 30 different nationalities and 46% female candidates from many different industries and professions.
To give future leaders the tools to foster diversity, inclusion and equality, these and other ESG subjects are incorporated throughout the curriculum. Even more so since the latest programme update.
Is breaking down 'the other' in the classroom the key to empowering the next generation of women leaders?
Yes. Someone who may not normally feel empowered to speak up in their own culture will often be energised here on the Global MBA to do just that, and they get plenty of opportunities to practice this in the neutral space of the classroom. As an educator that's very rewarding to see. A woman with leadership training under her belt will hopefully feel emboldened and more prepared to speak up and get their voice heard when they return to the workplace. 
And yet, gender diversity in the boardroom is far from being an equal split…
A report from Wharton on gender in the boardroom in 2017 highlights 'gender exclusivity in leadership', and I think that this really is the glass ceiling that we need to break. Also, McKinsey's Women Matter study states that it will take 100 years to reach gender parity in the C-suite based on current hiring trends. It's with powerful statements such as these that prove we need to face up to our collective responsibility to enact change.
But it's not just a lack of gender diversity that is a problem in leadership positions. Even when women obtain leadership roles there is still the problem of the gender pay gap.  Latest OECD figures put the global pay gap at 11.6%, ranging from only 2.6% in Bulgaria to a whopping 31.5% in Korea. The gender pay gap in the EU stands at 14.1% and hasn't changed much over the last decade!  
How can business schools address the gender pay gap in a way that empowers the next generation of women leaders?
For sure as educators, we have a responsibility to make sure that all students - men and women - study gender parity as part of the curriculum, especially in terms of the impact it can have on GDP and bottom line. But it can also be addressed in another way that has a direct impact on women studying on an MBA, and that's by launching a scholarship that directly addresses the gender pay gap. 
How exactly can an MBA scholarship address the gender pay gap?
We know that globally women have about an 18-20% pay gap by the time they are 30-35 years old, which is coincidentally the average age range of our candidates. So, it became obvious to us that if we want to encourage women onto the MBA, we must acknowledge that in real terms, they probably have 18 to 20% less money to pay for their studies than male candidates. We quickly realised that this is what we needed to address and therefore have added the "Women in Leadership" scholarship to our list of scholarships.
So, to put it another way, the gender pay gap means that women don't get the same ROI on an MBA education as their male classmates?
Exactly. Because of this pay gap, you could say that women spend comparatively more than men for their MBA education. While having an MBA helps narrow this pay gap, women may need to negotiate harder just to get similar outcomes to male peers. And while ROI is about much more than salary, it is still an important measure and a key area for gender equality.
It's important to me that we make leadership education equally accessible to women, in order to raise up the next generation of female leaders; it makes financial sense to both the candidates on a personal level and to business in general. We need to strengthen female talent and make sure that both men and women start out on an equal footing.
At EDHEC, we know that embarking on an MBA is a major investment and we support you through a transparent scholarship system. As well as the Diversity scholarships there are merit-based, nationality-based, and a "Make an Impact" scholarships that aids those with potential in sustainability.
Are you ready to transform your career? 
Download the brochure to find out how the EDHEC Global MBA will give you the tools, knowledge and confidence you need to accelerate your international career