#MyMBAStory: How scholarships can #makeanimpact for women
Meet Adaobi Onyenwe, 2022 Woman of Impact Scholarship Recipient
Reading time :
5 Dec 2022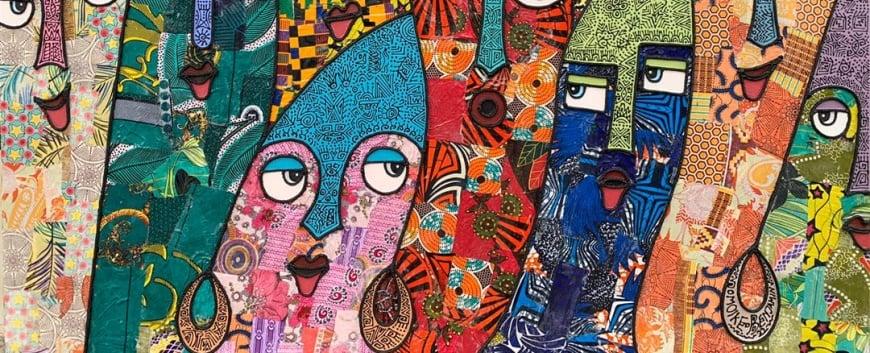 Funded in memory of Swati Kansal, 2019 EDHEC Global MBA graduate, who made an outstanding contribution to her school as a highly engaged student, an MBA class representative and President of the MBA Digital Innovation Club, the Swati Kansal Memorial Scholarship for Women of Impact is awarded to women prooving a strong desire to contribute to the school, to business and to society while demonstrating potential for leadership and career success.
Meet Adaobi Onyenwe, this year's recipient, and learn about her journey from Lagos, Nigeria, to a Global MBA in Nice, France. What would #YourMBAStory be?
Adaobi Onyenwe, or as her friends call her, Ada, has always enjoyed learning. Born and raised in Lagos, Nigeria, Ada strived to go above and beyond in the classroom. Her hard work resulted in multiple international scholarships throughout her academic career leading her to pursue studies in Trieste, Italy, and now to Nice, France.
Ada received EDHEC's Woman of Impact Scholarship and is currently completing her Global MBA among classmates with over 30 nationalities. We sat down for a Q&A with Ada to learn more about her road to EDHEC and her experience so far.
Q&A with Ada, 2021/2022 Woman of Impact Scholarship Recipient
What is your background and where are you from? What did you do before the Global MBA?
I was born and raised in Lagos, Nigeria. As a teenager, I went to boarding school at an international school near Trieste, Italy thanks to a scholarship. From there, I lived in several more countries for work and school.
Prior to the GMBA, I worked in Ivory Coast (Côte d'Ivoire) for about two years for the African Development Bank. I focused on partnerships and resource mobilization, mostly for climate change and renewable energy projects to be carried out on the continent.
What made you decide to go back to school?
I guess I just enjoy learning! My career was mostly within the development sector so "making an impact" was always a focus of mine.
My goal was to always improve the lives of others. For years, I had been wanting to get a grounding in business and management education more broadly. So, when COVID slowed things down, I thought that this year was a great time to get my MBA!
Why did you choose EDHEC and its Global MBA?
I was looking for a short and focused MBA programme and EDHEC's curriculum ticked all of the boxes. I was attracted to its focus on experiential learning and exposure to different elements of the modern business environment.
The EDHEC Global MBA's reputation for sustainability education was a draw for me too, personally. Being based in Nice and near the beach was an additional plus.
What is the Woman of Impact Scholarship?
This scholarship was created in memory of Swati Kansal, a 2019 GMBA graduate. She was on all accounts an outstanding student and person.
I'm thankful for the immense support from her family, but also to be associated with someone who has managed to inspire such goodwill from everyone with whom I've spoken.
I received this humbling scholarship because of my background. I believe it was because of my work with Artdey and generating a platform that's making an impact in so many African's lives.
How important do you think scholarships for women are, specifically? Why?
Women still face a disadvantage in the workplace globally. Plus, they shoulder the giant share of responsibilities outside of the workplace.
Deciding to take time off of work to get an MBA is no easy decision for anyone due to the cost and foregone income. Opportunities to help women and to increase their representation are vital, especially in traditionally male-dominated fields.
Are women well represented in your GMBA cohort? What difference does this make?
There are 46% women in my cohort, almost parity, which I understand is something of a record! Gender parity is quite important to me.
Women here in my GMBA cohort are universally intelligent and thoughtful women. They have all contributed a lot to enrich the discussions both inside and outside of the classroom.
Hearing their unique perspectives is educational to everyone in the programme and beyond. We all think differently and it's such a beautiful thing, that I believe, the world needs more of… and the same goes for cultural diversity!
How are you enjoying the programme so far?
The programme has offered a wide range of experiences and is very fast-paced, but I appreciate that. It has created some wonderful memories too, many of which were during the amazing sustainability expedition to Slovenia.
I've met some wonderful people in my cohort. I feel very fortunate to have had this experience at a time when it's been very challenging globally. I'm grateful that the administration has done everything they can to continue to let this GMBA happen in person.
What is the most important thing that you have learned so far?
I've really appreciated getting to work in small groups with some of my classmates. The shared knowledge and international experience have been invaluable. Plus, we've always managed to have some fun along the way!
What are your goals for after the MBA?
I want to leverage my experience in the international public sector to further develop connections between society and business.
I'm interested in exploring the possibilities of business to be a net positive for both people and the planet. I always wish to remain a support resource for women considering an MBA!
Post-MBA success - #makeanimpact
Today, Ada is "Responsible Business Adviser EMEA" at international law firm Hogan Lovells, with the mission to identify ways of using the law to help build a better world.
Could this be you ?
Evaluate your profile to speak to one of our career advisors and see how you would fit in with our next cohort.