From Ambition to Success: Boosting Careers with EDHEC Business School's Executive MBA
The Executive MBA programme at EDHEC Business School has catalysed career transformations and elevated prospects for its graduates. In this article, we'll delve into the stories of four alumni from diverse professional backgrounds as they discuss the remarkable impact that the programme has had on their outlook and career prospects.  
Reading time :
21 Jul 2023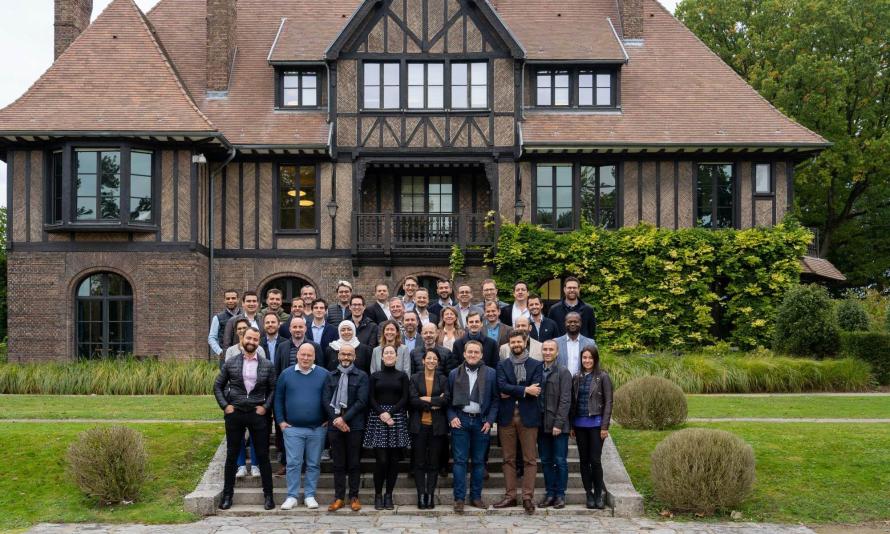 From enhanced self-reflection to exposure to new and more strategic perspectives, each has experienced a range of benefits that propelled their career to new heights - often in a new and exciting direction. 
Developing Interpersonal Skills 
Kévin Barrois, who became Chief Financial Officer of N3C Group at 31, discovered the power of self-reflection through the EDHEC Executive MBA. For Kévin, the coaching and introspection led to a profound shift in his career trajectory. This transformative journey enabled him to align his personal and professional goals, leading to a newfound sense of fulfilment and work-life balance. 
"This work on oneself is really transforming. I realised that until now, I had advanced in my career without questioning in depth my life goals….My generation realises that personal growth is just as important as professional development, and I find it important. I find this culture in the EMBA". 
In common with many leaders, Kévin's rapid rise to a senior position had left him aware of some skill gaps that could have stalled his growth, but after his Executive MBA, career success took on a new meaning. 
"I was young when I became a Director of Finance. After six years in the position, I wanted to open up new horizons and develop my soft skills. Because for me, technical skills are nothing without the human skills." 
Today, Kévin is CFO at Sdez Group and teaches at ISCID-CO International Business School.  
Transforming Perspectives 
François Dolveck is a medical doctor and Head of the Emergency Department and Intensive Care Unit at Melun Hospital Centre, France.  
For François, the value of EDHEC's Executive MBA programme was that it provided exposure to diverse sectors and viewpoints. This fostered innovative thinking and allowed him to identify areas for improvement in his area. Adapting and incorporating strategies from other sectors - for example, he was inspired by a fellow candidate from Amazon - enabled him to move beyond traditional compartmentalised thinking to ensure efficient flow management and increased organisational effectiveness. 
"With the EDHEC Executive MBA, I feel like I broke free from my mould and decompartmentalised my vision. This was very liberating and exactly what I was looking for." 
An MBA as a Springboard for Entrepreneurs 
EDHEC's Executive MBA programme also provides an environment where independent, entrepreneurial spirits such as Carine Lavenu thrive and transform their career trajectories.  
Carine, formerly an International Sales Director for a French SME, embraced entrepreneurship even before completing the Executive MBA, quitting her job and using her newfound knowledge and perspectives to help entrepreneurs optimise their strategy, marketing, and performance.    
For Carine, post-MBA career success meant taking a leap of faith to become a consultant. 
"The programme impacted a lot of my life: professionally because I decided to change career and to be my own boss; personally, it also impacted me in terms of freedom and understanding what I wanted to be." 
Above all, EDHEC EMBA alumni appreciate how the programme has impacted them professionally as they gain confidence, skills, and new perspectives. But how is participation viewed by those who will influence their career trajectory - by recruiters and potential employers?   
Attracting New Opportunities, Boosting Career Prospects 
Stephanie Levy, now General Manager DACH at Inspera, experienced heightened employability and career momentum through her participation in the Executive MBA programme.  
"As soon as I added "Executive MBA Candidate" to my LinkedIn profile, recruiters started reaching out to me. It is an investment in yourself and in your career. In fact, I got promoted to a more senior role halfway through my Executive MBA programme. My post-MBA goal was a more senior-level leadership role with increased strategic responsibilities and new challenges." 
By showcasing her status as an EMBA candidate, Stephanie attracted attention from recruiters, opening doors to exciting opportunities. The programme served as a powerful investment in herself, propelling her into more senior-level leadership roles and granting her increased strategic responsibilities. Shortly after this interview, Stephanie was offered a role as Senior Director at CIEE before moving on to her current job.  
Through self-reflection, exposure to diverse perspectives, heightened employability, and the confidence to embark on entrepreneurial ventures, candidates in EDHEC's EMBA programme experience a wide range of benefits that transform their professional opportunities. The programme empowers alumni to reach their full potential, opening doors to new opportunities and propelling them toward unprecedented MBA career success. 
Are you ready to take your career to the next level with an MBA?  
Sharpen your leadership skills and gain the tools and skills necessary to transform your career. Develop the confidence to lead with conviction and achieve your personal and professional goals.