Diversity, sustainability, leadership development
EDHEC Global MBA induction week sets the tone for a transformational year ahead
Reading time :
29 Nov 2022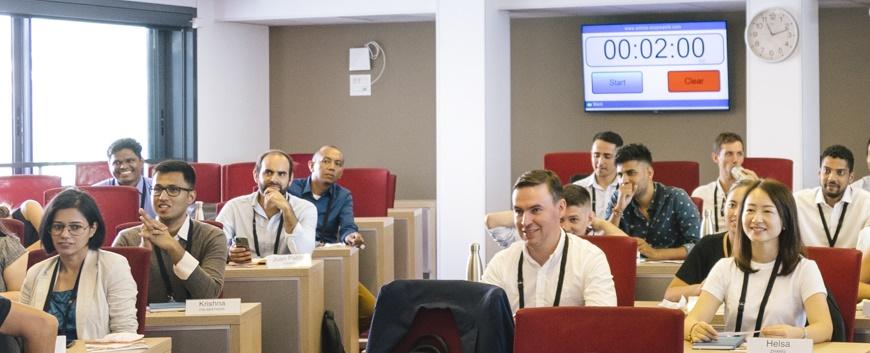 The 2022/23 EDHEC Global MBA Cohort has arrived in sunny Nice and started their demanding and transformational journey with a very busy induction week. Between settling in, meeting their classmates and the dedicated Global MBA team, discovering the campus, teambuilding exercises and the first of many excursions, the start to this eventful year was nothing short of exciting.
Celebrating diversity 
One of the many advantages of a Global MBA programme  is the exposure to different cultures, the possibility to build an international network and learn how to collaborate with and lead different personalities.
At EDHEC, we always strive to make our cohorts as diverse as possible while ensuring to include talents from different backgrounds in terms of academic and professional experience. And this year is no different! 61 participants, 27 different nationalities and 39% women make for a truly diverse cohort. Our MBAs come from all sectors and job functions: from finance and insurance, to education NGOs and public services, from consulting, healthcare & life sciences, logistics, energy consumer goods and many more. 
Teambuilding and leadership development
One highlight of the first week was the excursion to the beautiful St Honorat Island in the Mediterranean just off Cannes. The morning was dedicated to a discovery walking tour to learn more about the history and geography of one of the regions preserved natural spaces, where tradition and seaside meet conservation and responsible agriculture. An ideal location for the cohort's first teambuilding exercise. "These early days and the first group exercises are a good way to get a feel for the cohort, the different leadership personalities" explains Sandra Richez, EDHEC Global MBA Programme Director. "I am delighted that we have such diversity in terms of cultures and personality and am looking forward to see them learn and grow and surpass themselves during this year".
Sustainability – right from the start
Sustainability is woven into the EDHEC Global MBA programme throughout the whole year, the main reason why the programme is ranked among the best in the world for ESG education. While the main goal of the first group exercises is to build teams, teambuilding games are all themed around sustainability. "Each year, our main goal is to bring out well-rounded, responsible (future) leaders" explains Sandra Richez. 
Ready to make an impact
Kicking off a new chapter in your career and even your life is always an emotional moment but our talented cohort is ready to make the most of this years' experience. "The curiosity to see different professional environments and to learn innovative working methods, led me to go back to study in order to update my skills." confirmed Federico Porro from Italy.
What next? An intense MBA programme for ambitious goals
Over the next 10 months, our new cohort will embark on an intense and incredibly transformational journey. Beginning with 6 months of core strategic fundamentals, from March onwards each participant can personalise their programme with a range of electives, a specialisation track and a tailored MBA project to reflect and further support our increasingly diverse cohort, each of them with their very individual goals and ambitions. Social impact, innovation and entrepreneurial leadership are at the heart of the programme, with experiential learning, an increased connection to business and a cutting-edge professional development programme, Lead360.
Could this be you ?
Evaluate your profile to speak to one of our career advisors and see how you would fit in with our next cohort.