5 tips to kick off your MBA successfully as an international student
Reading time :
8 Sep 2022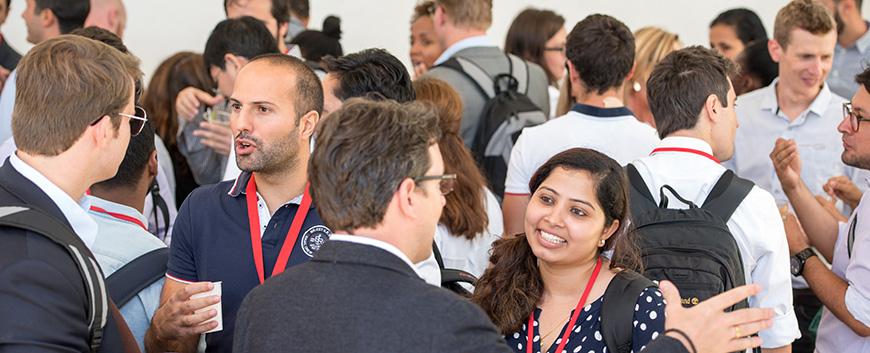 Whether your ambition is to boost your career, develop your leadership skills, expand your network or get international exposure, the EDHEC Global MBA is the right choice. With a typical class comprised of over 30 nationalities with as many functional and industry backgrounds, you will not only learn from professors, but also from your diverse MBA cohort. However, being an international student can seem daunting, and may require a bit of organization. EDHEC's specialised teams are here to support you at every step, starting with these 5 tips to begin your MBA on the right track:
Tip #1: Be confident
If you've been accepted into the Global MBA, it means you have convinced our Admissions Team of your potential to succeed, your fit with the curriculum, the class and the business school. If you made it this far, you can be confident that the conditions are met for you to make the most of your year, starting from day one!
Tip #2: Don't hesitate to ask for help
Visas and relocation can be challenging if you live half-way across the world and even if you are already in France or Europe. Our International Students Office is by your side from helping you obtain your student visa to offering invaluable assistance as you begin your journey to settling and living in France. They help you with issues from the most mundane to the most complex. Need help with housing, setting up a phone line, finding a babysitter or providing administrative documents? Never be afraid to ask for assistance, for they are here to take the weight off your shoulders so that you can concentrate on your studies.
Tip #3: Communicate with your fellow students
To make you feel like you belong to a tight-knit community, interaction and experience sharing between participants is encouraged from the very start of the Global MBA experience, through team building exercises. Whatsapp groups have proven very helpful fo students arriving before the start of the classes to organise sightseeing and get to know each other upon arrival. Alumni can also be a great source of information as they went through the same journey before. They will be more than happy to give you any advice you need.
Tip #4: Be open to advice
As an EDHEC Global MBA participant, you will benefit from individual career coaching, interactive classroom discussions and opportunities for peer to peer feedback. Our expert coaches have been chosen for their solid experience, but also for their capacity to be honest about what obstacles may stand in your way. Sometimes, reaching your goals may require a different path from the one you imagined, and that's okay! As long as you remain open to advice, our team will always be able to guide you towards your next step.
"I applied to many schools, but the EDHEC team was  the most receptive and welcoming. Their communication was great, and they always took the time to answer my questions."
Pranjali Apurva (India), Global MBA 2019
Tip #5: Plan your next career steps early on
Well-integrated into the European and French business network and beyond, EDHEC Global MBA Career Services will start working with you early on to discuss your goals and provide corporate and alumni contact opportunities, both on-campus and on-line. Leadership Programs at Amazon, Microsoft, Nielsen, Credit Suisse and Johnson & Johnson begin their recruitment processes early on. Getting involved in one of the many MBA Student Clubs in entrepreneurship, consulting, finance, retail and e-tail, project management, data & tech, the women's network, or social business is a great way to explore options further with motivated and experienced classmates. The earlier you invest in your career planning, the closer you'll get to your dream job.
"EDHEC made our first days very enjoyable. We took part in team-building events, and our classes started with a coaching session that helped us reflect on our goals for the future and know each other better."
Tommaso Pigato (Italy), Global MBA 2019
Are you ready to transform your career?
Download the brochure to find out how the EDHEC Global MBA will give you the tools, knowledge and confidence you need to accelerate your international career