4 Top Tips to build a successful international Career
Reading time :
26 Nov 2021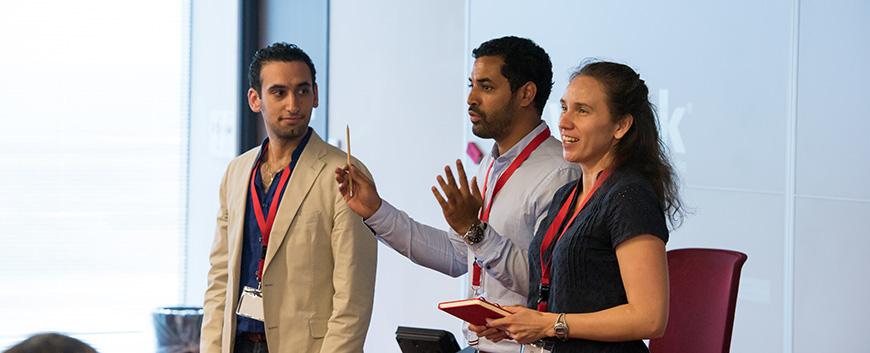 Starting an MBA is a unique opportunity to build a more fulfilling professional future for yourself. To make sure you obtain the best career advice, EDHEC relies on world-class coaches and teachers, but also on the knowledge and experience of its former Global MBA students. This is why, as part of the CareerSMART week, Global MBA Alumni are coming back on campus to share their secrets and tell their career success stories in some of the world's leading companies, such as Amazon, Microsoft, L'Oréal, PWC or Crédit Suisse.
Career advice #1 "Discover yourself to invest in yourself"
To head somewhere, you have to know where you stand. EDHEC can provide you with extensive coaching and the kind of detailed testing you'd encounter in an assessment center. Preparing you for future selection processes, it also gives you an amazing opportunity to better understand yourself, your needs and your personality. Once you understand your own expectations, it becomes much easier to define a career path that truly suits you.
"EDHEC helped me identify and hone my strengths, and address my weaknesses, which led me to go back to what I know best - media and advertising"
Jessica Corpuz
Career advice #2: "Forget your comfort zone"
No matter what your profile is, some things will always feel more difficult at first. Some MBA students may be less comfortable with networking, while others may encounter difficulties working on their negotiation skills. In any case, the best way to improve is to challenge yourself through practical exercises. Giving 100% in coaching sessions, roleplaying exercises and other activities will guarantee that you acquire the proper knowledge, skills and attitudes to show your true potential.
"The MBA program at EDHEC helped me to get out of my comfort zone and aim higher. Getting to know so many amazing people with interesting backgrounds and different experiences just made me realize how many opportunities and possibilities there are."
Britta Tilsner
Career advice #3: "Update your knowledge"
In today's fast-paced economy, top leading companies' needs are constantly changing and evolving. Luckily, EDHEC's partnerships with important companies ensure that teachers and coaches are always up to date, allowing MBA students to develop relevant skillsets in such different fields as finance, consulting, entrepreneurship, sales and marketing, technology or supply chain.
"I agree that failure is the mother of success, however, as an entrepreneur, one tiny mistake could lead to a great loss. Guidance from an experienced mentor who has been there before could make your path to success much easier and quicker."
Murielle Liu
Career advice #4: "Embrace feedback"
Taking place twice a year, in October and February, the CareerSMART week is the perfect moment to test yourself on every skill you need to boost your career, from networking to salary negotiation. Each exercise is built to offer you an immediate 360° feedback from your peers and qualified coaches, so you can identify where you need to focus your efforts. The faster you'll embrace feedback, the faster you'll grow!
"It's EDHEC's Career SMART program—coupled with the careers counselling, strong corporate ties, and alumni connections—that attracts multinational companies, such as Amazon, to hire candidates from the school."
Nouhad Abdel Malak
Are you ready to transform your career?
Download the brochure to find out how the EDHEC Global MBA will give you the tools, knowledge and confidence you need to accelerate your international career