#MyMBAStory - Mastering Global Leadership and gaining insights from cutting-edge innovations thanks to my MBA
Veronica chose the Global Leadership track, one of four possible specialisations offered at EDHEC 
Reading time :
2 Oct 2023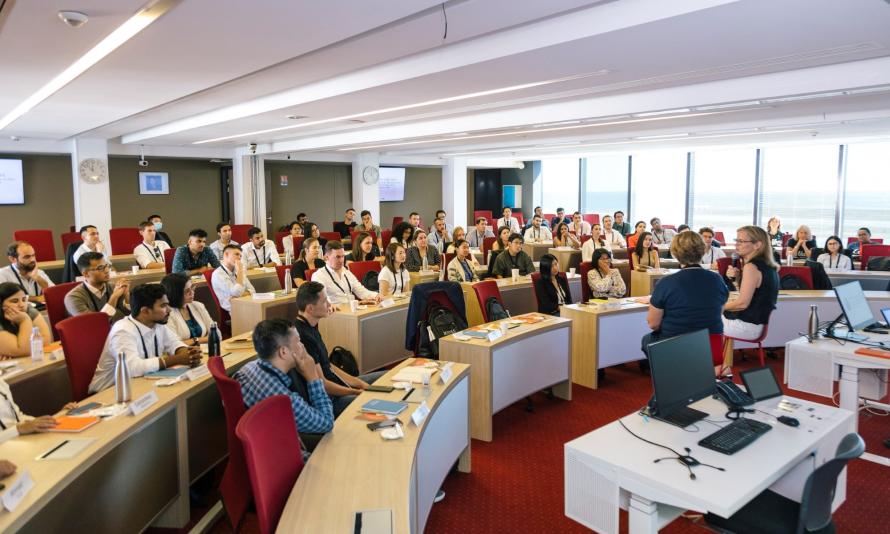 The EDHEC Global MBA programme is a transformative journey, catering to the diverse interests and aspirations of its cohort through four specialisation tracks: Finance, Entrepreneurship, Digital Innovation, and Global Leadership. Veronica Sigurdson, an experienced professional with a passion for leadership and innovation, chose to embark on the  Global Leadership Track. 
Veronica, originally from Canada, was a consultant at a leading public relations and marketing agency. With a background in commerce, her desire to understand the broader business world led her to EDHEC. She was captivated by the EDHEC Global MBA's promise of diversity, both in terms of the international cohort and the expansive curriculum, and the opportunity to specialise in a track that matched her professional aspirations. 
The EDHEC MBA Global Leadership track 
The Global Leadership track is uniquely designed to equip students with the necessary skills to lead in a global context, manage complexity, and drive change within organisations. It includes three core courses: Leading Innovation and Digital Transformation, Positive Leadership Psychology, and Global Project Management. 
Discover the EDHEC Global MBA Specialisation Tracks 
"The first course of the Global Leadership track was Leading Innovation and Digital Transformation, a crucial skill for leaders in today's fast-paced, technology-driven business environment. This course focused on equipping us with the knowledge and tools necessary to navigate the constantly evolving digital landscape, covering key topics such as the innovator's dilemma, technology adoption & product life cycles, the chasm, and portfolio management. 
Our second course was Positive Leadership Psychology designed to help us develop the skills and mindset necessary to create a positive and productive work environment. One of the key takeaways from this course is the importance of empathy and active listening in effective leadership. We learned how to create a culture of trust and collaboration, and how to motivate and inspire teams to achieve their full potential. 
Global Project Management was the third course which equipped us with the skills and knowledge necessary to manage complex, cross-functional projects on a global scale covering key topics such as project planning, risk management, agile methodologies, and stakeholder engagement. One of the highlights of this course was the opportunity to work through an ongoing project with a diverse group of peers. We collaborated on project planning, applying our learning." 
"We learned how to create a culture of trust and collaboration, and how to motivate and inspire teams to achieve their full potential."
  Veronica Sigurdson
  EDHEC Global MBA participant 2022/23
Exploring new horizons: Leadership and business culture in Scandinavia 
"During the final week of the Global Leadership track, we went on a learning expedition to Copenhagen, which was an incredible opportunity for our class to immerse ourselves in the culture and business practices of Denmark and gain further valuable insights into managing different organisational aspects. Over the course of one week, we engaged in a variety of activities, including lectures, company and site visits, and interactive workshops, all designed to enhance our understanding of critical management topics."    
Some of the companies visited in Copenhagen included Maersk, Velux, TDC Net and Vestas, where we learned about the unique leadership styles in Scandinavia. Scandinavian countries, which include Denmark, Norway, and Sweden, are known for their innovative and sustainable business practices, as well as their strong commitment to social responsibility and work-life balance. 
We saw that their business culture has a focus on collaboration and consensus-building, and there is a strong emphasis on teamwork and collective decision-making, which can lead to more inclusive and effective outcomes. This approach is particularly evident in the flat organisational structures we noticed in many of the companies, which prioritise open communication and accessibility. We also noticed an important aspect of Scandinavian business culture is a focus on sustainability and environmental responsibility. Many companies in the region have adopted innovative and environmentally friendly practices, such as renewable energy, circular economy models, and green supply chains. This focus on sustainability was shown to not only be good for the environment, but also for business, as it can lead to cost savings, improved brand reputation, and increased customer loyalty. Also shown was their commitment to social responsibility and work-life balance. Companies visited provide generous benefits and flexible work arrangements, such as parental leave, healthcare, and flexible working hours. This approach was proven to not only supports employee well-being and job satisfaction, but also to lead to increased productivity and better business outcomes." 
Combining EDHEC's MBA education with global business practices  
Throughout her EDHEC journey, Veronica not only developed a robust skillset in global leadership but also gained a deeper appreciation for diverse business cultures and practices. From learning the intricacies of digital transformation to witnessing firsthand the benefits of sustainable business models in Denmark, the EDHEC MBA Global Leadership track has equipped her with practical skills to lead organisations effectively on both local and global scales. 
Start your Global Leadership journey today 
Ready to embark on your own Global Leadership journey like Veronica? Explore EDHEC's Global MBA programme and set the stage for your future success!