MBA Matching: How to Find the Best MBA Programme
With higher levels of competition and online coursework making many MBAs more accessible than ever before, how do you know which programme to choose?
Reading time :
7 Jan 2022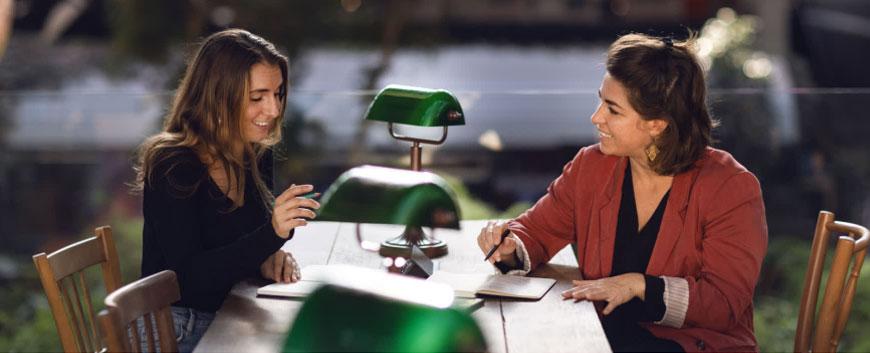 Nation-wide closures, working from home, and The Great Resignation.
The COVID-19 pandemic has impacted all aspects of life. The professional sector is no different; employees worldwide were forced to reflect on their career paths, trajectories, and goals while confined in their homes.
For many, this reflection has led to the decision of continued education as more professionals than ever are seeking an MBA degree. MBA applications in the top 25 business schools have jumped over 15% since 2019.
But with higher levels of competition and online coursework making many MBAs more accessible than ever before, how do you know which programme to choose?
Here are some of EDHEC's top tips on finding the best MBA programme for your needs.
How Do I Choose the Best MBA Programme?
ROI
One of the top indicators of a quality MBA programme is measured by its ROI, or Return On Investment. It's clear that getting an MBA, in general, is immediately beneficial to your career.
While a costly investment, US News reports that the average MBA graduate makes over $15,000 (~ €13,300) in signing bonuses alone, a number which doubles for high-ranking MBA programmes. Add on GMAC's report that an average MBA graduate makes $100,000 (~€88,650) a year upon graduation, and it becomes evident that an MBA is a strong financial investment.
The best MBA programmes will also show up in ROI ranking lists; EDHEC's Global MBA, for example, ranks top in the world for ROI, compared to almost 300 other programmes, according to Quacquarelli Symonds.
While rank lists can provide objective insight into the best MBA programmes, to determine your true personal ROI, it's vital to establish your professional and personal goals. What am I really looking for in an MBA, in addition to financial stability? How much time and energy am I willing to put into an MBA programme? Am I willing to change locations for my MBA programme, or am I looking for online/flexible options? What do I want my long-term outcome to be?
Answering these questions will allow you to hone in on what's most important for your personal career trajectory, and choose the best MBA programme that fits your needs accordingly.
Programme Quality
Not all MBAs are created equal! While financial outcomes are certainly a significant part of the decision process when considering the best MBA programme, it's also essential to look beyond the face value and thoroughly review the programme's contents and course structure.
Learning formats, access to professors, facilitated interactions with fellow students, projects, and internship opportunities are all factors to consider in an MBA programme. An MBA course that offers multiple opportunities for group projects is a great choice for someone looking to build practical problem-solving skills. However, a programme that focuses more on direct exposure to working with top companies would be more suitable for someone looking primarily to build their professional network.
The amount of individual attention an MBA programme gives to each member of its cohort is also significant. While many schools claim to take an individualised approach to their learning outcomes, the extent to which they can truly accomplish this goal varies widely from school to school.
EDHEC's Lead 360 programme, for example, is just one of the many initiatives we offer to ensure high-quality, individualised learning. Individual coaching sessions with the CareerSmart team, cutting-edge electives, and a unique peer review and feedback system are just some of the ways that EDHEC supports MBA students.
Closely examining the specific offerings of an MBA programme is a clear indicator of the course's quality.
Cost and Funding Options
It's imperative to also consider the costs relative to an MBA course. Tuition for an MBA can vary widely based on the course's location, quality, and reputation, with MBA programmes ranging from €36,000 to over €130,000 a year.
While this may seem high, between scholarships offered by many universities and the aforementioned ROI visible often immediately after graduation, MBAs still demonstrate themselves to be solid investments for career professionals.
Course duration is also an important factor — as the old adage goes, "time equals money". While the average MBA programme lasts around two years, some are significantly shorter, launching you into the career field as soon as possible. EDHEC's Global MBA not only can be completed in just ten months, but multiple scholarship tiers mean that potential candidates can receive as much as 50% funding for their MBA studies.
Diversity
Diversity is a crucial part of MBA programmes in the 21st century.
Not only is increasing diversity the right thing to do from a social perspective, but a recent study from Boston Consulting Group demonstrates that companies are up to 20% more efficient with a more diverse employee makeup.
EDHEC's most recent 2022 MBA cohort comes from over 30 countries across the globe, and includes 46% women. The best MBA programmes will recognise the added financial, social, and logistical benefits from diverse communities, and will have admittance statistics to support them.
Once you've reflected upon your goals, budget, timeline, and desired outcome, you'll be able to find the best MBA programmes specifically for you. Check out EDHEC'S Global MBA to start your search.
Are you ready to transform your career?
Download the brochure to find out how the EDHEC Global MBA will give you the tools, knowledge and confidence you need to accelerate your international career