#MyMBAStory - Building Her Career to Amazon: Adriana Molnar-Barton, EDHEC Global MBA alumna
Adriana knows a thing or two about overcoming challenges. Turns out a Global MBA was precisely what she needed to take the next step and build a career path to her dream employer, Amazon. Here is her #MBAStory.
Reading time :
12 Jul 2021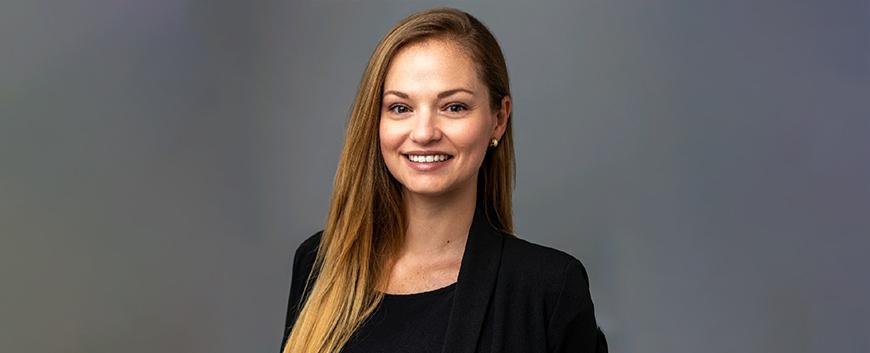 MBA alumna Adriana is used to working in a man's world. Working within the construction industry, she started in Venezuela, her home country, then made a career move to Germany. But being good at her job wasn't good enough. She needed more to stand out, and that required a big change.
Inspired to learn new skills and advance in her career, Adriana decided a global MBA  programme was the golden ticket. A year after, her MBA opened more doors than a promotion. EDHEC introduced her to Amazon, resulting in her current, dream job.
Want to learn how Adriana built her way to Amazon? Just keep reading to get into the mind of this impressive MBA alumna.
What led Adriana to EDHEC's Global MBA?
Adriana knew an MBA programme was right for her because she wanted to learn and, most of all, change. To switch up what she was doing professionally, Adriana needed new tools and sought a programme that offered a wide range of curriculum, like EDHEC's Global MBA with four unique specialisation tracks.
But why EDHEC in Nice, France?
"I chose EDHEC because they were so international," Adriana said. EDHEC's average Global MBA cohort represents 30+ nationalities and a wide range of professionals across its 50 candidates.
Although an international class is what drew Adriana to enroll in EDHEC's programme, it was EDHEC's Career Services that introduced her to Amazon.
More on the blog: Why Diversity Matters During Your MBA Experience
How EDHEC opened the door to Amazon
EDHEC Global MBA students are exposed to leading brands like Amazon, Uber, PayPal, Amadeus, Deloitte, L'Oreal, and many more each year. Through networking events, alumni days, company presentations, and beyond, EDHEC works to open doors to these brands.
Adriana applied to Amazon Pathways during her Global MBA programme along with several of her classmates after a company presentation on campus. Adriana was talented and experienced, but when she entered Amazon's rigorous interview process, she didn't pass.
Instead of accepting rejection, Adriana embraced the failure and learned from it.
Her first interview taught her what she needed to improve upon to get a job at Amazon one day. Amazon focuses on data during the interview. She needed to be prepared to pull statistics from her work experience to prove her successes. Armed with that data, she prepared for a second chance.
Transforming rejection into success (and a dream job)
When Adriana had another chance to apply to Amazon, she didn't hesitate. Leadership is a foundational principle of Amazon and Adriana knew exactly how to intertwine these beliefs into her value proposition. She directly transformed rejection into success and landed her dream job as an EU Construction Manager at Amazon in Milan, Italy.
For the past year, Adriana has learned how vital flexibility is at Amazon.
"Once you get into Amazon, you can grow. If you want to change your position and promote yourself regularly, it's such a large company that internal doors are infinite," she said. "It's great for people who want to grow. If you don't like constant change, it's not a good fit."
For a go-getter like Adriana, Amazon presents all the challenges and opportunities she desires. If you're unsure of what you want, that's where an MBA helps.
Adriana's tips to get the most out of your MBA
EDHEC's Career Services team works hard to launch CareerSMART to Global MBA students each year. This curated week is designed to prep students for today's job market through company presentations, networking events, coaching sessions, alumni chats, and more.
Adriana highly recommends that all Global MBAs capitalize on their time with the coaches at EDHEC. You should be realistic about what skills you know already and what skills you can develop to get the job you want.
"In order to change job functions or industries, you have to make sacrifices," Adriana said. "Whether it's compromising location or giving up your managerial position for something entry-level, you must learn what's important to you and realize what you can and can't give up."
By deciding these factors up front, you can outline the direction of your job search to secure the highest ROI possible from your MBA programme.
How about some interview advice from an EDHEC alumna who transformed a failed interview into an offer letter?
"Don't focus on how much you need a job. Focus on why you're the best person for the role," Adriana advised. "Take it from me. Understand exactly who you're interviewing with and talk to people who know more about the company to learn company culture and about the hiring process. It's all about asking questions!"
Read More: The Economist Ranks EDHEC's Global MBA 3rd worldwide in Opening New Career Opportunities
Could this be you ?
Evaluate your profile to speak to one of our career advisors and see how you would fit in with our next cohort.