Looking for a Career Change? EDHEC's Global MBA is ranked 3rd Worldwide for Opening New Career Opportunities and 7th Overall in latest Economist Rankings
Reading time :
22 Jan 2021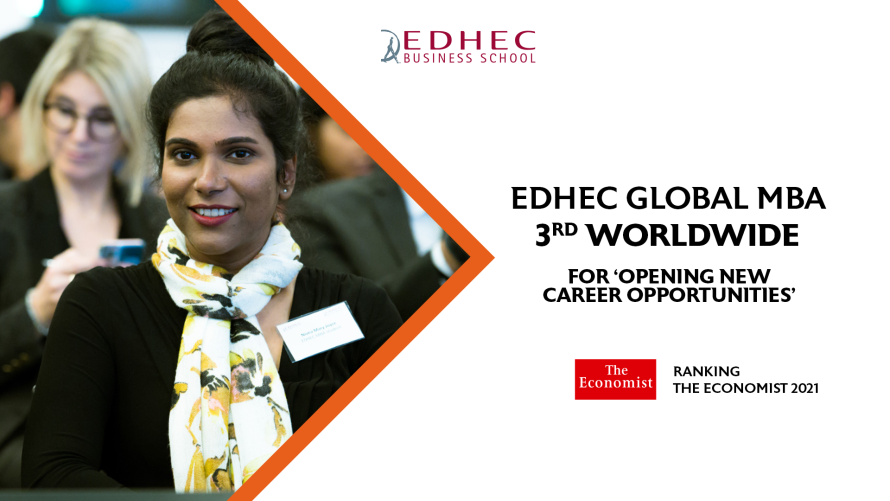 The latest Economist MBA Rankings report has just been released and EDHEC's Global MBA has been recognised amongst the top 10 programmes in the world overall, ranking at 7th place. The rankings are based on current student and alumni responses and consider a range of important factors including the programmes ability to open new career opportunities and career changes for graduates, personal development, diversity and potential to network. 
Here's a quick look at the rankings and some of the key aspects of our programme which our students and alumni value the most and contribute to our overall top 10 MBA ranking:
#3 WORLDWIDE AND #1 IN EUROPE FOR OPENING NEW CAREER OPPORTUNITIES
If like many of our participants and graduates, if you are considering taking an MBA because you are looking for a career change or transformation, you will find yourself in good company at EDHEC. For example, 66% of our graduates from our 2020 class now work in Europe, 70% have moved into new industries and over half changed location, function and industry – known as the triple jump, the ultimate career change! Our dedicated MBA careers service and integrated CareerSmart programme work with you throughout the 10-month programme to assess your strengths, identify your professional goals and build a targeted strategy to help you land your next opportunity, whether you are looking for a career change or want to progress in your current field. Events like the Global Talent Day, Consulting Case Hackathon, Alumni events and industry trips and treks as well as our Senior Speaker series help you to build your network and give you access and insights into a wide range of industries and organisations – because we understand that you need a tailored and personalised approach to help you achieve your personal and professional goals. 
#3 PROGRAMME IN THE WORLD FOR STUDENT & FACULTY DIVERSITY
Diverse as the world, individual as you. That is how we describe our programme and with over 30 different nationalities and cultures on average in a carefully selected class of around 60 students from different industries, backgrounds and experiences, you will develop a truly global perspective. You can read more here on why diversity is important when choosing your MBA. The diversity and quality of both students and faculty is also a key factor in our programme being ranked #6 worldwide for personal development and educational experience.
"When I was looking for an MBA, I was looking for a programme which would help to me develop my personal leadership skills and give me an opportunity to build a truly global mind-set. The diversity of the class, the international focus of the curriculum and the ability to personalise your programme through the specialisation tracks and projects made it stand out for me. I developed new perspectives and ways of looking at challenges and solutions which are essential to build a successful career in consulting. For me, the whole experience at EDHEC was invaluable." Ksenia Sukhova, is now a Senior Consultant at Deloitte in London, UK. You can read about her #mbastory in full here.
#10TH WORLDWIDE FOR POTENTIAL TO NETWORK
Our alumni network and events on campus, virtually and throughout the world, are also one of the reasons our programme just ranked 10th in the world for offering potential to network. Each year we run events and sessions where our alumni return to help and inspire current students, offering advice, personal experiences and sharing insights into different roles, industries and opportunities to change careers, change location or maybe even do the triple jump like MBA alumna Krystyna Ledochowska. 
Are you ready to transform your career?
Download the brochure to find out how the EDHEC Global MBA will give you the tools, knowledge and confidence you need to accelerate your international career