On the road to making an impact
Can you tell us a bit about your education before joining EDHEC's Master in Management Financial Economics programme? I grew up in Plouénan, a town in Brittany where I was educated at a Diwan school…
Reading time :
22 Dec 2020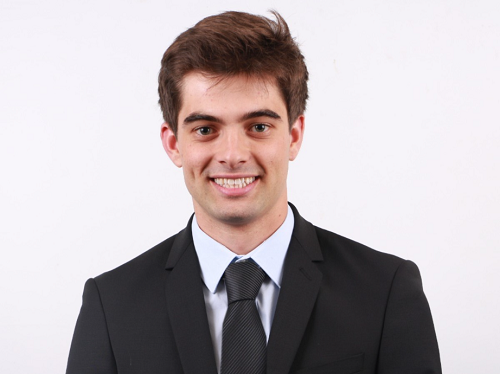 I grew up in Plouénan, a town in Brittany where I was educated at a Diwan school where all lessons are taught in Breton. After high school, I entered into preparatory classes Maths and Physics (MPSI/MP) in Rennes and was accepted at Ecole Centrale de Lille in 2015.
After two years of general engineering courses, I started a double diploma with EDHEC and become an FE track student at EDHEC in Nice.  I realized that to make changes, a good financial background from a first-class school is essential as Finance is at the heart of a company's strategy.   
Why EDHEC Busines School?
I chose EDHEC for its excellence in Finance. The teaching staff come from amazing professional backgrounds and are close to the current pulse of business. I consider for example that the best corporate finance course I had was the Advanced Corporate Finance class provided by Hamid Boustanifar: it gave me all the material to understand and work in corporate finance.  
What made you apply for the GARP research fellowship?
Firstly, I was encouraged to do so by my tutor Gianfranco Gianfrate who was a really good tutor and mentor.  He forwarded me the call for research proposals for the Spring 2020 GARP Research fellowship. I decided to apply because my master thesis deals with the development of sustainable energy solutions in developing countries, which links in with GARP's topic: "sustainability and climate change and their potential economic and operational impact on organizations and financial risk management". As GARP is a financial and energy risk association I thought it will be stimulating to present my research to this institution.
A good mentor is key. Tell us about yours.
Gianfranco was a very inspiring supervisor as he supported my subject proposal and pushed me further by his questioning. He let me know when I was on track and was a good guide. I think that we worked well together.  He showed me my strengths and encouraged me to do more. I would in fact like to thank him again for this opportunity.
How was the selection process? 
The selection process was in two parts. First, I had to present a summary of my thesis subject, objectives, research method, and data used. I also had to give the expected timeline for my research and a copy of my CV. A committee then reviewed my thesis proposal. It was accepted, and I received half of the fellowship. The second part of the fellowship was sent after the committee received and reviewed the final research paper and my data.  
How did you feel when you received the confirmation you had the fellowship? 
I was very happy because it was the first time that my research was of interest to a professional institution such as GARP. The committee provided helpful comments to improve my understanding of the subject and it will allow me to progress in my future projects. 
How is this fellowship important and helpful to you?
This fellowship not only highlights the work I have done during both my studies at EDHEC Business School and Ecole Centrale de Lille but also it is also very rewarding as over the years I have studied energy at length on my own. It also validates my interest in developing green energy solutions for developing countries: mini-grids could be a sustainable solution to enable affordable, reliable, and clean electrification. Finally, I hope that it will give me the opportunity to discuss my results with energy or finance professionals. 
Tell us a little more about the Veolia Performance Trophy.
Veolia Performance Trophy awards the best master thesis in the sector of energy, water, and waste management. My work was selected by a committee and I supported my results in front of a very impressive panel with a 20 minutes presentation. I got the results only a few days later.  I feel very honored to have won it especially since Veolia is a mini-grid developer, showing the interest that companies may have in my research.
What do you see as your future?
My final goal has always been energy and it is even more so now that I am studying energy systems at Oxford University.  Eventually, I would like to take part in the development of a future energy mix that will limit CO2 emissions.  My two EDHEC internships with EDF and Natixis certainly have kept me on track to this vision and I know I will be stronger in the field because of the sound engineering and financial background I received with my double diploma between Ecole Centrale de Lille and EDHEC FE Track.