Take a virtual tour of our Lille, Nice, Paris, London and Singapore campuses
Take a new virtual tour of EDHEC and have a (fresh) look at the different campuses as if you were actually there. These new interactive online tours take you to the heart of the EDHEC universe. Stop…
Reading time :
8 Jun 2020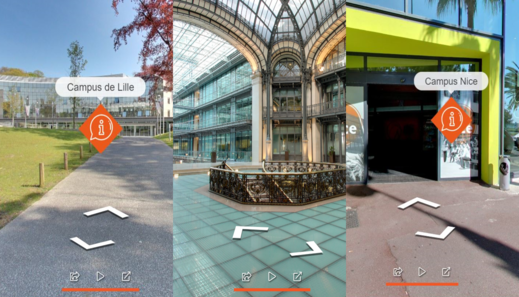 Take a new virtual tour of EDHEC and have a (fresh) look at the different campuses as if you were actually there. These new interactive online tours take you to the heart of the EDHEC universe. Stop at the information points indicated with an 'i' to obtain key details on campus infrastructure and see the new visuals and videos of EDHEC's fine campuses. Click on the 'Play' icon and use the directional arrows to see 360° views of our campuses. Ready to start? Enjoy your tour!
Welcome to our historic campus 
Set in 8.5 hectares of parkland, EDHEC Business School campus offers an exceptional and convivial environment, located at the crossroads of Europe. Embodying both EDHEC Business School's dynamism and innovative strategy, the campus is the headquarters for EDHEC start-ups, the symbol of the School's commitment to fostering and supporting entrepreneurial vocations, and also possesses cutting-edge technological facilities like the EDHEC PiLab. Students have access to a digital library network, three catering areas and a large amphitheatre. Extensive sports facilities, including a 25m swimming pool, a fitness room and a basketball court, complete this privileged environment for studying, exchanging and achieving fulfilment.  
Head for the French Riviera 
The Nice campus is ideally located on the sunny Mediterranean coast, close to the city centre and the airport. A place where business meets nature and personal fulfilment, the Nice campus offers an academic environment unique in the world, combining the merits of an international-class technology hub and the legendary attractions of the French Riviera. It accommodates all of EDHEC's academic education activities: Global MBA and PhD in Finance programmes, as well as customised and open executive education offerings. The campus is also home to several research chairs and centres.  
A capital location
Located in the heart of the City of Light between Bourse and Opéra metro stations, the Paris campus occupies an impressive, fully-connected site ideal for business. The 1,500m² campus hosts training programmes run in permanent interaction with companies, students, executives and business leaders.
The world is your oyster
Just 15 minutes on foot from Bank station amid the bustle of the City, EDHEC Business School's London campus is perfectly placed to maintain close ties with the business world and financial markets. It hosts the PhD in Finance and MSc in Risk & Finance programmes, as well as executive education and part-time training programmes for professionals.
► Click here to discover EDHEC Business School's London campus
​The main Asian business hub
Enjoying a strategic position at the heart of one of the world's most dynamic business hubs, EDHEC Business School's Singapore campus offers a unique gateway where European and Asian business and financial issues coincide. The campus primarily acts as a major research centre and a genuine cluster of excellence for the development of business education and finance in the region.
► Click here to discover EDHEC Business School's Singapore campus