Our incredible MBA journey
Follow a cohort throughout the year and immerse yourself in a truly transformational experience
Reading time :
28 Feb 2023

The EDHEC Global MBA is an incredible career and leadership development experience in an international setting. Follow this cohort through a transformative year of change. 
30 nationalities and a multitude of different backgrounds, professionally and culturally, make for an incredibly diverse class.
Meet Caitlin, Clara and Julian from the EDHEC Global MBA 2022 cohort and let them take you on a truly inspiring journey.
September  
And here we are! We have kicked off an exciting and busy year as members of the diverse and international EDHEC Global MBA cohort.
There is so much more to this Global MBA than class! There are our themed student clubs - covering subjects as diverse as Marketing, MBA Entrepreneurs, Finance, Consulting & Digital, Project Management, or Diversity & Social Impact. Then there are French classes, soaking up the Mediterranean sunshine...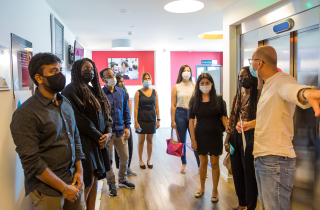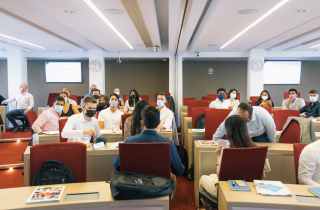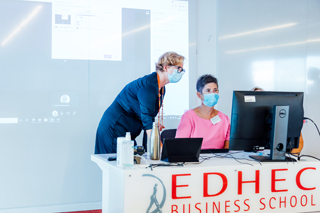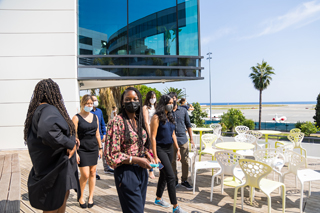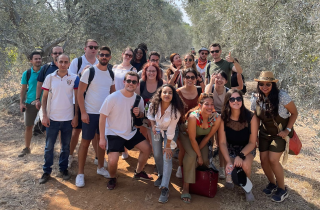 Four of us were chosen to be part of the Plug and Play University Partnership Programme. This exciting Venture Capital Programme will allow them to learn about new industries and gain a deeper insight into the whole venture capital process and innovation ecosystem. For seven months, they will work as Investment Analysts on real-world projects, getting hands-on experience, supported by regular coaching and feedback from the Plug&Play experts. Good luck & enjoy!
October
The CareerSmart days were three full days filled with presentations, discussions and invaluable tips on how to portray ourselves to potential future employers. The resume and cover letter workshop with Spencer Hamilton, Head of Careers and Corporate Services at EDHEC Global MBA, was very insightful. We talked about the two-hour job search method and how to create a concise but powerful cover letter for employers. We equally continued our discussion on effective networking and the hidden job market.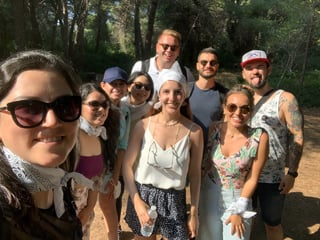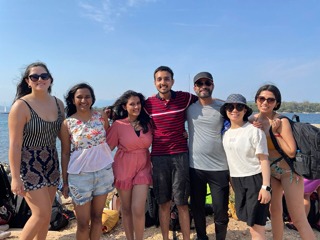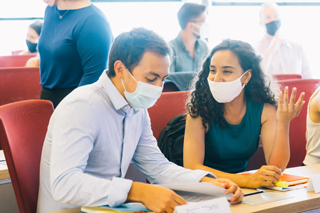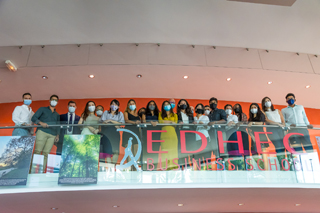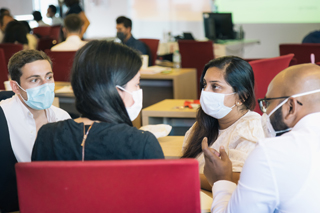 We were also introduced to EDHEC's brand new Sustainable Impact Challenge during which we will work in groups to learn more about how complex and dynamic sustainability is for the business world. It will be exciting to see how we can apply what we learn in the classroom to some of the challenges (i.e. historic monument restitution, a carbon neutral MBA or investing in sustainable assets and entrepreneurship) and discover a new perspective on sustainability from the view of stakeholders.
This is the kind of thing that I was hoping for from an MBA programme. We were presented with some fantastic and diverse challenges. I was able to get into my first choice of working with Astarte Capital, an investment firm looking to invest in sustainable real asset sectors. I can't wait to start!

Julian Boucherat
Global MBA Cohort 2021/2022
November
In our endeavor to understand sustainability better, we had the exciting opportunity to visit Slovenia. Slovenia is #9 in the UNSDG Index which measures a country's commitment and success in implementing the United Nations Sustainable Development Goals. Between taking in beautiful Ljubliana and breathtaking lake Bled, we learned how local and international companies in Slovenia reduce their carbon footprint and achieve their sustainability targets.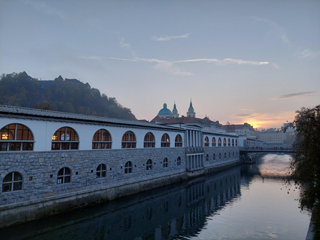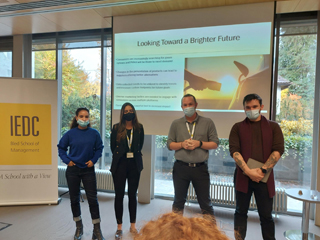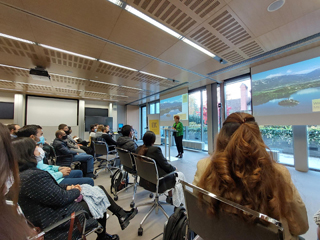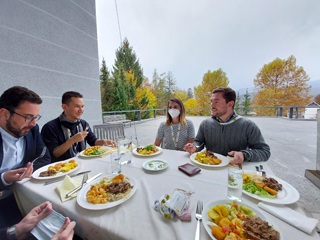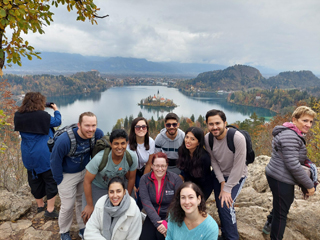 December
We started the month with a little, one-week-long break to recharge our batteries before the end-of-the-year rush: time to relax a bit, to soak up local culture, explore the stunning back country or make use of Nice's ideal location in the heart of Europe with an international airport at our doorstep. Some of us traveled to Italy to check out Rome and Venice in Italy, others visited Portugal (Porto, Lisbon and some really picturesque little towns along the coast) or simply stayed in Nice to enjoy everything the region has to offer, for example the first snow in the Alps (which especially Clara's furry housemate appreciated).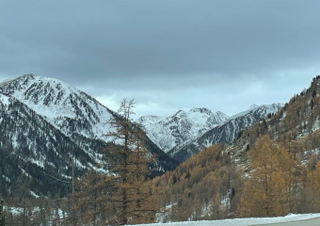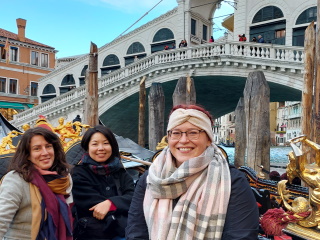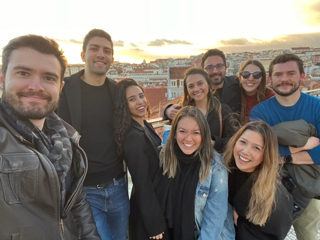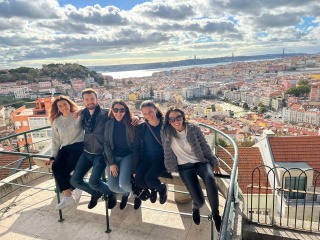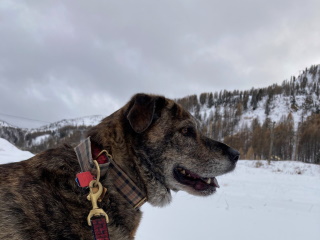 Invigorated and resourced, we were ready to face a two week long, super intensive finance course.
December was also the time to reflect on the first semester, which is almost over (unbelieveable how time flew by!) and choose our electives for the next term.
Equipped with new knowledge acquired through class-room learning with fantastic lecturers and experts as well as field trips, soft skills learned through individual and group coaching sessions as well as invaluable advice and tools provided by the careers dream team, we already feel like we can take on the world.
I can't believe how quickly the time has flown since starting my Global MBA in September at EDHEC Business School. It seems like both a very short and a very long time. Back in December we finished the first semester with a course in Finance and a 360 performance evaluation.

I thoroughly enjoyed Leadership Coaching with Dr Julia Milner, which we completed last week.

I am very excited to see what the next months will bring - it is a pleasure and a privilege to go to classes every day with this great group of intelligent, compassionate human beings, in one of the most beautiful cities in Europe.

Caitlin MacDougal
Global MBA Cohort 2021/2022
Hard work, group challenges and travelling together have resulted in an incredible team spirit and group cohesion. We are really excited about what's coming up in the second semester.
But before, we are taking in some of the regional Christmas markets!
Happy New Year!
January
New Year, new Term! And so our second semester begins!
We have started with a bang: the EDHEC Global MBA Hackathon in Paris. How can a textile company improve its economic performance and its social and environmental impact at the same time? How can a warehouse and distribution facility become more cost-efficient and sustainable? Can you offer an implementable solution to complex issues in just half a day and compress it into an elevator pitch? These were the kind of challenges that we had to take on. It was hugely satisfying to see how we could practially apply many of the things we had learned in class throughout the first part of our MBA experience. Furthermore, the company representatives were amazingly supportive and we learned a lot from them. Find out more about this exciting event and how we did in our latest article.
We also had the second part of the CareerSmart-Days, where we learned how to nail job interviews incl. dealing with tough questions. And we could immediately put what we learned into practice as some EDHEC Global MBA alumni had kindly made themselves available for mock interviews. It was really helpul to get feedback straight away and also see first-hand how the CareerSmart programme can help you steer your career in the desired direction. Thanks again to all involved!!!!
Furthermore, we had very insightful course on Leadership Coaching taught by Dr. Julia Milner. We learned general and specific coaching techniques, practiced them with classmates and had a final assessment. Coaching is one of the key skills for managers and one of the most scarce in the market.
Febuary
Febuary was a very practical month including courses like " How to build resilience for stressful and demanding environments" (a Lead 360 elective) or 'Research & Project Methodologies'. These were particularly useful to prepare us for the last chapter of our MBA packed with elective courses, a few exams, the MBA Project and project report, more group assignments, organising MBA student club events and so much more. Good job we also had a week-long break to relax a bit, revise and do some homework.
March
March was filled with elective courses and specialisation track projects. The Digital Innovation and Transformation track participants got an introduction into Enterprise Design Thinking with IBM. We also got to meet with alumni and learned more about Mars' company culture and take on inclusiveness, diversity and flexibility, how it is to work for and grow with Royal Canin and be part of the challenging but fun working environment at Zalando.
The MBA Marketing Club organised an insightful talk with Ogilvy Consulting on the transition to a more sustainable future for brands. I think we all came away from it more knowledgeable, inspired, and with compelling purpose!
During a course on Agile Leadership delivered by Luca Signoretti, professor of Leadership, Communication and Marketing, we were led to explore the new requirements in leadership necessary to stay competitive in today's increasingly complex, fast-changing business environments.
Thinking outside the box? Yes!
Can you imagine leading with humour? We had a whole course with the amazing (and funny :) Dr. Vanessa Marcie on precisely this topic: Can leaders leverage humour in the workplace? What are the risks? It's fascinating how far you can get with a bit of humour at work, - proven with scientific stats!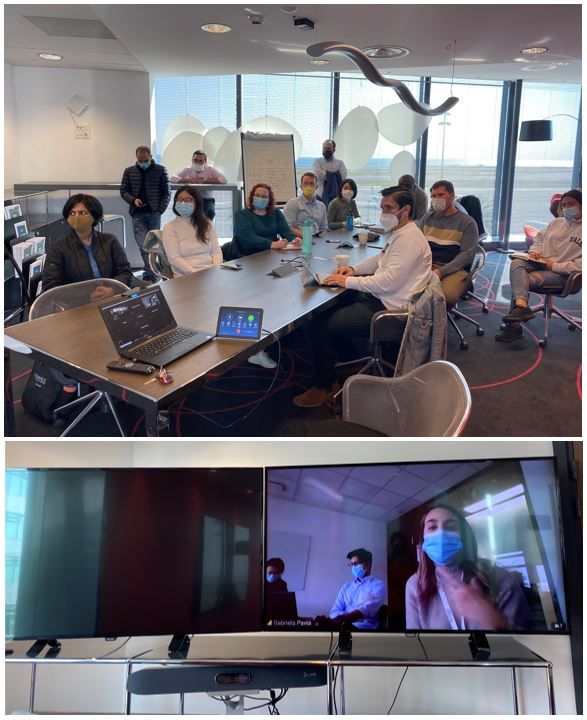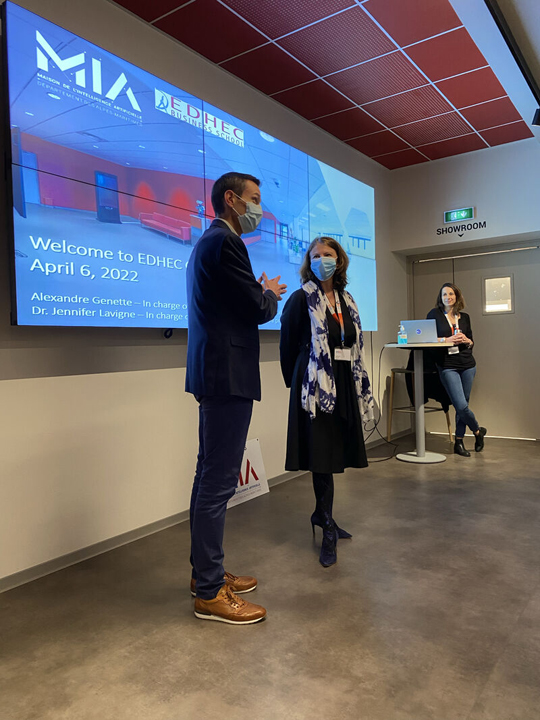 Everyone is talking about their success, very few talk about their failures. But failures are great learning experiences. So much so that the MBA Entrepreneurship Club organised a whole networking event around 'learning from mistakes'. Center stage for three entrepreneurs who shared their failures and the unexpected twists in their entrepreneurial journey. But most importantly, how it brought them closer to success.
April
April was our month of Learning Expeditions: While the participants of the Entrepreneurship track went to Silicon Valley, CA, USA, 40 of us the Leadership and the Digital Innovation tracks visited its Swedish equivalent and New York, respectively.
Did you know that Stockholm comes second in the world in terms of unicorns per capita? And did you know that an average data centre consumes energy equivalent to powering approximately 100,000 households? How do you calculate their, often immense, climate impact? At EcoDataCenter, the Digital Innovation track learned all about mechanisms that can be put in place make data centres more sustainable. Our Leadership track participants could see the Swedish culture of egalitarian and consensual management in action at Nordic Tech House, Dassault Systèmes, Aurora Beauty, Accenture, Epicenter Stockholm, Klarna, and others.
New York as the city that never sleeps truly lived up to its name. As part of the Digital Innovation track, our cohort was able to visit 14 different companies in partnership with the French American Chamber of Commerce. From traditional businesses, utilizing cutting edge technology to transform their companies such as Herizon Media, BNY Melon, and Hermès, to industry disrupters such as Artefact.
Every experience was unique with great host companies and definitely one of the best ways to officially finish my MBA program at EDHEC.

Julian Boucherat
Global MBA cohort 2021 – 2022
Start spreading the news... The Digital Innovation Track MBAs in the City that never sleeps
May & June
This year has flown by in the blink of an eye and we are off to start working on our MBA projects, begin an internship or even go for a semester abroad. Hard to believe that we will not be seeing each other every day any more. We have formed an incredible bond over the past months of learning and growing together.  
A huge thank you to the amazing MBA team who have made all this possible and who were by our side throughout the year to help with administration, organisation and who put together such an incredible programme that allowed us to grow and learn so much. We are also grateful to the engaging and knowledgeable professors, coaches, teachers, alumni, and businesses who shared their knowledge with us, opened their doors to us for insights into the business world, mentored us. They made learning fun while being very demanding, they encouraged us push our boundaries, get out of our comfort zone, question ourselves, get new perspectives.  
We come out of this year with gratitude, new skills and increased self-confidence, a global business network and new friends.
Luckily, we will get back together again for our graduation ceremony in October 2023, so stay tuned to see what we have been up to!
Meet Clara from the US
I chose to do an MBA to enhance my overall business capabilities outside my marketing expertise, specifically in data analysis. My goal post-MBA is to be in a marketing leadership role with a focus on digital performance, so I can better combine my strategic and creative knowledge with measurable, data-driven decision-making. EDHEC's "make an impact" tagline spoke to me, due to its dual purpose: EDHEC prepares its students for making business impact, but also places an emphasis on making meaningful impacts. Prior to my EDHEC enrollment, I was a career marketer with many years in marketing agencies, and most recently was an Area Marketing Manager at the Planet Fitness corporate office in New Hampshire, USA -- it was there that I realized I wanted to further pursue global development as part of my career path, while working on the company's growth into an international market.
Meet Julian from France
I'm from Paris France where I studied Psychology and Business Management. Before embarking on my MBA journey, I have worked in Retail Management at the Galeries Lafayette Group and Costco Wholesale. I decided to join the EDHEC Global MBA as a way to change careers and have a bigger impact. I hope to leave here with the tools to bring sustainable development to businesses around the world.
Meet Caitlin from Canada
I chose to do an MBA to expand my professional opportunities and especially to strengthen my leadership and financial skills to prepare me for senior leadership roles in either higher education institutions or in non-profit organizations. The length, diversity, sustainability as well as the specialization aspects of the program were very appealing to me, also I speak French as well as English, so living in France was appealing to me. I also really liked the mission to make an impact, as I have a lot of experience working and volunteering in NGOs. Before coming to Nice, I worked for the last 8 years as a student recruitment and admissions officer at a university specifically in agriculture, also doing communications for the program. I also worked as a liaison officer for a youth development NGO before that.
Other articles you may
be interested in