Solving real-life challenges for Amazon, Uber, Capgemini and others
Global MBA Consulting Hackathon 2022 in Paris
Reading time :
31 Jan 2022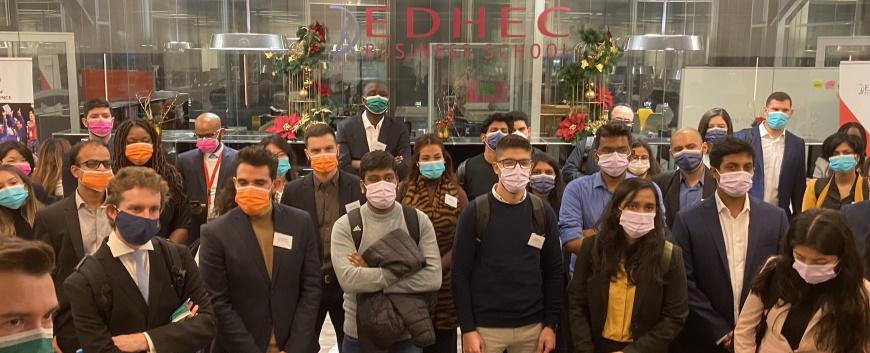 How can a textile company improve its economic performance and its social and environmental impact at the same time? How can a warehouse and distribution facility become more cost-efficient and sustainable? These and other business challenges were on the menu of the Global MBA Hackathon 2022. The Hackathon is a consulting case competition bringing together Global MBA talent and companies to solve real-life challenges.
Teamwork and agile thinking under pressure
The diverse and thought-provoking business cases included HR, marketing, strategy or CSR topics for eight companies ranging from Fortune 500 corporations in tech and eCommerce to a young start-up developing innovative beauty and care products.
Briefed the day before the official start of the challenge, some of this year's 16 teams started working on their projects immediately until late at night, while others opted for an early morning start. Pressure was high across the EDHEC workspace, the teams only had a few hours to develop a proposal and pitch. Only one of two proposals would make it into the semi-final where the different cases would be presented to the full audience.
Action learning - one of the core pillars of the EDHEC Global MBA
Just like the regular business trips, the Hackathon exercises give MBAs a real-life feel of how transferable the skills learned throughout the programme are. The different cases and challenges allow them "to get to grips with a genuine issue facing an organisation, and then demonstrate their capabilities and skills in front of leaders and managers who are dealing with it in the real world. They need to collaborate and assign tasks in order to work quickly, do their analysis, and foresee the impact of their solutions" explained Spencer Hamilton, Head of Global MBA Career Services.
"The hackathon was a great exercise in time management and teamwork. Having only a few hours to transform our ideas into a concrete presentation, we had to really do our best. Stepping into the shoes of an Amazonian, I learned how to think outside the box and how to use my experience in retail management in a new industry." confirmed Julian Boucherat, part of the Amazon team. "The topic was great, Amazon asked us to use its business model in a sustainable way to connect customers with local retailers, who were hit hard due to Covid and the rise of e-commerce."
Inspiring presentations and winning pitches
Can you offer an implementable solution to complex issues in just half a day and compress it into an elevator pitch? Our creative and talented Global MBA Hackathon finalists certainly can! And they proved it in a tight final. Tension was high and excitement was palpable when the 8 groups presented their findings to the audience. Increasing the percentage of electric vehicles in a fleet; making a warehouse solution carbon neutral; numerous ways to further engage customers – no topic was too challenging for them. The participants managed to put across complex ideas in a precisely-timed 7-minute pitch and a few slides. Each pitch was immediately analysed and commented upon. The jury especially remarked on how the star presenters simplifed complex solutions and captured the audience through engaging presentations, real life examples everyone could relate to and a bit of humour.
Julian summarized his experience as follows: "We had fierce competition! Great topics and on top of that, top-notch MBA students working on them. Our team, Amazon, took second place overall which we were proud of! MiYé ended up with a well-deserved first place."
MiYé offers products made of natural ingredients for hormonal balance and well-being. Their challenge was to propose new and innovative ways to create accessible, self-explanatory and educational support for MiYé products at point of sale. Co-founder Anna Oualid "loved working with the MBAs. We are young start-up, so we were looking for hands-on solutions rather than positioning or branding advice. MBA students have already worked prior to joining the programme, therefore they know what is feasible and what might not be. They provided concrete answers, not just philosophical brainstorming." "I didn't know MiYé prior to this event. The founders' passion for their products is contagious." said Pushpa Tiwari from the winning team "The competition was a race against time and we were up against some of the best teams but ultimately it was this passion and product-focused approach along with great teamwork that led us to our victory."
Win/win for everyone involved
Part of the extensive programme of career and networking events integrated throughout the 10-months MBA experience, the Hackathon allows participants not only to meet and network with industry leaders and potential future employers. According to Cécile Benchetrit, Career & Corporate Relations Manager, "it is a unique opportunity for them to showcase their skills, adaptability and ability to perform under pressure. The company representatives get new input from people who might not know the industry yet, therefore might provide a different approach, which is what all participating companies appreciated."
"Furthermore, it allows organisations to engage with promising talents in action and evaluate profiles beyond CVs." Cécile added. This was one of the main reasons for Capgemini to participate in the Hackathon. "There are students with whom we'd indeed be very interested to work in the future, we have started discussions" confirms Mr. Bendidou.
"Bringing MBAs and businesses together is the objective of our networking and career events" concluded Programme Director Sandra Richez. "I am delighted that this has once again been a success for all involved. Congratulations to all, especially the winning team!".
Further reading:
Are you ready to transform your career?
Download the brochure to find out how the EDHEC Global MBA will give you the tools, knowledge and confidence you need to accelerate your international career