5 good reasons to get an Executive MBA - EMBA
An Executive MBA is a high-level training program for executives and leaders who wish to develop their leadership and careers, or consider making a career move towards more strategic functions. EDHEC…
Reading time :
1 Jan 2022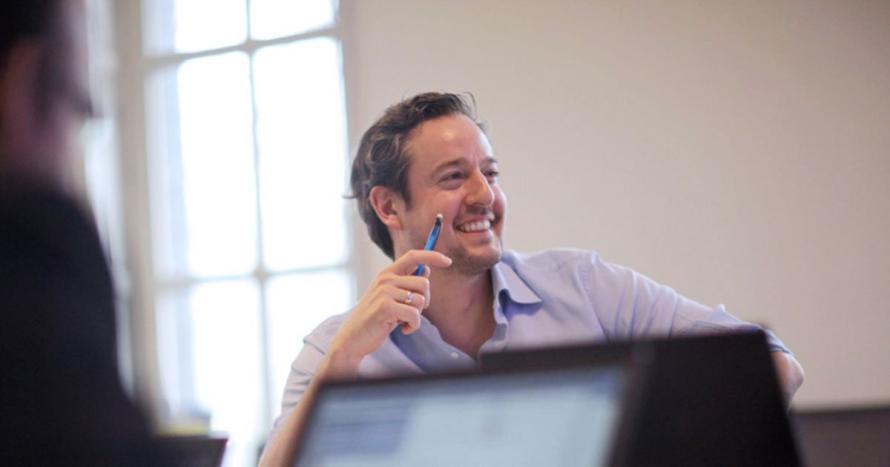 An Executive MBA is a high-level training program for executives and leaders who wish to develop their leadership and careers, or consider making a career move towards more strategic functions. EDHEC created an EMBA that is useful and have a positive impact on business. The program is based on three key values: simplicity of approach, close relations with professors and alumni, teaching and work excellence.
If you are wondering why you should get an EMBA, read the five very good reasons we listed for you:
1. Get a global and transversal vision of business
Above all, studying an EMBA program means you want to strengthen and acquire strategic skills. "In both Lille and Paris, we offer our participants the opportunity to distance themselves from their specialization and immediately see the bigger picture, to think at the macro level and work in a "zoom in, zoom out" way", explains Sophie Cuminal, head of EMBA Lille admissions.
"I wanted to boost my career with strategy, finance and leadership, which are the three pillars we get to develop in this Executive MBA." Fabrizio di Maria, Sales Director, Sycomore, EMBA 2016
2. Boost your career and give it an international dimension
Studying an EMBA supports a project that can take multiple shapes and often responds to an aspiration to make a change: a change of position, of department or even of business sector. The expected evolution can be vertical or horizontal, but it always goes back to breaking one's own glass ceiling.
"I decided to study an Executive MBA to open up to new fields of expertise and, why not, new professions." Virginie Wagner, Senior project manager, SNCF Réseau, EMBA 2016
Besides the program being taught exclusively in English and welcoming participants from all over the world, the degree itself is internationally transposable. Lastly, the business trips abroad (to Shanghai, San Francisco, Mumbai, etc.) are defining moments: they are unique and extremely rewarding experiences, especially for those with international ambitions.
"I discovered business opportunities for French companies that I had never expected." Laurent Dusausoy, Operations Director, Al-Ostoura International Company (Koweit), EMBA 2014.
3. Develop your entrepreneurial skills
EDHEC's Executive EMBA enables its participants to change their vision of business and, through the mastering of strategic corporate issues, to develop their capacity for entrepreneurship. Entrepreneurship and intrapreneurship – being an entrepreneur within a company – are key for career development, and many executives are interested in launching their own project.
"Entrepreneurship, as I teach it, is rooted in practice. I focus on Design Thinking and Lean Start-up methodologies, which are key tools for today's entrepreneurs and intrapreneurs." Clare Gately, PhD, Professor of Entrepreneurship
4. Build a network of influential connections
EDHEC's EMBA (Lille and Paris) benefits from one of France's (and even Europe's) most dynamic alumni network. From the moment they register, participants to the EMBA join the 37,000 alumni (participants and graduates from all over the world, including the 620 former EMBA participants who have graduated since the program was created) and can quickly forge professional connections. The key values of simplicity and proximity hold this unique network together.
"The number of participants makes for human-sized classes, which encourages proximity and friendliness amongst EMBA students and teachers." Baptiste Prévost, specialist engineer in rail transportation, SNCF Réseau, EMBA 2014
5. Activate your personal development
EDHEC's EMBA is a global training program that responds to an actual need and project. For participants to achieve their objectives, the program includes coaching sessions, because evolving and making a change requires taking a distance and working on oneself. Participants get the opportunity to work on their leadership and decision making skills, but also to reflect on the way companies function. "It is not rare that participants realize that they missed out on certain things in the course of their careers. By studying an EMBA, they give themselves the time and distance that are hard to get in the heat of the action. They engage in an evolution process," explains Sophie Cuminal.
"The EMBA provided me with a better knowledge of myself, and of the way business and companies work. It made me more serene, more self-assured." Baptiste Prévost, specialist engineer in rail transportation, SNCF Réseau, EMBA 2014
Bonus: this high-level program is recognized at the European and international levels (in 2016, it was ranked among the 50 best EMBAs in Europe by the Financial Times) and is triple accredited, holding AACSB, AMBA and EQUIS accreditations.
To learn more about the Lille and Paris Executive EMBA, do not hesitate to contact us: [email protected].