#MyMBAStory: Leveraging an MBA Specialisation Partnered With IBM to Build a Career in Digital Innovation
Pranjali Apurva used EDHEC's Global MBA digital innovation specialisation to build a successful career in the digital innovation space.
Reading time :
26 Sep 2022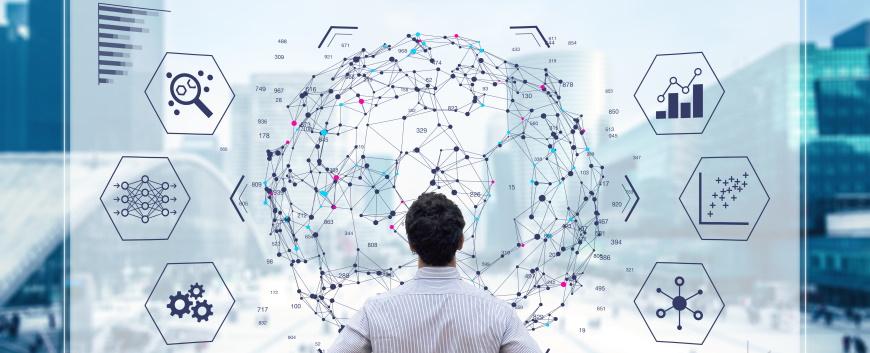 Digital transformation has become a hugely influential factor in business growth and success, and it's not slowing down any time soon. The global digital transformation sector is predicted to grow from $469 billion USD in 2020 to more than $1,000 billion USD by 2025.
EDHEC Business School's Global MBA programme offers different specialisation tracks.  The digital innovation specialisation MBA track, co-produced by IBM, is designed to equip students to lead digital transformation and help businesses capitalise on digitalisation and data. One EDHEC alumni who benefited from this track is Pranjali Apurva. Now an experienced digital innovation expert, Pranjali was in one of the first cohorts of the IBM-partnered MBA specialisation in 2018.
We sat down with her to learn how the programme helped her to advance her career in the field.
Returning to Study to Update Critical Skills and become a driver for Digital Transformation
Pranjali Apurva, EDHEC MBA alumna Digital Innovation Track with IBMWhile working as a business innovation manager for Landmark Group in Dubai, Pranjali was compelled to return to study to update her skills and gain the latest knowledge around digital innovation.
As part of her role, Pranjali oversaw digital implementation across various parts of the business. As the company began to implement new tools and software, Pranjali recognised the role of technology in the industry and the potential of digital transformation.
Leveraging EDHEC's Digital-Focused MBA Track
EDHEC's Global MBA is a 10-month programme, taught at the school's campus in Nice, on the French Riviera. It allows students to gain a qualification that is invaluable for building a career in a range of sectors. The programme was recently ranked #3 in Europe for opening new career opportunities.
The MBA programme involves a core curriculum on business fundamentals like finance and marketing, along with a choice of four specialisation tracks:
The digital innovation track was created in partnership with IBM, in response to employer demand. The multinational tech giant co-designed the syllabus and industry experts from the company deliver classes and lectures within the four-week specialisation track.
During the elective period, students can choose from a wide range of modules, from advanced corporate finance to agile thinking.
"It was very industry-focused," Pranjali explains. "They didn't make it very theoretical or academic, it was very much a hands-on approach."
During the specialisation, students learn about transformation and adoption strategies, as well as cutting-edge innovations like robotics and virtual and augmented reality. They cover a diverse range of topics, including digital change management, AI, Blockchain, cloud strategies, and design thinking.
Finally, during the week-long learning expedition, students visit companies leading the digital innovation space.
"They took us to the real core of innovation in Paris," Pranjali explains, "it meant when later I started working, I'd already seen what was happening in the market."
Students also visited IBM's headquarters in New York. Through the visits, they explored digital disruption from the angle of the disruptors as well as the disrupted, with a zoomed-in look at digitally-enabling industries thriving in NYC, from retail and luxury to fintech.
Further Networking Opportunities
Along with the partnership with IBM, EDHEC also works closely with Station F, a startup incubator that partners with over 1,000 startups and 150 venture capital funds, making it the biggest in the world. "A lot of the innovation startups in Station F were actually from EDHEC, so they were very open to collaborate and partner with us in different projects," Pranjali says.
The track equipped Pranjali with knowledge of digital innovation across all sectors, with the kinds of specialist skills and knowledge she needed to advance her career in this sphere.
After graduating with her MBA, Pranjali secured a role as chief innovation officer with BLVCK PIXEL, a digital innovation consultancy in Paris. In 2021, Pranjali took on the role of Senior Business Process Manager with fashion retailer Zalando. In this role, she uses the latest technology to improve efficiency across the business, drawing on the lessons she learned from IBM industry experts during the digital innovation track.
"Digital innovation is changing the way we do business, and unless you understand the possibilities of today's digital capabilities you won't be able to analyse your business and change the way you work," she explains.
Along with developing her digital skills, EDHEC helped Pranjali advance her career by connecting her with new opportunities.
"It's been a couple of years since I graduated from the programme, but they've always been prepared to help me out," she says.
Build a career in digital innovation with an EDHEC MBA
EDHEC's career development team goes above and beyond to help students and alumni build their careers in the field of their choice. The CareerSMART programme uses a range of self-assessment tools to assist students to recognise their key strengths and assets in order to build a career plan with actionable steps.
The school's career service introduced Pranjali to the CEO of BLVCK PIXEL CEO, helping her to secure her first role after graduating with her MBA. The service assisted Pranjali again a few years later, helping her develop her resume and land another digital innovation role with retail giant Zalando.
Whether you're looking to build a career in digital innovation, entrepreneurship, or virtually any field of business, EDHEC's Global MBA will give you the skills, knowledge, and mindset you need, backed up with the support of our dedicated career development team.
Could this be you ?
Evaluate your profile to speak to one of our career advisors and see how you would fit in with our next cohort.