Top five reasons to do an MBA
There are many reasons to do a Global MBA. An MBA diploma can enhance your marketability as a future employee and open up new career opportunities. Here are some of the top reasons why you should consider enrolling in an MBA programme.
Reading time :
6 Dec 2022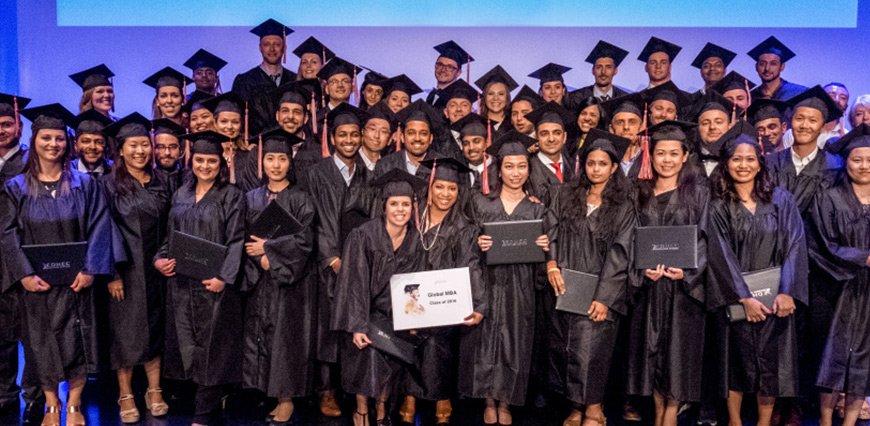 #1 an MBA provides you with the tools you need to give your career a new direction
You want to change industries, jobs or countries? You want to do all three (often called a triple jump)? A Global MBA provides you with the knowledge and skills you need to give your career a new direction. The core courses of EDHEC's Global MBA, for example, give you a broad and holistic foundation in business disciplines such as finance, accounting, marketing, and supply chain. This strategic overview can help you to make a significant change in your career trajectory or help you to advance into leadership roles.
#2 Personal development as part of your MBA programme
Have you ever done a SWOT analysis of yourself? Personal development with a focus on soft skills is an important part of EDHEC's Global MBA curriculum. During your MBA, you will use a wide range of tools to find out where your strengths and weaknesses are. Through expert coaching, self-assessment and regular feedback from experts and from your peers, you will work on your weaknesses and consolidate your strengths.
#3 Leadership development – a key for advancing your career
Confidently and responsibly leading people and organisations to success is one of the key skills of a future top manager. Boost your management and leadership skills through collective activities, real life case studies and courses like 'Managing Human Capital with Coaching' and 'Building High Performance Teams' as part of our programme.
"Leaders must develop the vision and skills necessary to lead their organisations to success. Our goal is always to bring out well-rounded, value-driven, inspirational and reflective leaders who make a positive difference to the business world."
Stéphane Cannone, Associate Dean, EDHEC Executive Education & MBAs.
#4 Networking & global exposure
Networking and relationship building matter a lot when it comes to the corporate world. But not everyone is a natural networker. Our Careers team and CareerSmart programme will help you acquire the tools and soft skills to broaden your network and leverage it for your job search post-MBA. Global exposure through international business trips, career days and company visits get you up close and personal with leading industry experts and potential future employers. Here are some further tips to make the most of networking and career events. Through an MBA, you will also be able to benefit from your Business School's vast alumni network growing your potential network exponentially.
"The support network at EDHEC was superb. All the advice I received, ranging from interview techniques to personal branding and networking, has led me to where I am today. Definintely, the best career choice I've made"
Charlotte Auterac, Associate Director, Portfolio Strategy at CBRE and Global MBA Alumna 2017.
EDHEC's Global MBA students typically have the opportunity to discuss cyber security with experts from Facebook, Google, or IBM in the Silicon Valley, USA, visit the Microsoft France HQ in Paris, and work on consultancy projects for L'Oreal, Bic, Amadeus, Air Liquide, Schneider Electric, Allergan, and others during the 10-month programme.
#5 Return on Investment
ROI is one of the key factors for choosing a programme. Being able to prove your skills and expertise with the MBA diploma of a prestigious Business School will give you the arguments and confidence to negotiate a higher salary in your next job. Furthermore, EDHEC's Global MBA can be completed in just under one year, meaning you'll be out of work for less time than with a longer programme. Ultimately, an MBA is a big step towards your dream job, whether it is in a different industry, a higher position, a new country or setting up your own company.
The EDHEC Global MBA is regularly ranked within the top programmes worlwide for various criteria, including career opportunities, diversity (students & faculty) and Return on Investment (ROI) and ESG. The school has been among the first Business Schools worldwide to receive the 'triple-crown', recognised for the excellence of its programmes by AMBA, AACSB, and EQUIS alike.
Are you ready to transform your career? 
Download the brochure to find out how the EDHEC Global MBA will give you the tools, knowledge and confidence you need to accelerate your international career