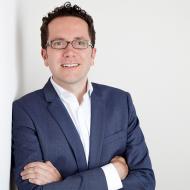 Fabian Bernhard
Associate Professor
Professor and Researcher in Family Business and Psychology
Main contributions
Journal of Business Research (2022), Review of Managerial Science (2022), Journal of Business & Industrial Marketing (2021), European Management Journal (2021), Family Business Review (2020), Entreprises et histoire (2018), Academy of Management Learning & Education (2015)
Discipline:
Family Business
Faculty:
Management & Humanities
Expertise:
-->Leadership and Management -->Business Psychology -->Research on Emotions -->Family Business
Bio
Prof. Dr. Fabian Bernhard is a Professor of Management and Psychology and is part of the Family Business Center at EDHEC Business School in Paris, Lille, Nice and London. He is a research fellow for family business at the University of Mannheim and for psychology at the University of Frankfurt in Germany. Equipped with the insights from his own family's business, Fabian Bernhard worked several years for a renowned financial consulting company in New York. In his academic work he specializes in the emotional dynamics in businesses, the preparation of next generational leaders, and the psychological attachment to the family business. His articles have been published in various academic and practitioner outlets as well as in the public media. Fabian Bernhard is a recipient of several honors and awards for his work on family businesses, such as the best dissertation honorable mention by FFI at Harvard University. Since 2014 he has been serving on the editorial boards of the Family Business Review (FBR) and the Journal of Family Business Strategy (JFBS). Since 2017 he has been a member of the Board of Directors of the Family Firm Institute (FFI) in Boston.
---
Publications of Fabian Bernhard
---
Derniers articles EDHEC Vox