EDHEC's Executive MBA - 20 years of transformation
Over the past twenty years, the EDHEC Executive MBA has accelerated careers, enabled profound professional transformations or served as a springboard into entrepreneurship. Alumni from the past 20 years have recently gathered in Lille to celebrate the programme's anniversary. Find out what they had to say.   
Reading time :
28 Nov 2022

Once upon a time... or more precisely in the autumn of 2002, a group of audacious professionals met in Lille on the EDHEC campus, to begin a transformational journey both on a professional and on a personal level: the very first cohort of the new EDHEC Executive MBA.
Two decades later, in October 2022, some of them returned to EDHEC's leafy Lille campus, accompanied by around 80 other alumni and current participants to celebrate 20 years of prestigious and internationally renowned programme.     
« Our Executive MBA is twenty years old, and it is still going strong, which in the world of business schools, is a testament to its quality, » said Denis Dauchy, programme Director and Professor of Strategy, during his speech at the ceremony. A statement confirmed by the audience's ovations, the programme's steady progression in international rankings and the growing number of participants.  
The EDHEC Executive MBA - Transformation at all levels
A programme of excellence with a profound impact
Between discussions on current socio-political challenges, CSR, innovation or the last holidays, the alumni present remembered with gratitude their 16 months spent at EDHEC, within a close-knit cohort.

Twenty years after their Executive MBA, Stéphane Bis and Carole Petel (2002/2003 cohort), members of the very first EMBA cohort, looked back on the profound personal and professional transformation enabled by EDHEC's executive programme:

« The Executive MBA at EDHEC had a huge impact on me and my career. Knowing how to communicate with all the other divisions of a company and understanding their issues is essential. Even today, 20 years later, I think that, on my company's board of directors, I am one of those who have a very global view thanks to this EMBA. On the whole, doing a programme such as an Executive MBA remains an asset for better understanding the issues of the world we live in. »

Stéphane Bis, Technical and Project Management Director, Semitan, France

Carole Petel, entrepreneurial consultant and youth awareness referent within the BGE network, vividly remembered a course on discernment that had a strong impact on her:

«This course encouraged us to take a step back and question our professional goals. Questioning and clarifying my purpose enabled me to make decisions or choices in line with my values, to confirm the alignment of my personal values with my professional objectives. Furthermore, the Executive MBA at EDHEC gave me the audacity and confidence as well as the necessary tools to take the plunge into entrepreneurship. »

A ceremony in the main auditorium, a conference on innovation and transformation, an al-fresco lunch and the return to the classroom - the anniversary celebration was a day full of joy and happy memories.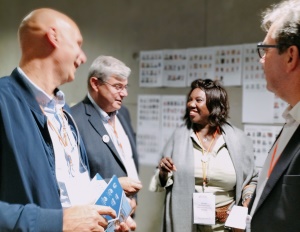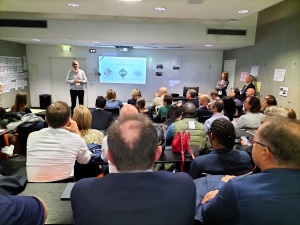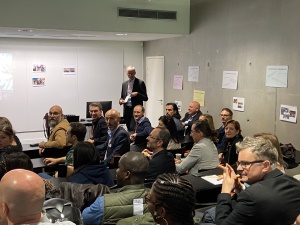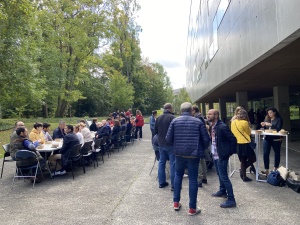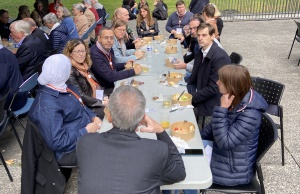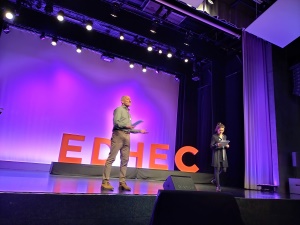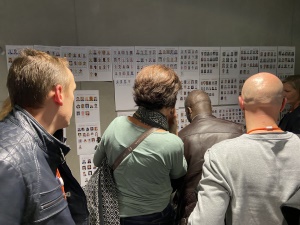 EDHEC's Executive MBA as career accelerator
« After the MBA I changed companies twice. The MBA has certainly had a huge impact in recruiters' eyes. » says Stéphane Bis. The programme has also had a major influence on Fabien Neyret's career path. Sonia Botta, 2016–2017 cohort and today Vice President Globa Citrus within the Firmenich group, confirms this. She was able to accelerate her professional development within her company thanks to the Executive MBA: « (…) my responsibilities were expanded accordingly. Later, I became Vice President in my function, and joined Senior Leadership Team. Some time later, my management offered me to join another division in the US. »
The EHDEC Executive MBA de l'EDHEC over the years
1
2002
19 participants embark on a transformative journey in Lille - the very first cohort of EDHEC's Executive MBA
2
2015
Opening of the programme in Paris: 23 participants, of whom more than 50% are women and 40% are international participants.
3
2020
New Track: Executive MBA with specialisation in Healthcare Innovation & Technology - From healthcare expert to innovative leader EMBA HIT
4
2022
October Intake : 2 campuses, 42 candidates, 16 nationalities
A programme adaptive to ever changing business challenges
« In twenty years, the world has changed a lot and EDHEC's Executive MBA has been able to adapt to prepare participants to face challenges of tomorrow, » says Stéphane Canonne, Director of Executive Education & MBAs, with a « special mention for the 'Covid class' who, against all odds, managed to take advantage of the situation and live a rich learning experience with a close-knit cohort. » From the digital transformation that has changed the rules of value creation to climate and CSR issues, from economic, societal and geopolitical crises to the need to have more women in positions of responsibility, current and future challenges have always been taken into account in the programme and its organisation. For example, the decision was taken to reduce the carbon impact of business trips by choosing Slovenia over Korea and the US, or to set up a "Women in Leadership" scholarship to promote equality and diversity within the cohorts. 
To meet the needs of a key sector that is facing greater challenges and constraints than ever before, EDHEC has created the Executive MBA with a specialisation in Healthcare Innovation & Technology to train leaders capable of driving innovation and transformation in the healthcare ecosystem.  
The latest edition to the EDHEC Executive MBA is the innovative transform360 component. Designed to strengthen self-awareness and consolidate one's leadership posture, these modules give participants the key to lead with confidence, conviction and agility, even in the most difficult situations. 
The EDHEC Executive MBA experience
The EDHEC Executive MBA is not only about learning, it is also about experience. Between individual and group assignments, business trips to embrace other cultures and management styles, but also team-building exercises, coaching and feedback activities, participants challenge themselves and each other and, above all, create lasting bonds. And this was clearly visible during the campus anniversary day: a lively atmosphere, the joy of catching up and seeing the teams that enabled them to live this experience so rich in learnings and emotions.     
« Indeed, the conversations with others who came from different sectors and industries, the privilege to share with classmates from different backgrounds gave us a fresh look at our own perceptions. Sharing strong emotions within the programme but also outside, created lasting friendships beyond purely professional network, » said Stéphane Bis.
« This 'team spirit' based on shared values was (and still is) essential in a world where everyone is questioning themselves, » confirms Carole Petel. « In twenty years the EDHEC Executive MBA has been a career accelerator for some, enabled a professional transformation or been a springboard to entrepreneurship for others. But the talented participants are also a key element to such a demanding programme. Not only for the success rates and rankings, but above all for forming thoughtful cohorts whose members challenge each other, open up new perspectives and create lasting relationships. Twenty years of success is also thanks to you, » summarised Stephane Cannone.

The day was also an opportunity to welcome professor Joëlle Vanhamme, the new Academic Director who will be joined in November by Véronique Carresse as programme Director. 
Are you ready to transform your career with an MBA?
The EDHEC Executive MBA is a 16-months part-time programme designed to equip you with the insight, knowledge and personal resolve to lead the transformation your career and business need:
Refine your strategic, financial and business leadership competencies.  
Challenge your perspectives and develop new ways of thinking.
Develop your capacity to lead with confidence and authenticity. 
Develop an international business network.