|
EDHEC
|
Institutionnal
Programmes
Research
Appointments, new teachers, new positions... what's new for the start of the 2023 academic year?
The start of the 2023 academic year is an opportunity for students to focus once again on the challenges facing society and technology, while for programmes and faculty it means a number of significant changes and an ambitious projection towards 2024 and beyond.
Reading time :
26 Sep 2023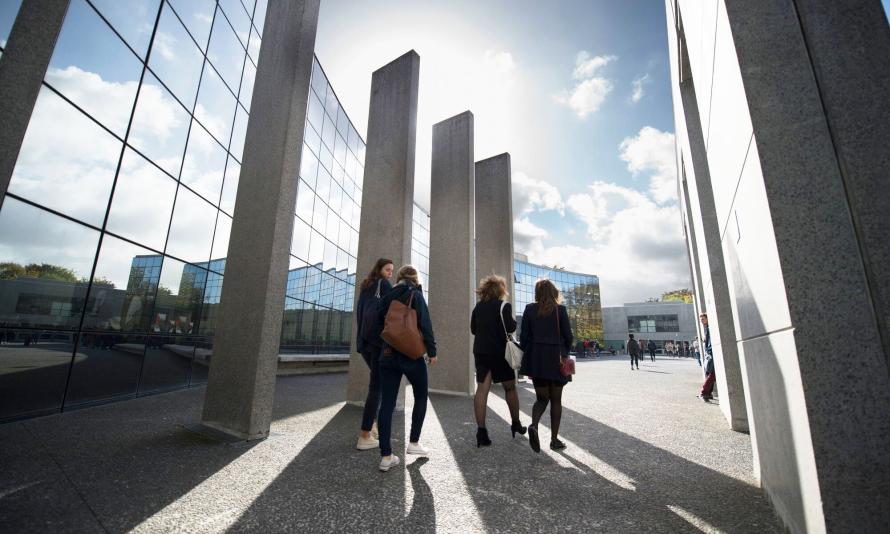 New programme and department heads
September 2023 marks Tristan-Pierre Maury's first year as Director of the Grande Ecole, Masters of Science and PhD in Finance at EDHEC Business School. Announced in June 2023, this appointment of a professor of economics specialising in public policy (housing, education, diversity), and a member of the school since 2010, aims to emphasise academic excellence, innovation and pedagogical hybridisation, as well as internationalism. Since 2017, this set of programmes has been directed by Michelle Sisto, who is now turning her attention to developing programmes and projects in 'Tech, data and humanities', a strategic focus for EDHEC.
On the programme side again, Juliette Gadaud, maitresse de conférences in economics since 2010 at the Institut Catholique de Lille and director of ISEA since 2014, is taking over as director of EDHEC's pre-Master's programme. This first year of the grande école programme had been headed since June 2017 by Hager Jemel-Fornetty, Associate Professor and Director of the Diversity & Inclusion Chair. The Pre-Master's programme takes place entirely on the Lille campus and welcomes 670 students, all from the Classes Préparatoires aux Grandes Ecoles (CPGE).
There has also been a change at the head of the 'Strategy, Entrepreneurship and Operations' teaching and research department, as Isabelle Mari, associate professor since 2013 and member of EDHEC since 1999, replaces Philippe Véry, professor and member since 1998. Among EDHEC's five departments, the department now has 23 members, who teach and publish academic work on a wide range of subjects related to innovation and sustainable development: strategic foresight, growth and sustainability of organisations - including start-ups and family businesses, supply and production chains, information systems and criminal risks.

Four new faculty members in 2023
As part of its 2020-2025 strategic plan "Impact Future Generations", which provides for around 50 recruitments over the period (of which almost thirty have been made to date), EDHEC is announcing this year the arrival of four new associate professors. Twenty new professors and researchers are also being recruited for next year (see next section).
Thomas B. Long (United Kingdom) – Associate Professor of Sustainable Entrepreneurship
Before joining EDHEC, Thomas B. Long was an Assistant Professor at the University of Groningen, which he joined in 2018 after 3 years as a Postdoctoral fellow at Wageningen University. He holds a PhD in Sustainability from the University of Leeds (2013). His research focuses on exploring the transformative potential of entrepreneurship for sustainability, including what emerging degrowth/postgrowth thinking means for entrepreneurial practice and education.  Thomas teaches at various level, from Bachelor to Master of Science, and has published articles in international journals such as : Journal of Business Ethics, Journal of Cleaner Production, Journal of Responsible Innovation, Business Strategy and the Environment…
Vincent Milhau (France) – Associate Professor of Finance
Before joining the faculty in 2023, Vincent Milhau was Director of Research at the EDHEC Risk Institute - now renamed the EDHEC Risk Climate Impact Institute - from 2015 to 2022. He led a number of research projects co-funded by key players in the financial industry. Vincent Milhau holds a double MSc from ENSAE and Université Paris VII (2006), and obtained his doctorate in 2009 from Université de Nice - Sophie Antipolis. He is interested in and teaches risk management, asset valuation and portfolio optimisation. His work has been published in the following international journals, among others: Journal of Portfolio Management, Management Science, Journal of Fixed Income, Journal of Pension Economics and Finance.
Madlen Sobwowiak (Germany) – Associate Professor of

Sustainability Control Management
Madlen Sobkowiak has a particular interest in sustainability accounting and managerial accounting. Prior to joining EDHEC, she was an Assistant Professor of Accounting at Birmingham Business School where she also earned her PhD in Sustainability Accounting (2020) and her MSc in International Accounting and Finance (2016). Her research specializes in topics related to sustainability evaluation, environmental impact assessment, and CSR reporting. Madlen Sobkowiak has published in international academic journals, including Critical Perspectives on Accounting, Auditing and Accountability Journal, Annual Review of Environment and Resources, and Social and Environmental Accountability Journal. She has worked on ground-breaking initiatives such as the Seafood Business for Ocean Stewardship project and teaches in a large variety of programmes, from BBA to MSc.
Jana Thiel (Germany) – Associate Professor of Entrepreneurship & Strategy
Jana Thiel will join the EDHEC Business School in January 2024, to lead research and to teach in various programmes on how entrepreneurs conceptualize and implement their strategies and how they structure and manage team production under uncertainty. Prior to her current position as a Senior Research at ETH Zurich and Visting Lecturer at Imperial College Business School (since 2017), she was an Assistant Professor at Maastricht University. Jana holds a PhD from the Swiss Federal Institute of Technology Lausanne (2012). Jana has also been the co-founder of the SaaS B2B business Halalati, a provider of facebook marketing applications. She has published numerous articles in international journals such as Strategic Entrepreneurship Journal, International Small Business Journal, and Revue de l'Entrepreneuriat.