Meet Sachin Kamble, a life-long learner with an insatiable thirst for knowledge
Sachin Kamble , Professor
What do teachers, researchers, and consultants have in common? They are all ways you could describe EDHEC Professor of Strategy Sachin Kamble, but only by understanding his life-long quest for knowledge would you get a full picture. A brilliant scholar, a passionate educator, and a dedicated problem-solver, Professor Kamble has never stopped learning and sharing, always putting himself ahead of the trends, where the challenge is, for the benefit of all who cross his path.
When he joined EDHEC Business School on the Lille Campus in May 2020, Professor Sachin Kamble was already at the height of his career: more than 20 years spent teaching, researching, and consulting in his native India, an impressive track record of more than 125 publications, more than 10000 Google Scholar citations (1), more than half a million euros worth of consultancy contracts, you'd be forgiven to think that would be enough for one individual. But for Sachin, whose name appears in the world's top 2% of scientists list published by the Stanford University-Elsevier in September 2022 (2), you can't put a cap on learning.
From the very beginning, even before graduating from Karnatak University with a Bachelor's in Mechanical Engineering, Sachin Kamble has always loved discussing ideas and concepts, picking them apart with friends, and going the extra mile to push the understanding forward: "I would always try and make it clear for them, sometimes even putting together a PowerPoint presentation to share what I had found and try and make it interesting for everyone," he recalls. "I just enjoyed engaging and exchanging ideas; I loved this shared construction of knowledge; it really drove me." But it wasn't until he was almost finished with his MBA in Operations Management that he would make a move to embrace a multidimensional career: "I knew I wanted to be more than an engineer or a manager, I had a deep interest in teaching that I needed to explore," he explains. And explored, he did.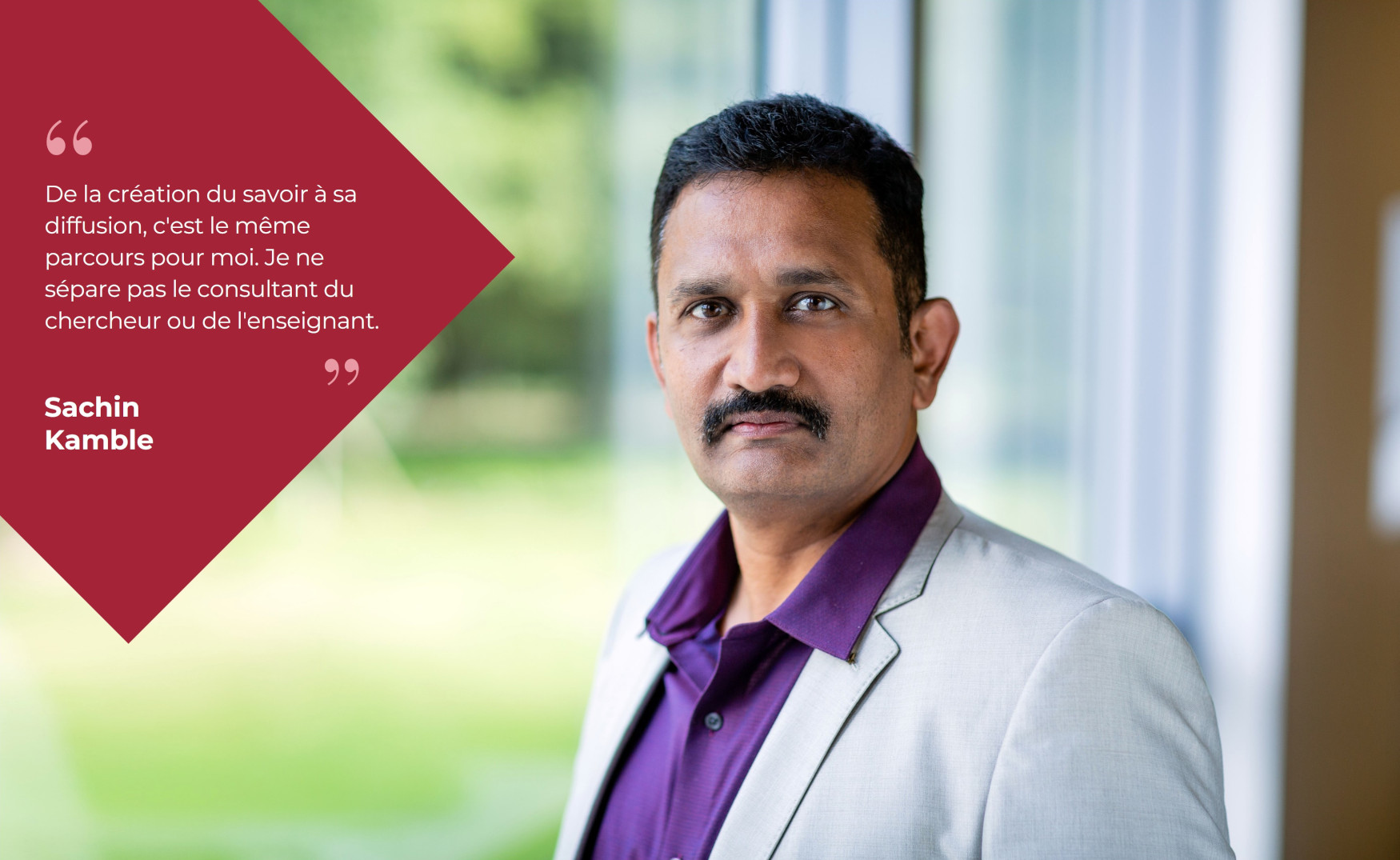 He joined Karnatak University as a lecturer in 2004, right after completing his Ph.D. in "performance management in large and medium scale manufacturing organizations" for a two-year tenure before moving on to an Associate Professor position at the renowned National Institute of Industrial Engineering in Mumbai. There, he shaped brilliant analytical minds for almost fifteen years until he departed for EDHEC. But this is only part of the story.
For Sachin, teaching is inseparable from research and consultancy. "A problem is always the starting point," he says, "it begins with a question at the center of a consultancy contract. Once this specific example has found its solution, I see a wider canvas to explore, something that encompasses a whole industry, a bigger question to be addressed, and that's the premise for a research journey. But what good is knowledge if you don't share it? That's when teaching becomes crucial." He adds, in a very clear way, "from knowledge creation to its dissemination, it's the same journey for me. I don't separate the consultant from the researcher or the teacher. They all enhance each other. I'm a better teacher because my teaching comes from real-world experiences. I'm a better consultant because I can see the bigger picture thanks to my research mind. And I'm a better researcher because I know what to do with my findings, how to apply them to the real world and turn them into teachable skills."
In a fast-evolving environment where manufacturing and supply chains are constantly impacted by technology and performance matters, more than being up-to-date is required. "I use my research to get ahead and update myself constantly," explains Sachin. His interests range far and wide, but all look deeply into how technology impacts environmental, social, and economic performance: blockchain, big data, 3D printing, AI and machine learning, or ChatGPT; Sachin looks for undercurrents to understand how to keep solving problems thanks to technology. Some of his most cited and recent works include a sustainable framework for Industry 4.0 (3), the adoption of blockchain in supply-chain contexts (4) or for traceability (5) or sustainability in data-driven agriculture (6), and 3D printing in food supply chains (7).
As an avid learner, Sachin saw EDHEC and his first international posting as a unique opportunity. "Teaching undergrads, masters, and executive MBAs has challenged my adaptability as an educator," he reckons. "Before, I had a pretty homogenous audience of engineering students. Now, I have a very diverse crowd, diverse in background, skills, expectations, and career goals. This makes for an extremely enjoyable experience. I had to change my approach to adapt to this heterogeneity, which has been very rewarding. This exposure to a wider range of students enables me to think differently and to keep on learning from them all, which, for someone as passionate about learning as I am, is really a treasure."
Key dates
2020 – Present: Professor of Strategy, EDHEC Business School, Roubaix, France. Member of the Foresight, Innovation & Transformation (FIT) Chair.
2006 – 2020: Associate Professor, National Institute of Industrial Engineering, Mumbai, India.
2004 – 2006: Lecturer, PG Department of Business Administration, Karnatak University, India.
2004: Ph.D. in Management, Department of Business Management, Vikram University. Ujjain. India
1999: Master of Business Administration Operations Management, Kousali Institute of Management Studies, Karnatak University, Dharwad. India
1996: Bachelor of Engineering Mechanical Engineering, KLS Gogte Institute of Technology, Karnatak University, Dharwad. India
To know more about Professor Kamble
(1) Google Scholar Profile https://scholar.google.com/citations?user=IPohuBAAAAAJ&hl=en&oi=ao
(2) Ioannidis, John P.A. (2022), "September 2022 data-update for "Updated science-wide author databases of standardized citation indicators"", Elsevier Data Repository, V5, doi: 10.17632/btchxktzyw.5
(3) Sachin S. Kamble, Angappa Gunasekaran, Shradha A. Gawankar, Sustainable Industry 4.0 framework: A systematic literature review identifying the current trends and future perspectives, Process Safety and Environmental Protection, Volume 117, 2018, Pages 408-425, ISSN 0957-5820, https://doi.org/10.1016/j.psep.2018.05.009
(4) Sachin Kamble, Angappa Gunasekaran & Himanshu Arha (2019) Understanding the Blockchain technology adoption in supply chains-Indian context, International Journal of Production Research, 57:7,2009-2033, https://doi.org/10.1080/00207543.2018.1518610
(5) Sachin S. Kamble, Angappa Gunasekaran, Rohit Sharma, Modeling the blockchain enabled traceability in agriculture supply chain, International Journal of Information Management, Volume 52, 2020, 101967, ISSN 0268-4012, https://doi.org/10.1016/j.ijinfomgt.2019.05.023
(6) Sachin S. Kamble, Angappa Gunasekaran, and Shradha A. Gawankar. "Achieving sustainable performance in a data-driven agriculture supply chain: A review for research and applications." International Journal of Production Economics 219 (2020): 179-194. https://doi.org/10.1016/j.ijpe.2019.05.022
(7) Virendra Kumar Verma, Sachin S. Kamble, L. Ganapathy, Amine Belhadi & Shivam Gupta (2022) 3D Printing for sustainable food supply chains: modelling the implementation barriers, International Journal of Logistics Research and Applications, https://doi.org/10.1080/13675567.2022.2037125