EDHEC
|
Alumni
CSR
Events
Fondation / Solidarity
Institutionnal
Programmes
Research
Student Life
The EDHEC community mobilises for International Women's Day
Every year on 8 March, International Women's Day is held to take stock of the situation of women and to mobilise to improve their rights and fight against inequality. In 2023, the theme chosen by the United Nations is: "For an inclusive digital world: innovation and technologies for gender equality". Here is an overview of the initiatives and research conducted by EDHEC members.
Reading time :
8 Mar 2023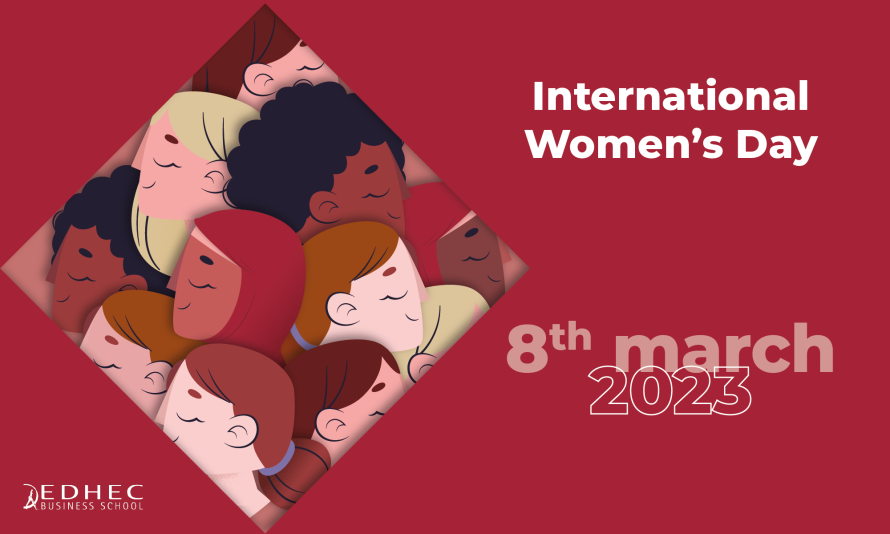 Pedagogical actions
Particularly during the month of March, but also at other times of the academic year, several pedagogical actions are planned by the training programmes, the Alumni network and the Diversity & Inclusion Chair, for example on gender inequality and gender-based violence.
At the beginning of each academic year (BBA, pre-master)
In Lille and Nice, the Diversity & Inclusion Chair organises a complete series of awareness-raising sessions and workshops on gender-based violence (GBV) at the start of each school year. All new students in the EDHEC International BBA (Bachelor Business Administration) and the pre-Master's programme of the EDHEC Grande Ecole are concerned, i.e. more than 1,700 students per year.
March 8, 6.30 pm : "Engaging men: how embracing equity benefits us all"
This special afterwork is organised by the EDHEC Executive MBA Women's Society on the EDHEC campus in Paris. The speaker is Rob Baker, founder and CEO of Potentia Talent Consulting. To know everything about this event, follow this link.
March 9, 5.30 pm : "Women in Leadership - How MBAs can contribute to more gender balance in boardrooms"
Organised by EDHEC Executive MBA, this webinar, moderated by Sandra Richez, Director of the Global MBA programme, brings together Jane Hoskisson, Director of Talent, Learning, Engagement and Diversity at the International Air Transport Association (IATA) and Stephanie Nowak, Consultant in Innovation and Strategic Forecasting at Rohrbeck Heger. Details and registration directly online.
March 29, 6 pm : « One-night stands as a test of consent »
This conference-debate by Daria Sobocinska, doctoral student in sociology at the University of Lille, is organised on the Lille campus of EDHEC by the Diversity & Inclusion Chair. Information and registration via this link.
2023 : online courses on GBV
The Diversity & Inclusion Chair team is currently working on the creation of an online MOOC course on the fight against gender-based and sexual violence. More information will be available soon on the Chair's pages.
Student and association events
EDHEC students, on their own initiative or through the school's very active network of associations, are mobilising, again this year and throughout the week, on the subject of women's rights.
March 6, 8 pm : « My name is clitoris »
Daphné Leblond and Lisa Billuart Monet's documentary, made in 2020 and awarded the Magritte for best documentary that year, was screened in Nice.
March 6, 2.30 pm - 7 pm: Planning Familial
The EDHEC Inspiring Women association held an information stand with the Planning Familial on the school's Lille campus, a stone's throw from the Student Office (BDE).
March 8, 5 pm - 7 pm:

Magalie Vigé
's lecture
This conference is organised on the Lille campus (VIP amphitheatre) by EDHEC Inspiring Women, which welcomes Magalie Vigé, Departmental Delegate for Women's Rights and Gender Equality, Nord Department, and former researcher at the Diversity & Inclusion Chair.
March 8, 12 pm - 2 pm: forum at Nice
Several activities are planned on the theme of women's rights: information stands run by Amnesty International and associations from EDHEC's Sustainable Impact Projects; a photography exhibition; a creative arts activity organised by the Arts Office; a music concert by the group Rhapsody.
March 8, 9.30 pm - 11 pm: «What if we were her »
The café Citoyen in Lille is hosting an evening dedicated to the screening of 6 short films, organised by EDHEC Inspiring Women and the association Prix de court.
March 9, 5 pm - 7 pm: « Women in the cultural sector »
On the school's Lille campus, in the VIP amphitheatre, the EDHEC Inspiring Women association is organising a round table dedicated to the place of women in culture. The speakers are : Nathalie Rigal (AWARE), Clarisse Dumazy (Thanks for Nothing), Isabelle Chatout (Jeanne Bucher Jaeger), Véronique Jaeger (Jeanne Bucher Jaeger), Laurie Chapotte (Ministère de la Culture) and Sarah Witt (artist).
NB: for all the events organised by EDHEC Inspiring Women, visit the dedicated Facebook page to find out more.
Research
Several professors from EDHEC Business School have recently published academic articles on the place of women in the economy, focusing on various themes: entrepreneurship, crowdfunding, leadership, family businesses, data...
Fabian Bernhard

, Associate professor and member of the Family Business Chair
Authors: Isabell K. Stamm (Max-Planck-Institut), Fabian Bernhard (EDHEC), Nicole Hameister (The German Centre of Gerontology) and Kristel Miller (Ulster University).
Abstract: « Current trends towards more flexible working arrangements have been accelerated by the Covid-19 crisis [...]. Our comparative analysis suggests that family members working in a family business make greater use of teleworking than those in 'traditional' jobs. Contrary to common assumptions, our results show that this leads to a higher workload for managers, but not for family employees. Furthermore, family members who work in their own business show no difference in the way they allocate household tasks compared to families with members in conventional employment, but they perceive this allocation to be more equitable. »
Go further:
- Read the EDHEC Vox  interview « 3 questions to Fabian Bernhard on gender and family businesses » (March 2023)
- Read F. Bernhard's EDHEC Vox article, originally published in The Conversation « Work-Flexibility in Post-Covid Times: is working for your Family Business any better? » (June 2022)
"Gender, Friendship Homophily, and the Reputation for Leadership in Organizations", ongoing submission.
Authors: Diane Kang (University of Kentucky), Ajay Mehra (University of Kentucky), Mohamed Hédi Charki (EDHEC) and Nabila Boukef (Paris School of Business).
Abstract: « This article focuses on two questions in particular: Do women and men differ in their propensity to preferentially attribute leadership to those they consider friends? Is the tendency to build same-sex friendship networks negatively related to women's leadership reputation? [...] We find that while men tend to appoint leaders from among their friends, women's leadership appointments are relatively unaffected by their friendships. For women, but not for men, same-sex friendships are negatively related to leadership reputation, although this relationship is significant only in the North American organisation. Our study sheds new light on why women and men appear to derive different benefits from apparently similar social networks. »
Authors: John P. Berns (University of Mississippi) and Maria Figueroa Armijos (EDHEC).
Abstract: « Our results indicate that applying for funds through a field partner that caters to vulnerable populations may actually have a negative effect on the entrepreneur's request to be fully funded. Nevertheless, presenting the entrepreneur as female or rural as key characteristics of individual vulnerability increases the likelihood that the project will be fully funded. This duality offers significant theoretical and practical implications for the ethics of pro-social crowdfunding, an under-researched area. »
Author: Maria Figueroa Armijos (EDHEC).
Abstract: « Using a comprehensive national microdata sample, this study of North American women-owned firms reveals the individual and corporate characteristics that influence their likelihood of receiving venture capital or public funding over the life of the firm. [...] The results were then compared across regions of the United States to identify differences that can inform strategic policy for financing innovative firms. The results indicate that receiving public funding positively influences the chances of women-owned firms to also obtain venture capital. Women-owned firms that are classified as family businesses are less likely to seek venture capital but more likely to seek public funding. Educational attainment and Hispanic origin increase the likelihood of receiving public funding »
Authors: Golshan Javadian (Morgan State University), Maria Figueroa-Armijos (EDHEC), Vishal K. Gupta (The University of Alabama), Meisam Modarresi (Semnan University) and Crystal Dobratz (Colorado School of Mines).
Abstract: « Does gender stereotype adherence play a role in the customer's cognitive evaluation of new ventures owned by female entrepreneurs? Our cross-cultural study integrates recent literature on gender stereotype adherence and cognitive legitimacy to answer this question [...]. Our comparative results suggest that the evaluation of female and male characteristics of women entrepreneurs varies according to the gender stereotype adherence of the evaluator (in this case, the client) and the cultural context. Specifically, we find that a new venture owned by a female entrepreneur with 'feminine characteristics' is perceived as more legitimate when the client adheres to female stereotypes, regardless of the country. »
Authors: Gianclaudio Malgieri (Leiden University) and Gloria González Fuster (Vrije Brussel University).
Abstract: « Our article looks at the notion of the 'vulnerable person' in the field of data protection and privacy from a gender perspective, in order to determine whether and how gender should be considered as a vulnerability factor. Our work also raises the question of reflections on the notion (gendered or not) of the 'standard subject' in terms of data [...]. Looking at the history and foundations of privacy and data protection legislation, questions such as whether the 'standard subject' in privacy and data protection legislation is, by default, a man, and whether women could be considered vulnerable data subjects simply because they are women, emerge. Our paper then turns to legal and economic analysis of consumer behaviour, but also to political philosophy and, in particular, to gender studies. »
Authors: Manuel Feldmann (Heidelberg University), Martin Lukes (Prague University of Economics and Business) and Lorraine Uhlaner (EDHEC).
Abstract: « Our study takes a multilevel cultural view, incorporating socially and family-based gender norms, to track the careers of a sample of 2897 young Europeans (aged 18-35) from 11 countries with at least one self-employed parent. We find that gender identity is associated with occupational status, so that a woman is more likely than a man to be an employee than a successor in a family business, but no less likely to be a founder than to be an employee or successor. However, certain cultural variables in the family and society, combined with gender identity, reverse these trends. A woman with family responsibilities is more likely to be a successor than a founder or employee. »
In addition, the Diversity & Inclusion Chair plans to conduct three main studies in 2023 related to the gender issue:
Visibility and individual initiatives of professors
In order to improve the presence of women on the screen, behind the microphone, but also in the press and on the web, the website expertes.fr offers a 100% free online directory of women researchers, company directors, presidents or directors of associations/foundations, etc. Several female professors and researchers from EDHEC have entered their profiles, indicating their specialities, their latest publications and, of course, their contact details.
Olga Kokshagina is an associate professor and member of the Foresight, Innovation and Transformation and Management in Innovative Health chairs at EDHEC. In 2021, she co-founded with Fatoumata Ly the startup with a mission Ninti, which is aimed at women to help them deal with the multiple health problems they face throughout their lives: PCOS, endometriosis, miscarriages, fibroids, menopause... Informing, accompanying, connecting and sharing are Ninti's main missions.
Rania Labaki is an associate professor and director of the Family Business Chair at EDHEC. She is the author of numerous researches on this subject and is also interested in the specific aspect of women entrepreneurs and/or in family businesses and is thus an ambassador of the association Women in Family Business.
Hager Jemel-Fornetty is an associate professor, director of the Diversity & Inclusion Chair and director of the EDHEC pre-master's programme. In addition to the above-mentioned work that she supervises, she carries out numerous actions, regularly speaks at events or in the press, and participates in several working groups on the subject of women's rights.
Testimonials from alumni-donors
Throughout this week, the EDHEC Foundation is highlighting the testimonies of EDHEC alumni who are also donors and who have thus made it possible to finance student scholarships, impact research projects, cutting-edge teaching tools and innovative programmes: