Feeding the world - Sophie Bellon, SODEXO
Let's look at the background and ambitions of Sophie Bellon, former EDHEC student and Chair of the Sodexo Board of Directors...
She was one of the guests at Viva Technology 2019, to shares her ideas on family businesses, long-term engagement, customer focus and women's place in the business world: meet EDHEC Alumni Sophie Bellon, President of Sodexo's Board of Directors.
Back in the Eighties, making her way to the top spot of the Sodexo board clearly wasn't on Sophie Bellon's agenda. What she really wanted back then, was to do her own thing, carve her own way. "Joining EDHEC at the age of 18 was my first big step toward freedom," remembers Sophie. "Moving from Marseille, where I grew up, to the campus in Lille was a giant leap. I was actually very happy during these three years at EDHEC, where there was always something going on socially and where learning opportunities were so compelling." When she graduated, in 1983, her father Pierre Bellon offered the opportunity to join Sodexo. The company had already grown into one of the leading players in the catering and food service industry in France. Sodexo had also successfully developed internationally, branching out into Belgium, Africa and the Middle East. But it wasn't Sophie's time yet. "I just didn't feel ready," she says.
"I wanted to develop my own skills and find out what exactly made me happy, professionally."
She started her career in finance, working for Crédit Lyonnais in New York, as an advisor for mergers and acquisitions. She then worked as an agent for luxury brands such as Armani, Chanel and Ungaro.
Fueling growth
After nine years in New York it was time for Sophie to head back to France. When considering what could be the next step in her career, Sodexo was one of the options on the table. Back then, the Group was working toward several major acquisitions. "I felt this was something I could bring value to, given my experience with Crédit Lyonnais," underscores Sophie. She joined Sodexo's finance department in 1994 and took part in the acquisition of Gardner Merchant in the UK, a move that doubled the size of the Group. Three years later, she was instrumental in the acquisition of Marriott Management Services in the USA, again doubling the size of the business. In 2005, Sophie took a new position as director of customer relations, where she contributed to significantly boost the client retention rate while building a strong client-focused culture. She was later in charge of the Group's R&D and innovation strategy. In January 2016, she took over her father's role as chairman of the board.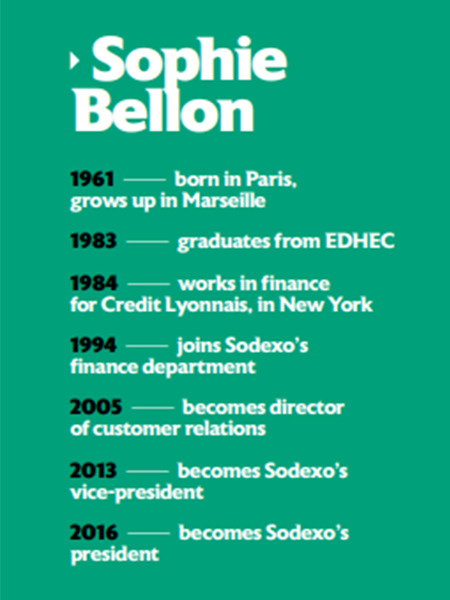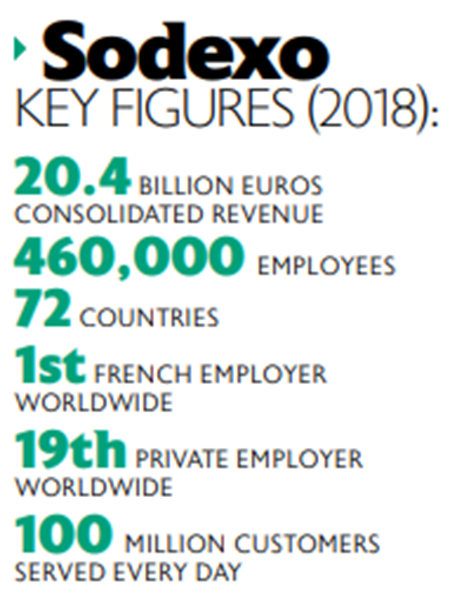 Family values
Asked about what makes a family owned business so special, Sophie Bellon sums it up in just a few words: engagement and long-term perspective. "My family owns 42% of Sodexo's stock and 57% of total voting rights," she says. "Sodexo has always been a part of my life. My three brothers and sisters and myself have committed to holding onto our shares for another 50 years. We have a total of 11 children and we have committed not to sell any shares outside of this family nucleus. This means we are all equally committed to the long-term success of Sodexo. Also, this gives us the independence we need to pursue a long-term strategy, rooted in the corporate values our father has set for the company from the start. We are free to carry out our mission of improving the quality of life of both our employees and the people we serve every day. We are also deeply committed to contributing to the economic and social development of the regions and communities in which we operate. The added benefit is that Sodexo has a stable management with very low turnover."
[...]
This is an extract from Otherwise Magazine (#8 issue). Read the full article by subscribing to Otherwise Magazine for free!