Our team
At EDHEC Entrepreneurs, our committed and caring team is devoted to helping the responsible entrepreneurs of tomorrow thrive.
Our Team
TEAM
At EDHEC Entrepreneurs, our committed and caring team is devoted to helping the responsible entrepreneurs of tomorrow thrive.
Our strength lies above all in our human approach. Because we know that entrepreneurship is a major life-experience and a risk-taking adventure, our team is fully focused on understanding and addressing the issues, needs and expectations of our entrepreneurs.
The EDHEC Entrepreneurs team
 

Justine SOUDIER

 

Sibylle BEHAGHEL

 

Robin ROUBLIQUE

Director

Incubation
Program Manager

Pre-incubation
Program Manager
 

 

Juliette DELTOUR

 

Maylis GILLET

 
Campus & Event Manager
Startup & Ecosystem Manager
 
Our community is our force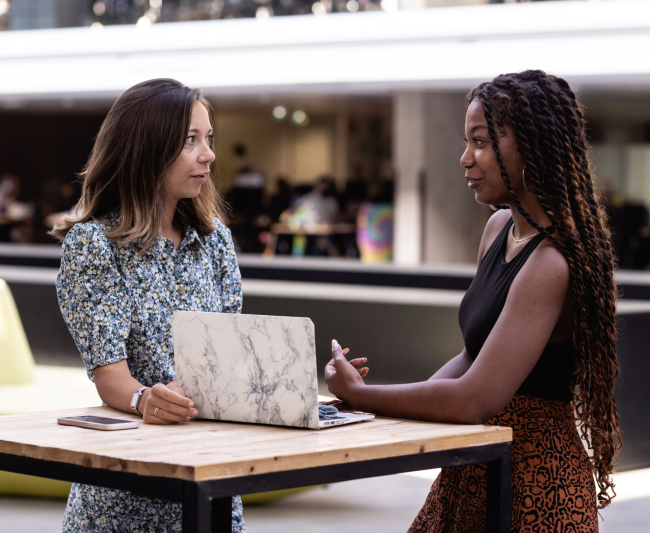 Exchange and collective intelligence are central to our approach.
Our EDHEC Entrepreneurs community is made up of entrepreneurs, but also experts, mentors and partners, who give their time to support our startuppers. Our community is as rich as its members are diverse and is based on mutual aid and sharing. The commitment of our members drives our programmes!
FAQ and Contact
CONTACT US
Still have questions about EDHEC Entrepreneurs and our programmes?  See our Frequently Asked Questions (FAQs) or contact our team.
Frequently Asked Questions 
We're glad to see you want to become a change-maker!
Not sure if you want to create your own startup yet, but want to discover entrepreneurship and meet inspiring people? Discover our Sensibilisation track.
On the contrary, you want to develop your project and commit yourself to a more responsible future? The Pre-incubation track is the one that will provide all the resources you need. 
Several choices are available depending on the state of development of your startup:
 
You want to go from idea to prototype (M.V.P.), discover the different programmes of the Pre-incubation track.
 
You have tested and finalised your prototype (M.VP.). Now you want to find your product-market fit, be able to raise funds and accelerate your impact on the world. Our Incubation track  is the right one for you.
Want to join us in supporting entrepreneurs set to shape the world of tomorrow?
Visit the Join us  tab and fill in the form that matches your profile.
Our team will then contact you.
 
EDHEC Entrepreneurs is a fast-growing organisation looking for new talent. See all our offers on our Job Board.
At least 1 EDHEC graduate or student (or partner schools) in the founding team
Ownership of at least 20% of the shares
Work full-time on the project (exception made for students)
Have a high-potential project, with a finalised and tested prototype on an identified market
Be committed to rethinking the world of tomorrow, by developing more responsible practices 
 
The programme lasts 1 year. This period can be extended by 6 months in an accommodation format (depending on available space).
This needs to be considered on a case-by-case basis.
The incubatee must be sufficiently involved in the EDHEC programme and EDHEC must remain its main programme.
 
Absolutely!
If your project hasn't been selected and you're convinced of its potential, you can apply again in our next call for applications.
However, we limit the number of applications for the same project to a maximum of two.
 
In the past, access to the incubator was reserved for startups whose team comprised at least one EDHEC graduate or student, regardless of the programme.
We're keen to open up and welcome new entrepreneurial profiles from partner programmes or schools (more details to come).
We also welcome some graduates of the Tremplin programme developed by French Tech, which we partner.
 
There's no maximum, it depends on the space available.
As far as Station F is concerned, as a coworking space, we believe that beyond 5 people, our spaces are not the most suitable for your activity and the gradual implementation of your company culture.
 
Unfortunately not, as Station F is a closed environment that only makes its resources available to its residents.
For our other sites, our teams are committed to creating an ecosystem that fosters your development with exclusive interventions, meetings, experts, advantages, etc.
 
Can't find the answers to your questions? 
Just let us know!
Does entrepreneurship spark your curiosity? 
Do you have ideas and want to give it a try?
Have you already launched your project? Would you like to accelerate it?
No matter how far along you are and wherever you want to go, we have an answer adapted to each step of the way.